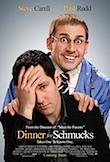 After a week when New Zealand has been forced to con­front its own intol­er­ance and social myopia it seems fit­ting that two films that are essen­tially about under­stand­ing and accept­ing diversity should arrive in cinemas in the same week. They both take drastic­ally dif­fer­ent approaches to the top­ic, too.
In Dinner for Schmucks, ambi­tious hedge fund ana­lyst Paul Rudd has to find a guest to take to a monthly seni­or man­age­ment party in which unusu­al people are secretly held up to ridicule. When his Porsche knocks over mild mannered pub­lic ser­vant and ama­teur taxi­derm­ist Steve Carell he thinks he's found the right man. But Carell's char­ac­ter, Barry, latches on to him caus­ing may­hem wherever he goes.
Eventually, after Rudd's rela­tion­ship and career are wrecked, they both reach a deep­er under­stand­ing of each oth­er and some decent human val­ues: laugh­ing with someone is ok. At someone? Not so much. And if you are any­thing like me, you will laugh.