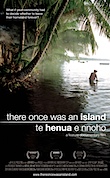 When I first vis­ited this coun­try back in 1982 we flew across the Pacific Ocean in day­light and from my win­dow seat I got a birds eye view of … not very much. Lots of flat blue unin­ter­rup­ted sea, not even so much a rusty tramp steam­er to break the mono­tony. No won­der they usu­ally do this leg in the dark, I thought.
Once I got here I under­stood that there was a lot going on down there on many tiny speckled islands and atolls – and the rich­ness of the Pacific and its rela­tion­ship to New Zealand was just one of the reas­ons why I'm still here all these years later – but now the creep­ing specter of glob­al warm­ing is trans­form­ing the Pacific into the pristine envir­on­ment I thought I saw all those years ago – unsul­lied by cor­al, sand, taro or people.
This pro­cess is already well under way as Briar March's astound­ing doc­u­ment­ary There Once was an Island illus­trates. In 2006 Ms. March and a tiny crew spent sev­er­al months on Takuu, a remote atoll over­seen by the Autonomous Bougainville Government (ABG), ser­viced and sup­por­ted by a rare and irreg­u­lar ship­ping ser­vice and short wave radio. Even then the waves were lap­ping at the edge of peoples' homes and the ABG offer of a haven among the main­land sug­ar plant­a­tions effect­ively meant ask­ing 4000 people to say good­bye to their entire way of life.