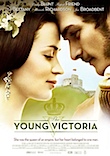 The theme for the week seems to be romance and some of the finest love stories of recent (or in fact any) year have just made their way to our screens. Firstly, The Young Victoria where Emily Blunt (Sunshine Cleaning, The Devil Wears Prada) deservedly takes centre stage for the first time as the eponymous royal. Even reviewers are entitled to a little prejudice, and I wasn't expecting much from this going in, but I left the cinema full of admiration for an intelligent script, perfectly-pitched direction and consistently able performances from expected and unexpected quarters.
Blunt's Victoria is a headstrong teenager, frustrated by the competing political interests that push and pull her. Only Prince Albert of Saxe-Coburg and Gotha (whose suit was instigated by yet more euro-intrigue) seems to see the real Victoria and offers the new Queen support and independence. The relationship between Blunt's Victoria and Rupert Friend's initially nervous but ultimately self-assured Albert is charming, natural and moving and the background of political intrigue and machinations provide necessary (but not overwhelming) context. The Young Victoria is a film that, and I hope this makes sense, is perfectly balanced.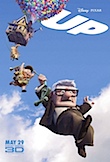 The opening ten minutes of Up are the most beautiful, profound and moving ten minutes I have ever experienced in a picture theatre — a ruthlessly efficient and devilishly clever montage of a lifetime of dreams dreamt and then thwarted, love inexplicably found and then all too explicably lost. It's a sequence that can draw tears effortlessly from any adult but serves to set up the film's plot quickly enough for the kidlets. Devilishly hard to do and superbly achieved.
In the film proper, elderly grump Carl Fredrikson (the voice of Ed Asner) has one last chance at adventure before the old folks home, so he hoists a few balloons to the roof of his house and heads for South America. Only he has a stowaway: Russell the "Wilderness Explorer" looking for his final merit badge (newcomer Jordan Nagai). The adventure they go on is thrilling, action-packed and hilarious and the attention to detail in every respect is awe-inspiring. Like WALL•E last year, I'm not entirely convinced that the third act lives up to the huge expectation created by the first two but Up is still straight into my top two films of the year so far. It's extraordinary filmmaking and, like Monsters Inc., Finding Nemo and WALL•E before it, it proves that truly great films can be made by committees after all.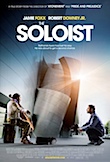 The Soloist is reliable Oscar-bait starring Jamie Foxx as a mentally-ill musician living on the streets of LA. His cause is taken up LA Times columnist Robert Downey Jr. who soon learns what is and isn't possible. Foxx's Nathaniel Ayers inhabits that hidden part of most societies, among the un-medicated, the over-medicated and the self-medicated and it is during the scenes in the LAMP homeless shelter that The Soloist is at its best. All too often, though, it overplays its hand dramatically-speaking but remains fundamentally respectable and the message is sound.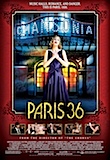 Your enjoyment of Paris 36 will probably depend on your tolerance for that particularly French brand of accordion-based chansonnerie (possibly not a real word). Your correspondent hereby confesses a love for that stuff and so found this romantic old-fashioned melodrama fairly diverting. It's set backstage in a struggling palace of varieties during the lead up to WWII as fascism and gangsterism battle the forces of good for influence over the lives of ordinary people (ordinary people in this case being singers, stage-hands, comedians, impressionists and handsome communist follow-spot operators).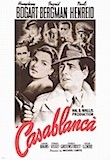 In Casablanca, Humphrey Bogart and Ingrid Bergman share a love that is threatened by both Nazis and Resistance. Bogart is cynical saloon keeper Rick, keeping his head down in supposedly free-French territory. It's 1941 and the war has reached them and, instead of fleecing refugees of their last sous (and simultaneously letting suave Chief of Police Claude Rains win) at the roulette table, serious choices have to be made. The future of the world is at stake. A crackling script (Julius G., and Philip J., Epstein) and Owen Marks' invisible editing support Michael Curtiz' assured direction. Great entertainment.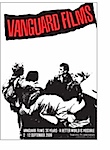 In 1941 the fascist threat was real and was only ever going to be defeated by individual sacrifice and collective action, unfashionable as that may seem nowadays. That point was driven home to me after watching the first three nights of the Vanguard Films anniversary screenings at the Film Archive. The Vanguard collective have spent 30 years making independent docos to balance the corporate media that continues to dominate the dialectic. From early histories of trade union struggles (including the fascinating Wildcat and Kinleith '80) through an examination of the longstanding (in)security relationship with the United States that (despite the anti-nuclear policy) continues to this day, and more recently the unravelling of the ties that bind big business and the new right economic agenda, Vanguard have been there telling the stories and making the connections that the establishment don't want made. They are a national treasure and their birthday celebrations continue until Saturday.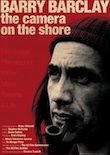 Graeme Tuckett's emotionally and intellectually rewarding biography of Barry Barclay gets a deserved return season at the Paramount from tomorrow, for one week only. Like Vanguard, Barry told uncomfortable truths in his films and, like Vanguard, he was forced to struggle more than he deserved to have his voice heard. The Camera on the Shore is a fitting memorial and a fascinating history lesson of a time when there was no film industry in this country just some blokes (and Gaylene) who made films.
Printed in Wellington's Capital Times on Wednesday 9 September, 2009.
Notes on screening conditions: Up was glorious in 3D at Readings – easily worth the bother of the glasses in my opinion; Paris 36 and Young Victoria were public sessions at the Lighthouse in Petone and I confess that I was forced to watch both through my sunglasses as I'd left my specs at home that morning; The Soloist was a packed Saturday evening screening at the Empire; The Camera on the Shore was first seen on a preview DVD provided by the filmmaker and then at the Wellington Film Festival; Casablanca was a beaten up 35mm print and black and white sadly demonstrates the different light qualities of the two parallel Paramount projectors and the Vanguard films were screened off various formats at the Film Archive by gun projectionist Phil Greig.