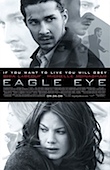 This week I've had my intelligence insulted by the very best. Steven Spielberg is credited as Executive Producer of Eagle Eye, but if he spent more than one meeting overseeing this crapitude I would be very surprised. Eagle Eye is designed to appeal to cro-magnons who still believe that computers are inherently malevolent self-perpetuating pseudo-organisms and that the US Dept of Defence would invent an all-powerful, surveillance super-computer that you can't switch off at the wall. And fans of Shia LaBoeuf. Director D. J. Caruso (last year's Disturbia) is confirmed as a name to avoid and Michael Jackson lookalike Michelle Monaghan has done (and will do) better than this (Gone Baby Gone).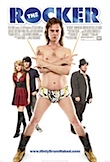 In interviews, Rainn Wilson (Dwight Schrute in the American "Office") has admitted that he is behind Ben Stiller, Will Ferrell, Jack Black, Vince Vaughn and Owen Wilson whenever the choicest scripts are handed out, so what that says about The Rocker (his first leading role) I'm not sure. Wilson plays a Pete Best-like drummer, fired from the band he named (Vesuvius!) just before they shot to stardom in 1988. Twenty years and twenty dead-end jobs later, he gets a shot at redemption playing with his nephew's high school band. Wilson really doesn't have enough presence to carry the film but he's likeable enough and there's some nice supporting work from Jeff Garlin ("Curb Your Enthusiasm") and the lovely Christina Applegate (who really deserves to be a much bigger star than she is).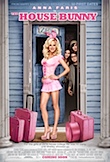 One week on from the depressing Angus, Thongs and Perfect Snogging, there's even more misplaced girl power on display in The House Bunny. Scary Movie star Anna Faris gets to executive produce a vehicle for herself (written by Laurie Craig and Karen McCullah Lutz, the female screenwriting duo responsible for the possibly Nobel Prize-winning Legally Blonde) and with that power comes great responsibility, responsibility that she puts to good use setting back the cause of feminism nearly 40 years.
Almost-Playmate Shelley (Faris), kicked out of Hef's mansion for being too old becomes sorority house mother to a bunch of "ugly" misfits (including Emma Stone from The Rocker and Bruce Willis and Demi Moore's eldest daughter Rumer). It's the lack of ambition that I find so disheartening, although it did contain my favourite line of the week: "Concentrate on the eyes girls, remember — the eyes are the nipples of the face."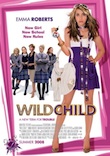 Roald Dahl's daughter Lucy is another female screenwriter stuck in cliché hell. Her script for Wild Child could have resulted in passable entertainment, but is let down by poor direction and some odd post-production decisions. Last year's Nancy Drew, Emma Roberts, plays the fish out of water, Malibu rich-chick, sent away to an English boarding school run by firm-but-fair Natasha Richardson. There she makes friends and enemies and falls in love with handsome Roddy, played by the worst actor I've ever seen get his name on a major film: Alex Pettyfer (remember the name, folks).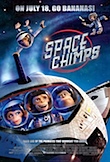 Most fun of the week can be found in Space Chimps, a boisterous CGI-animated comedy for kids (and those that might find WALL•E a little too emotionally demanding). Ripping a long at a great pace, it has plenty of gags per minute and benefits from having great voice-actors like Patrick Warburton and Kristin Chenoweth involved rather than big name stars slumming it. Recommended.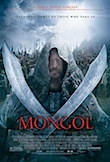 The Russo-Sino-Co-pro Mongol really deserves to be seen on a giant screen, as befitting the giant landscape and giant story. The first of a proposed trilogy telling the life story of Genghis Khan, this instalment follows the 12th century warlord from his own birth to the birth of an empire spanning half the known world. Uniting the tribes of Mongolia was a brutal business and there's plenty of CGI blood splashing around as young Temudjin (Tadanobu Asano) discovers his destiny.
Printed in Wellington's Capital Times on Wednesday, 1 October 2008.