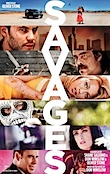 Oliver Stone directed his first feature film in 1974 (Seizure) so I'm going to be charitable and assume that the clunky construction of the scenes in his new film, Savages, is deliberate. I imagine that with all his experience, it would be easier to make shots match than to be as sloppy as they appear here. Perhaps it's a heavy-handed reference to being stoned, seeing as the film is about big time California cannabis growers being targeted for takeover by a Mexican cartel. Or perhaps not.
Bright young things Aaron Johnson (John Lennon in Nowhere Boy) and Taylor Kitsch play the partners in a medical marijuana business that makes its real money by illegally exporting the high grade product across state lines. Johnson is the brains and Kitsch is Iraq and Afghanistan veteran muscle. As an aside, Kitsch must be wondering what he has to do to get a hit. Three big films this year and they have all been duds – John Carter, Battleship and this. It's not his fault – he's been decent in all of them, particularly so in this – but I'm sure he's running out of Friday Night Lights credit with the studios. Johnson, on the other hand, once again fails to mine much depth from his character.
There's a third wheel to their on screen partnership – Gossip Girl Blake Lively doesn't manage to build on her promising performance in Ben Affleck's The Town in 2010 and I suspect the fault probably lies with Stone's script and direction, top heavy with Lively – but not particularly lively – voiceover. Finally, John Travolta's performances seem to be getting better as his appearance becomes more bizarre. It's hard to imagine an actual real person with hair and skin like that but there he is, larger than life.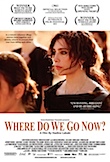 Where Do We Go Now? is also bookended by female narration and also has some baffling stylistic choices. Written and directed by – and starring – Nadine Labaki, at first it seems to be a charming fable about an isolated Lebanese village where Christians and Muslims live together in perfect harmony but then the singing starts… It's not a musical as such but there are several musical scenes and I'm sorry to say they just didn't work for me while the rest of the film mostly did.
The women of the village expend quite extraordinary amounts of energy attempting to keep the peace between the two factions while the hotheaded young men seem to require almost no provocation before they kick off in righteous sectarian indignation. Someone – we never find out who – is also stirring the pot and just as the women smooth things over a new mysterious outrage threatens to produce a catastrophic boilover.
"Flawed" is one of those redundant critic words that I usually try and avoid, but it seems appropriate here. A great premise and some brilliant scenes are let down by the afore-mentioned singing interludes and a lack of follow-through for some of the important relationship and plot points.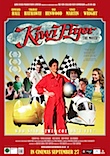 The fact that I may not be in the target market for a movie doesn't usually prevent me from broadcasting my opinion, so even though Kiwi Flyer is clearly aimed at children – and I haven't been one for a while – here's my ten cents worth.
Every year the young people of Nelson gather together for a fun event – the Collingwood Street Trolley Derby – in which home made unpowered carts compete in a series of races to the bottom of the steep course. Local writer-director Tony Simpson has taken that event and used it as inspiration for a wholesome tale of pluck, resourcefulness and derring-do as 12-year-old Ben (Edward Hall) defies the wishes of his mother (Tandi Wright) and enters the competition even though it has brought the family tragedy in the past.
I didn't watch this with any kids – so I can't confirm this hypothesis – but I suspect that they would be just as bored by the slow pace, laboured jokes and clumsy action sequences as I was. You only have to watch a little bit of the Disney Channel to see how sophisticated young audiences are these days. The humour might still be broad but the cutting is fast and there are plenty of gags per minute.
Kiwi Flyer reminded me of those Children's Film Foundation pictures from my long ago childhood – worthy but dull – and I'm really dubious about the choice to make the villains pantomime Australians. Do kids these days really think of our Aussie cousins as boorish underarm-bowling blowhards or is that something they eventually learn from their narrow-minded and parochial elders?
Oh, and the less said about palpable non-actor Dai Henwood the better.
Printed in Wellington's Capital Times on Wednesday 26 September, 2012.