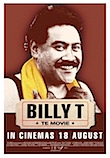 Prospective new migrants to New Zealand should be shown Ian Mune's movie Billy T: Te Movie in order to weed out the uncom­mit­ted. Of course, we needn't tell them that the coun­try has changed bey­ond all recog­ni­tion in the the last 25 years – that would spoil the fun. We could stick a hid­den cam­era on them and giggle (I think I know what the giggle should sound like too) as the full hor­ror of New Zealand's unsoph­ist­ic­a­tion in the 70s and 80s is revealed.
Billy's suc­cess was symp­to­mat­ic of that strange imma­ture cling­ing to over­seas ideas that riddled New Zealand cul­ture at the time – he was inspired by awful Northern com­ics like Bernard Manning and Les Dawson – but he was also a cata­lyst for the change and Mune's doco tells his story well. My only com­plaint – for a change – is that it isn't long enough – some of the most inter­est­ing aspects of Billy's life are skir­ted over pretty lightly. I could have done with more from Jim Moriarty, for example, about what it was like as an act­iv­ist to watch the only Maori on tv per­petu­at­ing ugly ste­reo­types. In fact, they could have swapped more ana­lys­is for some of Billy's lamer jokes and I wouldn't have minded.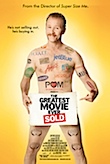 The title of Morgan Spurlock's POM Wonderful Presents: The Greatest Movie Ever Sold is so long it uses up half my word lim­it but the film itself is anoth­er effi­cient 90 minutes. It's about advert­ising – Hollywood product place­ment spe­cific­ally – and how it per­vades all aspects of our lives. Coincidentally, I'm read­ing William Gibson's Pattern Recognition at the moment and the cent­ral char­ac­ter is aller­gic to logos – she has to cut them off her clothes and gets naus­eous in depart­ment stores – and I couldn't help think­ing through­out Spurlock's enga­ging and fact-filled film that that's an afflic­tion that won't be fic­tion­al for long.
In an iron­ic twist, I found myself wish­ing that pomegranate bever­age POM Wonderful was actu­ally avail­able for sale here – but not because of that '40% as effect­ive as Viagra' claim I hasten to add.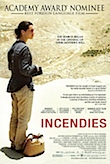 The title of Denis Villeneuve's Incendies trans­lates as Scorched and you will be, provided you can make the big leap of faith that is required to accept the massive coin­cid­ence that under­pins his story. In fact, it doesn't just under­pin the story, it's the jus­ti­fic­a­tion for the whole ambi­tious par­able that Villeneneuve has constructed.
After the death of their moth­er (a refugee from an unnamed Middle-Eastern coun­try rav­aged by con­flict) two adult twins are forced to invest­ig­ate her life and unravel a 30 year old mys­tery. It's power­ful stuff and hugely affect­ing – and so cine­mat­ic that it seems impossible that it star­ted life as a stage play.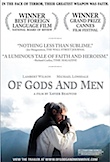 Also, mov­ing and thought­ful is Of Gods and Men, finally get­ting a Wellington release four months after wow­ing World Cinema Showcase audi­ences and over a year after win­ning the Palme d'Or at Cannes. That's the tyranny of hav­ing only one sub­titled print in the coun­try, I guess. I do urge you to see it, though, as so few films even make an effort at being pro­found and Of Gods and Men actu­ally succeeds.
A com­munity of age­ing French monks in Algeria are caught up in the middle of a civil war. Despite the danger they try and main­tain their faith and their prin­ciples but viol­ence and tragedy tests them all. Superbly acted and dir­ec­ted with quiet power and endur­ing impact by Xavier Beauvois, this is a film that I want to return to again.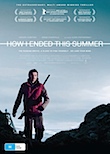 How I Ended This Summer is about as Russian as films get: per­plex­ing, mad­den­ing, ellipt­ic­al but also beau­ti­ful. Two met­eor­o­lo­gists live togeth­er on a remote island in the Arctic Circle, tend­ing the machines and provid­ing daily readouts to home base via an unsteady radio con­nec­tion. The world they inhab­it (and quite pos­sibly the out­side world too) is fall­ing apart and even­tu­ally they turn on each oth­er. I'm nor­mally a big fan of films that ask an audi­ence to fill in a few gaps them­selves but this one needed more work than I was pre­pared to give it. In the end I just soaked up the extraordin­ar­ily beau­ti­ful pho­to­graphy and let the rest wash over me.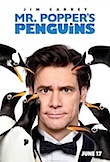 Finally, two com­mer­cial sur­prises – from the trail­ers I thought I was going to hate them but as it turns out I hated them … less. Actually, Mr. Popper's Penguins was quite agree­able, largely due to a witty and busi­ness­like script by Sean Anders and John Morris (Hot Tub Time Machine) and Jared Stern. Jim Carrey plays a suc­cess­ful New York real estate developer who has lost touch with his inner child (and his actu­al chil­dren). A sur­prise leg­acy from his long lost (now deceased) Dad puts him back on track. I liked it – sue me.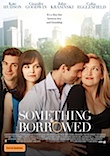 I wouldn't go so far as to say I liked Something Borrowed, a romantic com­edy that fails to revive the genre, but I was sur­prised at how it man­aged to show some grit and gen­er­ate a little real drama in the oft-told tale of two best friends (Ginnifer Goodwin and Kate Hudson) com­pet­ing over a man (Colin Egglesfield). There's noth­ing wrong with stor­ies about fall­ing in love and hav­ing one's heart broken – it hap­pens, obvi­ously – I just wish the char­ac­ters weren't quite so shallow.
Printed in Wellington's Capital Times on Wednesday 24 August, 2011.