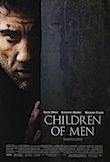 I grew up under the high-heeled jackboot of Margaret Thatcher's Britain, when post-apocalyptic visions of futuristic fascist dictatorships seemed to turn up as regularly as London buses. Back then we all felt that the world was at risk from the insane plans of a mentally deficient, war-mongering, US president captured by the military-industrial complex. Of course, now things are completely different (ahem) but Children of Men still seems like the product of a bygone era.
20 years into a grey British future: the population is sterile and extinction of the human race is inevitable. Alcoholic public servant Clive Owen is persuaded by ex-girlfriend and freedom-fighter Julianne Moore to transport some precious cargo to the coast but her plan (and her team) is soon shredded by the forces of reaction and Owen is forced to go it alone. There are several absolutely jaw-dropping set-pieces and I wonder whether the people of Bexhill realised what sort of mess was going to be made of their quiet little seaside town. Never lend anything to a film crew!
As usual, Owen resembles a plank, this time with five 'o' clock shadow (thank goodness he's not the next Bond) but Michael Caine has fun as an ageing hippy, growing dope in the country. Children of Men is a highly entertaining triumph of art direction (and First Assistant Direction for that matter) though that dated feeling is not helped by the 70's prog-rock soundtrack (King Crimson!?).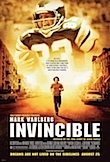 Mark Wahlberg and Greg Kinnear are the two least essential male stars of our era and in Invincible they have come together in what may be the least essential film of the year. Wahlberg plays relieving teacher Vince Papale who gets a shot at playing football for his beloved Philadelphia Eagles and Kinnear is the coach who gives him his big chance and that's all anyone needs to know.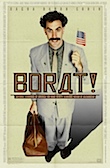 In Borat!, Sacha Baron Cohen confirms his place as the long-awaited natural successor to Peter Sellers — a comic actor who so completely inhabited his characters that there was no sign of the real man underneath. Large amounts of the film are satirical genius but it didn't all work for me and I was surprised at how many toilet jokes they seemed to need.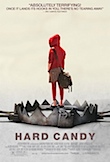 An internet predator gets his come-uppance in Hard Candy, a claustrophobic revenge-thriller featuring some of the most uncomfortable scenes this reviewer has encountered in a while. I'm still trying to work out whether it displays a real righteous anger at the exploitation of young people or whether it's just nasty. The latter I fear.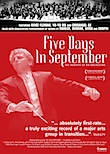 Thoughtful documentaries like Unfolding Florence and 5 Five Days in September used to regularly turn up on television on Sunday nights but those days would seem to be long gone. I'm pleased to say 5 Five Days in September is the most joyful experience I have had in a cinema in years and totally unexpected. The unassuming story of the relaunch of the Toronto Symphony Orchestra under new musical director Peter Oundjian turns out to be a complete joy and made me want to immediately subscribe to the NZSO (not to mention name my first-born son "Yo-Yo").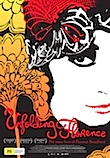 Sadly, Unfolding Florence is less successful but then my interest in Sydney wallpaper and interior design trends during the 1970's unaccountably seems to have waned in recent years. Your mileage, as they say, may vary.
Review printed in Wellington's Capital Times, 29 November 2006.
Notes on screening conditions: Children of Men was viewed at a media screening in Auckland while on holiday a few weeks ago (Village Sky City, Queen St). It's quite a rare experience for Wellington reviewers, watching films with industry people and I'm not sure it helps. There is something about an audience of civilians that gives you perspective on what viewing the film might be like for readers, I think. Having said that, I saw Invincible in Readings 10 with one other person and Hard Candy alone in Rialto 1 so an audience at daytime screenings can be a rare luxury. The sound in Readings 10 was disappointing — like a tweeter had blown somewhere.
Unfolding Florence played in Penthouse 2 and I would rather the projectionist had waited until the credits had finished before preparing the masking for the next screening — no automation there. It was also freezing cold and draughty and my coffee (not for the first time at the Penthouse) was all but undrinkable. Did all this effect the review? Possibly. Five Days in September on Monday was in the Vogue Suite at the Penthouse and the small audience of pensioners I shared the screening with were a delight. We all looked at each other afterwards as if to acknowledge the experience. Coffee was fine too.
Borat! was viewed at the Empire in Island Bay whose staff remain a delight to deal with and the screening conditions are (for the time being) unimpeachable.