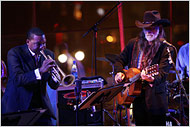 Now this is a gig I would have given a lot to see: Willie Nelson playing with Wynton Marsalis in New York in a concert organised by Jazz at Lincoln Center.
Click here for the review from the New York Times (reg. req. and recommended):
He also brought his intractable style, which posed more of a challenge to the other musicians than any clash of genre. His conversational way with rhythm, in particular, momentarily threw the band. During a series of stop-time breaks on "Basin Street Blues," the second tune, Mr. Nelson's phrasing was almost perversely free of tempo, rustling like a breeze. In much the same way, he seemed to regard the jump-blues thrust of "Caldonia" as merely a recommendation, something to heed at will.
I have seen both of these artists, although separately. Wynton Marsalis played at the Michael Fowler Centre at an early Festival of the Arts and my only memory of that concert was being annoyed by the noise from the air-conditioning during the quiet bits.
Willie played at Athletic Park with The Highwaymen in (pause while I go and find the programme to check the date) 1991. A life-changing experience.
Note: I know the blockquotes look rubbish. Sorry, it's on the list of things to fix.