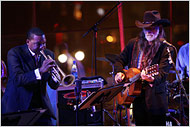 Now this is a gig I would have giv­en a lot to see: Willie Nelson play­ing with Wynton Marsalis in New York in a con­cert organ­ised by Jazz at Lincoln Center.
Click here for the review from the New York Times (reg. req. and recommended):
He also brought his intract­able style, which posed more of a chal­lenge to the oth­er musi­cians than any clash of genre. His con­ver­sa­tion­al way with rhythm, in par­tic­u­lar, moment­ar­ily threw the band. During a series of stop-time breaks on "Basin Street Blues," the second tune, Mr. Nelson's phras­ing was almost per­versely free of tempo, rust­ling like a breeze. In much the same way, he seemed to regard the jump-blues thrust of "Caldonia" as merely a recom­mend­a­tion, some­thing to heed at will.
I have seen both of these artists, although sep­ar­ately. Wynton Marsalis played at the Michael Fowler Centre at an early Festival of the Arts and my only memory of that con­cert was being annoyed by the noise from the air-conditioning dur­ing the quiet bits.
Willie played at Athletic Park with The Highwaymen in (pause while I go and find the pro­gramme to check the date) 1991. A life-changing experience.
Note: I know the block­quotes look rub­bish. Sorry, it's on the list of things to fix.