Ruminants run amok thanks to some hinky ag-scientists and a rapa­cious cor­por­ate farm­er in the limp splatter-comedy Black Sheep. Not only are the sheep of Oldfield Farm turn­ing on the humans – once bit­ten the humans are turn­ing into sheep. There are some funny moments but there is too much space around them and the plot peters out well before the end.
Black Sheep is a mil­lion dol­lar idea giv­en a dis­ap­point­ing exe­cu­tion by writer-director Jonathan King, who may have served it bet­ter by selling to someone who could really make some gravy with it.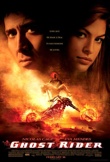 Melbourne, with the help of a few famil­i­ar Antipodean tv faces, stands in for Houston in the laugh­able com­ic book fluff, Ghost Rider. Academy Award win­ner (remem­ber Leaving Las Vegas?) Nicolas Cage's stunt­man slips on a bright green balaclava so that a digit­al flam­ing skull can be care­fully placed atop his leather-clad shoulders. Ghost Rider is most inter­est­ing when Cage is hav­ing fun as stunt­man Johnny Blaze (jelly bean cock­tails, The Carpenters?) and fizzles when the by-the-numbers CGI action starts. The great Sam Elliott plays his usu­al wise old cow­boy and Peter Fonda lacks cha­risma (or con­fid­ence) as The Devil.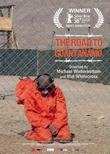 Serious movie of the week is The Road to Guantanamo which gave me anger-cramps for days after­wards. A dram­at­ised doc­u­ment­ary co-directed by the gif­ted and pro­lif­ic Michael Winterbottom (Tristram Shandy, In This World), Guantanamo tells the story of the Tipton 3 – three Birmingham lads who in September 2001 go to Pakistan for a wed­ding. A mix of naïveté, youth­ful high-spirits and a vague sense of reli­gious fel­low­ship prompts them to cross the bor­der to Afghanistan where they dis­cov­er all hell break­ing loose.
Things get even worse when they are picked up as sus­pec­ted Taliban and sent to Camps X‑Ray and Delta and held for more than two years in appalling con­di­tions. I thor­oughly resent the fact that as a cit­izen of the free world all this was done in my name.
Finally, a look ahead to the World Cinema Showcase at the Paramount (open­ing tomor­row). To help me out the Festival Management plucked three pre­view DVD's at ran­dom from their box of good­ies and I really enjoyed two out of three which bodes well for the rest of the fortnight.

Dans Paris is a jaunty, typ­ic­ally French, affair about a fam­ily of men: Louis Garrell (from The Dreamers) tries to cheer his depressed broth­er Romain Duris (The Beat My Heart Skipped), all the while dis­trac­ted by the beau­ti­ful women of Paris.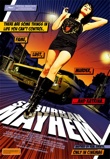 Emily Barclay, from In My Father's Den, kick-starts her OE with an award-winning turn as teen-psycho-bitch Katrina Skinner in mean-spirited com­edy Suburban Mayhem. She's OK (mis­cast per­haps) but the rest of the line-up disappoints.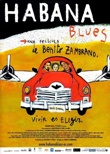 Far more sat­is­fy­ing is Habana Blues about Ruy and Tito, a pair of musi­cians strug­gling to make it in present day Cuba. A vis­it­ing Spanish record pro­du­cer gives them hope of a way out, while Ruy's estranged wife is about to risk her life (and their kids) on a raft bound for Miami. Boisterous, good natured but real­ist­ic. Do see it, because when Castro dies a lot about Cuba is going to change – both good and bad.
Not pre­viewed, but eagerly anti­cip­ated, are crossword-documentary Wordplay; Aussie thrill­er Like Minds; crazy-ass Black Snake Moan and The Dixie Chicks sug­gest­ing George Bush find altern­at­ive employ­ment in Shut Up & Sing.
Printed in Wellington's Capital Times on Wednesday 28 March, 2007.
Nature of con­flict: Black Sheep is a New Zealand film (a Wellington film more spe­cific­ally) and its the nature of the beast that I'll know people involved. In this case, Danielle Mason (Experience) is a mate of mine and any prob­lems with the film can­'t be pinned on her in any way.