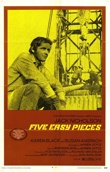 Adding a sad extra twist to the won­der­ful restro­spect­ive of 70s cinema in this year's Festival is the news that László Kovács, cine­ma­to­graph­er of two of those films (Five Easy Pieces and The King of Marvin Gardens) passed away a few days ago.
Also respons­ible for the look of Easy Rider, Close Encounters and Ghostbusters his final film as DOP was Torn from the Flag, a doc­u­ment­ary about the Hungarian upris­ing of 1956 which caused his own flight from Europe as a refugee from Soviet oppression.
The Independent's obit is here and the lengthy IMDb pro­file is here.