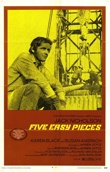 Adding a sad extra twist to the wonderful restrospective of 70s cinema in this year's Festival is the news that László Kovács, cinematographer of two of those films (Five Easy Pieces and The King of Marvin Gardens) passed away a few days ago.
Also responsible for the look of Easy Rider, Close Encounters and Ghostbusters his final film as DOP was Torn from the Flag, a documentary about the Hungarian uprising of 1956 which caused his own flight from Europe as a refugee from Soviet oppression.
The Independent's obit is here and the lengthy IMDb profile is here.