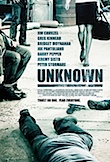 As recounted by celebrated neurologist Oliver Sacks in a recent New Yorker, amnesia is a fascinating condition. In the article he tells the story of classical musician Clive Wearing who, due to enchaphalitis more than 20 years ago, can retain new memories for no longer than a few seconds. The devastation of his case is transcended by two things: the love of his wife (which he is aware of even though he sees her as if for the first time every day) and his musical ability which remains complete.
In Hollywood, amnesia (like other disorders) is rarely portrayed as a tragic condition with serious and fascinating psychological impacts but instead is usually just a plot device. New thriller Unknown, starring Jim Caviezel, Greg Kinnear and Barry Pepper, tries a little bit of both.
In a remote abandoned chemical warehouse five men wake up with no memories of who they are or how they got there. Two of the group have been kidnapped, the others are the gang. But who?
While all the evidence points to Caviezel being one of the kidnappers (he wasn't tied up at the beginning for a start) he doesn't feel like one and, despite the shifting allegiances and Lord of the Flies power-plays, he attempts to bind the group together so they can all escape before the ringleader returns with the ransom. It's an interesting existentialist provocation although, in the end, further psychological insight is sacrificed in favour of yet another plot twist.

Insight is what forensic psychologist Tilda Swinton is after in Stephanie Daley. Heavily pregnant, and still mourning the loss of a previous unborn child, she is asked to interview the eponymous schoolgirl (Amber Tamblyn) who is accused of concealing her own pregnancy and then murdering the new-born baby. Her examination will decide the fate of the timid young Christian girl who may indeed be too innocent to realize what a drunken date-rape can lead to. Stephanie Daley is a well acted drama with a fine sense of place, located in snowy upstate New York, and a lot going on under the surface.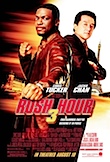 Back at the multiplex, Rush Hour 3 is one of the poorest excuses for entertainment it is been my misfortune to witness. And to think that part-timer Chris Tucker was paid $25m to star in it (a fee which evidently did not require any time at the gym to prepare). Jackie Chan is showing his age too. Abject.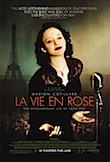 I spent most of the time watching La Vie En Rose thinking that I'd seen the film somewhere before. A beautifully art directed recreation of the life of a troubled artist from the wrong side of the tracks, devastated by drug addiction and guilt, it could have been Ray or Walk The Line except for the fact that little Edith Piaf didn't have time for the redemption and triumph that the Hollywood biopics demand.
Piaf was an extraordinary character, a huge and vibrant voice in a frail and tiny frame. Writer-director Olivier Dahan makes consistently interesting choices (particularly a death-bed montage at the end which amazingly contains nothing that we have seen before) and Marion Cotillard plays Piaf with all the fierce and demented self-destructive energy she can summon up. She's a force of nature and it is one of the performances of the year.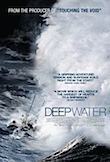 Finally, superb documentary Deep Water finally gets the promised commercial release and I urge you not to miss it. And, if you already saw it at the Festival check it out again as it's quite a different film second time around.
Printed in Wellington's Capital Times on Wednesday 3 October, 2007.
Full disclosure: Unknown is distributed in New Zealand by Arkles Entertainment who pay me money to do stuff for them from time to time.