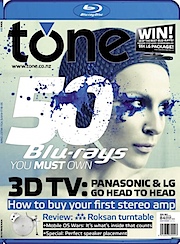 Of Tone Magazine's 50 "must own" blu-rays 13 are not actually available in New Zealand legally, or won't play on NZ purchased players due to region coding. Which is a bit of a waste of time, don't you think? They also manage to spell Criterion incorrectly right the way through article which adds insult to injury.
After the jump, the list (the article itself is not online):
Blade Runner 5 disc "Ultimate Collectors Edition" (not on sale at Mighty Ape but you can find some on TradeMe)
The Thin Red Line (The Criterion Collection blu-ray version isn't even out until September and will be region coded for North America only)
The Curious Case of Benjamin Button (the local release is available everywhere but the Criterion version is region coded for North America only)
A Prophet (not even released in NZ cinemas yet, the blu-ray is a Region 1/A and won't play on NZ purchased players)
The Third Man (only available on Criterion blu-ray therefore US only — Criterion have lost the rights and it is listed as out of print there so good luck finding it until a Canal+ version finds it's way here next year)
Old Boy (only available overseas on region1/A format)
8 1/2 (only available on Criterion blu-ray — same deal as before i.e. region encoded for North America only)
The Fly (only available in region 1 or region 2 format)
Caché (available as region free blu-ray but you'll have to import it yourself from Amazon)
Eternal Sunshine of the Spotless Mind (North America only via Amazon)
The Good, the Bad and the Ugly (not released in NZ until next week)
Dawn of the Dead (1978) (The US release is region coded for North America. Region coding for the Amazon UK version is not confirmed)
Yojimbo (Once again, this is a Criterion release that is North America only. We may see a Canal+ version at some point)
Michael Clayton (There's no sign of a NZ release blu-ray of Michael Clayton)
Watchmen: Director's Cut (There's no sign of a NZ blu-ray release of this extended version)
The Big Lebowski (There's no sign of a NZ blu-ray release of The Big Lebowski but you can watch a 720p version of the film from iTunes)
Old School (There's no sign of a NZ release blu-ray of Old School)
Spinal Tap (I can't find the Spinal Tap blu-ray at Real Groovy, Fatso, Mighty Ape, TradeMe or the JB Hi-FI online store and yet I have seen it on the shelves at JB Hi-Fi in Wellington. Go figure. May be deleted?)
Spirited Away (I've just spent half an hour trying to find Spirited Away on blu-ray and the thing does not appear to exist — not even in a Japanese-only release. So, how Tone Magazine can recommend a blu-ray that has never been released I don't know. Perhaps they found it at this site, which also seems to recommend blu-rays that don't exist)
So, of the 50 blu-rays that Tone Magazine say you must own, one doesn't exist yet, two haven't been released yet, ten you can only watch if you have a very expensive region-free blu-ray player and one more you can't get through normal retail channels.
I'm saving up for the Oppo universal player as I certainly do want to take advantage of all those Criterion discs at least but the article demonstrates a) the paucity of local releases so far and b) a very poor effort on the part of Tone.
And anyone who rates Ratatouille over WALL•E must be some kind of moron.
Update 24 Aug 2010: Reader BrynG points out in the comments that the European region coded blu-rays are compatible with New Zealand but the discs themselves still require importing. My wider point remains, though. No one should be recommending Criterion blu-rays to unsuspecting New Zealand consumers.
Update 26 Aug 2010: Gary Steel at Witchdoctor.co.nz ("New Zealand's technology authority") has kindly linked to this blog with some comments of his own. I wonder if he is the same Gary Steel who used to edit Tone Magazine.