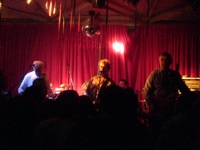 21 years ago I walked in off the street to the offices of Radio Active looking for a way I could get on the radio. The address in the phone book said Kelburn Parade so I had walked the length of said boulevard, way past the University and all the way to Hadfield Terrace and back, before trying my luck at the Student Union Building. I'd arrived in Wellington less than a month earlier, determined to make some headway with a career in radio and one of the reasons I had agreed so readily to leave the UK was Radio Active itself.
When I got inside, the delightful Charles Mabbett showed me around and told me how to sign up for on-air shifts despite the fact I wasn't even a student yet. When I got on air I showed off a bit, playing the records I had brought with me from London (the fruits of many hours late-night listening to Peel and David Jensen), thinking I would show these colonials what was really happening.
It didn't take very long before the lessons were being taught in the other direction. We played plenty of requests in those days and I found myself getting phone calls asking for bands and songs I had never heard of: The Birthday Party and Hunters & Collectors for example; and people called The Dance Exponents, Netherworld Dancing Toys, The Chills and (of course) Blam, Blam, Blam.
I think it was somewhere between hearing "Marsha" and "There Is No Depression In New Zealand" (and DD Smash's "Magic What She Do" for that matter) that I decided that I wanted to be a New Zealander. I'd told my parents that I would give Wellington a year and if it wasn't working for me I'd go back to England and study there. But I stumbled on Flying Nun, Dave Dobbyn and The Blams and it was all over red-rover — no going back.
The Blams had already been defunct for several years by the time I arrived: "Marsha" and "No Depression" were in the oldies bin along with "Pink Frost" and "Victoria". I was lucky enough to see other Don McGlashan ensembles including the wonderful Front Lawn in 1989 and The Mutton Birds, of course, but I never expected to ever see Blam, Blam, Blam. Until last night.
Thanks to my colleagues at Wellingtonista I had a ringside seat at The Blams Public Address gig at Mighty Mighty last night (following Russell Brown's "It Doesn't Give My Opponents Much Time, Either" quiz and the 2nd Annual Wellingtonista Awards). Jeez, they were good: great songs, great sound, great company. If someone had told me that The Undertones were reforming with Feargal Sharkey and they were going to play in my front room I couldn't have been happier.
Photo taken from my camera phone but there are better pics here. In fact, flashes were going off left, right and centre so there'll be plenty of other photographs soon enough, I'm sure.
By the way, it's Radio Active's 30th birthday this month. Maybe I'll be able to dig out some gems from my archive in time for the 35th.