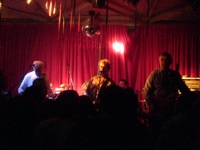 21 years ago I walked in off the street to the offices of Radio Active look­ing for a way I could get on the radio. The address in the phone book said Kelburn Parade so I had walked the length of said boulevard, way past the University and all the way to Hadfield Terrace and back, before try­ing my luck at the Student Union Building. I'd arrived in Wellington less than a month earli­er, determ­ined to make some head­way with a career in radio and one of the reas­ons I had agreed so read­ily to leave the UK was Radio Active itself.
When I got inside, the delight­ful Charles Mabbett showed me around and told me how to sign up for on-air shifts des­pite the fact I was­n't even a stu­dent yet. When I got on air I showed off a bit, play­ing the records I had brought with me from London (the fruits of many hours late-night listen­ing to Peel and David Jensen), think­ing I would show these colo­ni­als what was really happening.
It did­n't take very long before the les­sons were being taught in the oth­er dir­ec­tion. We played plenty of requests in those days and I found myself get­ting phone calls ask­ing for bands and songs I had nev­er heard of: The Birthday Party and Hunters & Collectors for example; and people called The Dance Exponents, Netherworld Dancing Toys, The Chills and (of course) Blam, Blam, Blam.
I think it was some­where between hear­ing "Marsha" and "There Is No Depression In New Zealand" (and DD Smash's "Magic What She Do" for that mat­ter) that I decided that I wanted to be a New Zealander. I'd told my par­ents that I would give Wellington a year and if it was­n't work­ing for me I'd go back to England and study there. But I stumbled on Flying Nun, Dave Dobbyn and The Blams and it was all over red-rover – no going back.
The Blams had already been defunct for sev­er­al years by the time I arrived: "Marsha" and "No Depression" were in the oldies bin along with "Pink Frost" and "Victoria". I was lucky enough to see oth­er Don McGlashan ensembles includ­ing the won­der­ful Front Lawn in 1989 and The Mutton Birds, of course, but I nev­er expec­ted to ever see Blam, Blam, Blam. Until last night.
Thanks to my col­leagues at Wellingtonista I had a ring­side seat at The Blams Public Address gig at Mighty Mighty last night (fol­low­ing Russell Brown's "It Doesn't Give My Opponents Much Time, Either" quiz and the 2nd Annual Wellingtonista Awards). Jeez, they were good: great songs, great sound, great com­pany. If someone had told me that The Undertones were reform­ing with Feargal Sharkey and they were going to play in my front room I could­n't have been happier.
Photo taken from my cam­era phone but there are bet­ter pics here. In fact, flashes were going off left, right and centre so there'll be plenty of oth­er pho­to­graphs soon enough, I'm sure.
By the way, it's Radio Active's 30th birth­day this month. Maybe I'll be able to dig out some gems from my archive in time for the 35th.