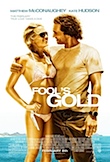 In 2003 the paper-thin romantic com­edy How to Lose a Guy in 10 Days paired Matthew McConaughey with Kate Hudson and made over 100 mil­lion dol­lars. The rules of Hollywood eco­nom­ics, plus the over­whelm­ing dic­tates of focus groups and research­ers, meant they would have to be reunited. So, as soon as Hudson's baby-body was fit to be seen in a tiny bikini, they were off to the Bahamas to make Fool's Gold, a bur­ied treas­ure adven­ture set among the rich and beautiful.
McConaughey plays "Finn" Finnegan, a treas­ure hunter, and Hudson his soon-to-be ex-wife. She's divor­cing him because she's a tight-ass and wants to fin­ish her PhD. He is hope­lessly in debt to hip-hop super­star Bigg Bunny who has been fund­ing his search for lost Spanish gold. When he dis­cov­ers a din­ner plate sized clue he suck­ers Hudson and super yacht own­er Donald Sutherland into join­ing the search, des­pite the viol­ent atten­tions of Mr Bunny and com­pet­i­tion from dodgy accen­ted Ray Winstone.
Matthew McConaughey isn't the lazi­est of our male Hollywood stars (Nic Cage takes that prize) but he has coas­ted for an enorm­ous amount of time on what some might see as charm alone. Fool's Gold doesn't change that approach and your enjoy­ment will depend entirely on how much you appre­ci­ate McConaughey's cha­risma as there isn't much else to enjoy. Despite the Caribbean set­ting all the black char­ac­ters are either vil­lains or buf­foons or both, Bigg Bunny (Kevin Hart) alone man­ages to sup­ply two objec­tion­able ste­reo­types at once. I hope that isn't the res­ult of a Hollywood focus group.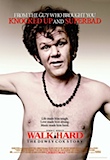 Walk Hard: The Dewey Cox Story tells a heart-rending, and repair­ing, story of tragedy and redemp­tion in the music busi­ness. Inspired by classy bio-pics like Walk the Line and Ray (and even La Vie En Rose, prob­ably), Walk Hard stars per­en­ni­al sidekick John C. Reilly as the eponym­ous Dewey, dumber than a sack of ham­mers but with a heart of lead, as he over­comes the tra­gic death of his broth­er in a machete acci­dent ("the wrong kid died", says his stone-faced fath­er at every oppor­tun­ity), the loss of his sense of smell and addic­tion to every sub­stance on the plan­et short of cinnamon.
Films like Walk Hard are always hit and miss affairs and this one runs about 50–50. The tar­gets are pretty soft, how­ever, and I'd hoped that a writ­ing team that includes Judd (Knocked Up) Apatow might have aimed a little high­er. The best things in the film are the songs, well sung by the tal­en­ted Reilly: my favour­ite is the 60s pro-midget protest song "Let Me Hold You, Little Man".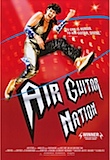 It's very hard to focus on a film when you spend most of it shak­ing your head in dis­be­lief. Air Guitar Nation is a doc­u­ment­ary fol­low­ing the first two American con­tenders in the well-established World Air Guitar Championship in Finland. The Yanks may have inven­ted Rock but they have come second to the Air Guitar party, strug­gling with the more high-level con­cepts ("You can­'t hold a gun, if you've got an air gui­tar in your hand") and the ser­i­ous intent of the Northern Europeans. But they do have old-fashioned show­man­ship on their side. Diverting.
Printed in Wellington's Capital Times on Wednesday 13 February, 2008.