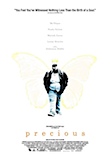 After watch­ing so many films that are so sim­il­ar in con­tent and con­struc­tion that they are hard to tell apart, it is a real pleas­ure to come across some­thing that con­tains no famil­i­ar faces, has a dir­ect­or whose name is unknown (to me at least) and takes an approach to storytelling that con­sist­ently sur­prises and delights – even if the story itself is about as dark as it gets.
Lee Daniels' Precious, I'm pleased to gaboure­port, is far more than just nov­elty, rising con­fid­ently (cine­mat­ic­ally) above its kitchen-sink found­a­tions to soar high above almost every drama I saw last year. Set in Harlem in the mid 1980s, it presents us with the unprom­ising fig­ure of Clareece Precious Jones (new­comer Gabourey Sidibe). She is 16 years old and over­weight, abused at home and ignored at school, dream­ing of some­thing bet­ter but not hope­ful of a way out. Her fath­er has just made her preg­nant for the second time and when the school finds out she is giv­en the option of wel­fare (which sus­tains her grot­esquely awful moth­er) or a spe­cial school for those with poten­tial gifts – she has some tal­ent for maths.
This is one of the few aspects of the film that doesn't ring true – the school she is sent to seems alto­geth­er too per­fect, and her teach­er too self­less and per­son­ally gen­er­ous – but those classroom scenes are played with such energy and earthy wit that it's eas­ily forgivable.
The poten­tial for mawk­ish­ness is kept at bay through­out, as if the film knows how heavy it is get­ting, and there's quite a bit of self-aware humour to help it along – the classroom dis­cus­sion about the mean­ing of the word 'relent­less' comes to mind. All the per­form­ances are first-rate, but the stand-out is comedi­enne and talk show host Mo'nique as Precious' awful moth­er – a scin­til­lat­ing and vivid por­tray­al of bru­tal (and bru­tal­ised) self-regard. I've nev­er seen any­thing like her.
Nearly 25 years ago, New Zealand dir­ect­or Martin Campbell made one of the finest tele­vi­sion series ever in "Edge of Darkness", a para­noid nuc­le­ar thrill­er with fiendishly clev­er psy­cho­lo­gic­al under­tones. It was six hours long and I'm sorry to say the only resemb­lance between it and Campbell's new big screen ver­sion is that the new one feels six hours long. Relocated to Massachusetts, and with fad­ing super­star Mel Gibson in the role made fam­ous by tacit­urn Bob Peck, this Edge of Darkness should be named some­thing else so that it can't be com­pared to the ori­gin­al. Then we can hate it for what it is rather than what it isn't.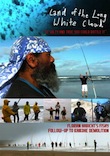 When Florian Habicht burst on to the scene in 2003 it was with a bizarre and per­plex­ing black and white art film called Woodenhead. Who would have guessed tha he would go on to become our premi­er doc­u­ment­ari­an, mak­ing essen­tial films like Kaikohe Demolition and 2008's Rubbings from a Live Man. In his new film Land of the Long White Cloud he returns to the Far North of New Zealand, to 90 Mile Beach for the country's richest fish­ing com­pet­i­tion. He, and his off-sider Christopher Pryor, roam up and down the beach for five days get­ting to know the char­ac­ters and help­ing us under­stand that strange and won­der­ful part of New Zealand even more. Often quite spellbinding.

The New Zealand Film Commission is tout­ing films like micro-budget UK thrill­er Shifty as the future of low-budget film­mak­ing in this coun­try and has brought writer-director Eran Creevy out to talk to loc­als about how they get things done. After watch­ing Shifty on DVD last night, I can see their point. It's a well-made, dark drama about an Anglo-Pakistani drug deal­er and the final 24 hours in his career – a run of bad luck means he either has to get out or he will be got­ten out per­man­ently. The script bal­ances the per­son­al rela­tion­ship stuff with some clev­er plot­ting and Creevy draws good per­form­ances from his cast – par­tic­u­larly the elec­tri­fy­ing Riz Ahmed as the title character.
Having said all that, the film won't be to everyone's taste, but if you want to watch ignor­ant Poms swear­ing at each oth­er for an hour and a half while drink­ing lager from very tall cans, this is the film for you.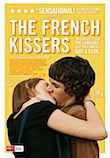 Finally, a word about the French Film Festival which gets under­way at the Embassy this Thursday. Despite the organ­isers gen­er­ous offers of pre­views, my oth­er com­mit­ments have restric­ted me to only one from the pro­gramme so far but it was a goody: The French Kissers is like the flip­side of the recent smash-hit The Class (which was a sig­ni­fic­ant hit here last year). Instead of a ded­ic­ated teach­er this film focuses on the sex-mad stu­dents in a multi-cultural inner city high school. Beautifully observed, the obses­sions and habits of teen­age boys are per­fectly por­trayed. Was I ever like that? I'll have to refuse to answer on the grounds that I may incrim­in­ate myself.
Printed in Wellington's Capital Times on Wednesday 10 February, 2010.
I know the French Film Festival is long gone but The French Kissers might show up in your loc­al video store, so here it is.