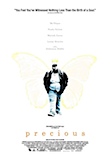 After watching so many films that are so similar in content and construction that they are hard to tell apart, it is a real pleasure to come across something that contains no familiar faces, has a director whose name is unknown (to me at least) and takes an approach to storytelling that consistently surprises and delights – even if the story itself is about as dark as it gets.
Lee Daniels' Precious, I'm pleased to gaboureport, is far more than just novelty, rising confidently (cinematically) above its kitchen-sink foundations to soar high above almost every drama I saw last year. Set in Harlem in the mid 1980s, it presents us with the unpromising figure of Clareece Precious Jones (newcomer Gabourey Sidibe). She is 16 years old and overweight, abused at home and ignored at school, dreaming of something better but not hopeful of a way out. Her father has just made her pregnant for the second time and when the school finds out she is given the option of welfare (which sustains her grotesquely awful mother) or a special school for those with potential gifts – she has some talent for maths.
This is one of the few aspects of the film that doesn't ring true – the school she is sent to seems altogether too perfect, and her teacher too selfless and personally generous – but those classroom scenes are played with such energy and earthy wit that it's easily forgivable.
The potential for mawkishness is kept at bay throughout, as if the film knows how heavy it is getting, and there's quite a bit of self-aware humour to help it along — the classroom discussion about the meaning of the word 'relentless' comes to mind. All the performances are first-rate, but the stand-out is comedienne and talk show host Mo'nique as Precious' awful mother – a scintillating and vivid portrayal of brutal (and brutalised) self-regard. I've never seen anything like her.
Nearly 25 years ago, New Zealand director Martin Campbell made one of the finest television series ever in "Edge of Darkness", a paranoid nuclear thriller with fiendishly clever psychological undertones. It was six hours long and I'm sorry to say the only resemblance between it and Campbell's new big screen version is that the new one feels six hours long. Relocated to Massachusetts, and with fading superstar Mel Gibson in the role made famous by taciturn Bob Peck, this Edge of Darkness should be named something else so that it can't be compared to the original. Then we can hate it for what it is rather than what it isn't.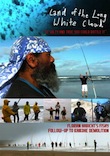 When Florian Habicht burst on to the scene in 2003 it was with a bizarre and perplexing black and white art film called Woodenhead. Who would have guessed tha he would go on to become our premier documentarian, making essential films like Kaikohe Demolition and 2008's Rubbings from a Live Man. In his new film Land of the Long White Cloud he returns to the Far North of New Zealand, to 90 Mile Beach for the country's richest fishing competition. He, and his off-sider Christopher Pryor, roam up and down the beach for five days getting to know the characters and helping us understand that strange and wonderful part of New Zealand even more. Often quite spellbinding.

The New Zealand Film Commission is touting films like micro-budget UK thriller Shifty as the future of low-budget filmmaking in this country and has brought writer-director Eran Creevy out to talk to locals about how they get things done. After watching Shifty on DVD last night, I can see their point. It's a well-made, dark drama about an Anglo-Pakistani drug dealer and the final 24 hours in his career – a run of bad luck means he either has to get out or he will be gotten out permanently. The script balances the personal relationship stuff with some clever plotting and Creevy draws good performances from his cast – particularly the electrifying Riz Ahmed as the title character.
Having said all that, the film won't be to everyone's taste, but if you want to watch ignorant Poms swearing at each other for an hour and a half while drinking lager from very tall cans, this is the film for you.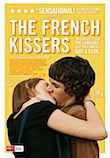 Finally, a word about the French Film Festival which gets underway at the Embassy this Thursday. Despite the organisers generous offers of previews, my other commitments have restricted me to only one from the programme so far but it was a goody: The French Kissers is like the flipside of the recent smash-hit The Class (which was a significant hit here last year). Instead of a dedicated teacher this film focuses on the sex-mad students in a multi-cultural inner city high school. Beautifully observed, the obsessions and habits of teenage boys are perfectly portrayed. Was I ever like that? I'll have to refuse to answer on the grounds that I may incriminate myself.
Printed in Wellington's Capital Times on Wednesday 10 February, 2010.
I know the French Film Festival is long gone but The French Kissers might show up in your local video store, so here it is.