Expat Kiwi auteur Andrew Niccol (Gattaca) some­how always man­ages to tap in to the zeit­geist and with new sci-fi thrill­er In Time his own tim­ing is almost spook­ily per­fect. A par­able about the mod­ern polit­ic­al eco­nomy, In Time isn't a par­tic­u­larly soph­ist­ic­ated ana­lys­is but while protest­ors occupy Wall Street, St Paul's in London and the City to Sea Bridge here in Wellington, it seems almost per­fectly cal­cu­lated to pro­voke a big Fuck You! to the bankers, spec­u­lat­ors and hoarders who are rap­idly becom­ing the Hollywood vil­lains we love to hate.
In Niccol's world, sev­er­al dec­ades into the future, time is lit­er­ally money: human beings have been genet­ic­ally mod­i­fied to stop (phys­ic­ally) age­ing at 25. Which would be lovely apart from the fact that a clock on your writst then starts count­ing down the one year you have left to live and the time on your wrist becomes cur­rency. You can earn more by work­ing, trans­fer it to oth­ers by shak­ing hands, bor­row more from banks and loan sharks or you can spend it on booze to blot out the hor­ror of your pathet­ic little life.
Justin Timberlake has been get­ting by in the ghetto for three of his 25+ but when a mys­ter­i­ous man gives him 100 years before sui­cid­ing off a bridge (and his moth­er dies because the bus fares have gone up) he is fired up to invest­ig­ate and then cor­rect this obvi­ous injustice. The super-rich are hoard­ing time for them­selves and becom­ing immor­tal and the 99% are slowly dying off because of arti­fi­cial short­ages cre­ated by those who own the means of production.
Despite all that, In Time isn't very suc­cess­ful, largely because it's full of holes and doesn't go fast enough to pre­vent those "Hold on, what?" moments that drop you out of Niccol's world. So, while one hopes that all those kids who have nev­er heard of Marx (Karl, Groucho or Richard) get to see In Time and rise up against the bour­geois­ie – or at least vote – I fear the film isn't quite good enough to start a revolution.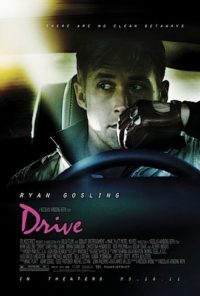 A film that would def­in­itely be good enough, if only it was about some­thing oth­er than exist­en­tial ennui and the utter point­less­ness of mak­ing plans, is Nicolas Winding Refn's Drive. This generation's Brando, Ryan Gosling, becomes this generation's Ryan O'Neal as a name­less Hollywood stunt and get­away driver who falls for his beau­ti­ful neigh­bour (Carey Mulligan) and her son and, in attempt­ing to pro­tect them from harm, comes between a bunch of "bel­li­ger­ent assholes with their backs against the wall" (Albert Brooks and Ron Perlman) and a mil­lion bucks.
If you've seen any of Refn's oth­er work – Bronson, Valhalla Rising, the Pusher tri­logy – you won't be sur­prised at the viol­oence or the vir­tu­os­ity. You may be sur­prised, though, at the sub­tlety and the nuance in the way the rela­tion­ships are artic­u­lated, helped by Hossein Amini's aus­tere script and Gosling's abil­ity to do so much with so little.
Drive is eas­ily one of the best films of the year but you need to know that it isn't the Hollywood action flick that the mar­ket­ing would have you believe: it's got a 70s European sens­ib­il­ity and an 80s Hollywood aes­thet­ic, like Antonioni crossed with Friedkin's To Live and Die in L.A. or Gere in American Gigolo. So, in that sense, it's bound to appeal more to film buffs than aver­age Joe Punter which is how – if the reviews are any­thing to go by – it appears to be play­ing out.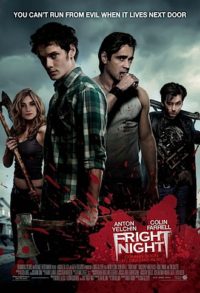 "Not ter­rible" is my ver­dict on the new Fright Night which stars Colin Farrell as the vam­pire who moves in to the Las Vegas sub­urbs and starts eat­ing the neigh­bours. The social sub­text isn't far from the sur­face, the scary bits are much more effect­ive than cheap trash like Paranormal Activity and there's an inter­est­ing cast includ­ing former Dr Who David Tennant as a wasted casino con­jur­or. I was par­tic­u­larly taken with Imogen Poots as the hero's girl­friend and, if IMDb counts for any­thing, she is going places.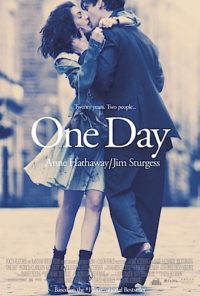 The new Anne Hathaway vehicle, One Day, is an inter­est­ing fail­ure. Adapted from a best­selling nov­el – with the fin­an­cial sup­port of the pub­lish­er which is a new wrinkle – about an almost 20 year friend­ship that turns into true love. The biggest prob­lem is that, des­pite Hathaway being the story's most appeal­ing char­ac­ter and the stronger act­or of the couple, it isn't really about her which means she spends too long off screen.
The guy in the rela­tion­ship – played by Jim Sturgess from Across the Universe – is an unat­tract­ive, self-involved, over-entitled, pub­lic school rich kid who spends far too much of the film feel­ing sorry for him­self. It doesn't help that Sturgess hasn't got the act­ing chops nor looks old enough for the twenty years older scenes.
The film also wastes three usu­ally awe­some female act­ors: Patricia Clarkson (whose English accent is fault­ess unlike Ms Hathaway's), Jodie Whittaker (from Venus) and Romola Garai (Atonement). Perhaps One Day might have been bet­ter bal­anced as a TV series?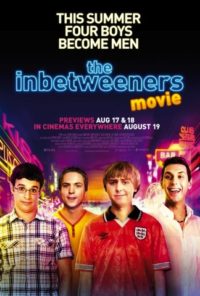 I wish The Inbetweeners Movie had stayed as a TV show. Then I would have been able to remain bliss­fully ignor­ant of its exist­ence. Instead, I was forced to sit through an hour of puerile, inane, insult­ing, vile attempts at humour about the ghastly British abroad. This, friends, is why we should hope that New Zealand doesn't get much warm­er as a res­ult of cli­mate change. We really don't want to become a hol­i­day des­tin­a­tion for fun-loving, booze-hungry, sex-crazed, teen­age Poms.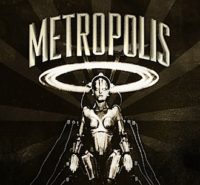 Since the Embassy refurb robbed us of the orches­tra pit we haven't had much in the way silent movie action in town. The NZSO are fix­ing that this week­end with a spe­cial one-off screen­ing of Fritz Lang's Metropolis with the full orches­tra play­ing Gottfried Huppertz' ori­gin­al 1927 score. A must-see for all film fans.
Printed in Wellington's Capital Times on Wednesday 2 November, 2011.