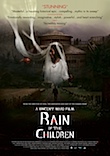 Arguably, the most important film of the year so far opens this week: Rain of the Children restores Vincent Ward's reputation as a singular cinema artist, after the desperate travails of River Queen, and uses the essential New Zealand story of Rua Kenana and the Tuhoe resistance as vivid background to a universal story of parenthood and loss.
In this film Ward returns to the subject of his first documentary, In Spring One Plants Alone, a film he made as a naive 21 year old back in 1979. In that film we watched as 80 year old Puhi attempted to care for her last child, the mentally ill Niki. In Rain, Ward tells Puhi's whole story — from her Urewera childhood, marriage to the prophet Rua's son, and then the tragedies that bore down upon her until she (and the rest of her community) considered herself cursed.
The full emotional impact took a while to register with me — long enough that the tears didn't start until half way through the credits. I'd need to see it again before making the call about "masterpiece" or not, but it certainly felt like that, standing numb in the Wellington rain after the Film Festival screening.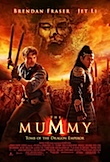 I don't know what I did to deserve the dubious pleasure of two Brendan Fraser action flicks in two days, but I can't say I'm all that grateful. Journey to the Centre of the Earth will get it's review next week but as for The Mummy: Tomb of the Dragon Emperor the less said the better. The discovery of an abandoned tomb full of relics in western China brings Fraser and Maria Bello (subbing for Rachel Weisz) out of retirement just in time for the magical Eye of Shangri-La to bring evil Emperor Han (Jet Li) back to life. Li has never been the most expressive of actors and, luckily for him, he spends most of the film under a computer-generated mask of stone. It's what we used to call a romp and is so stuffed with 'stuff' that it's hard to argue that you don't get your money's worth, even if it doesn't amount to a hill of beans.

Taken is highly effective, first-rate pulp starring Liam Neeson in the kind of role that Charles Bronson or Lee Marvin might have played back in the day. Neeson isn't as cool as Marvin, but that's ok as, by choosing to play his characters faults as well as his strengths, he gives the audience something to connect with (amidst all the violence and mayhem). He plays a retired spy, trying to reconnect with his family who have started over without him. A bit like De Niro in the Fockers films, he's over-protective, cynical and paranoid but when his daughter is kidnapped by white slavers about an hour after arriving in Paris all his fears come true and only he can do the required rescuing.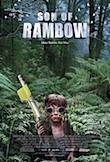 Son of Rambow pushes plenty of my 80s English nostalgia-buttons ("Screen Test", cinemas split into smoking and non-smoking sections, Space Dust & Coke cocktails) but, despite that, I never quite managed to fall in love with it. 10 year old Plymouth Brethren-ite, Will (Bill Milner) discovers Stallone's First Blood via pirate video and is persuaded by school terror Lee Carter (Will Poulter) to be the stuntman in his VHS-cam tribute. Too reliant on the fatherless-child cliché for its drama, and cartoon whimsy for its comedy, Son of Rambow never quite reaches the heights promised by its central idea.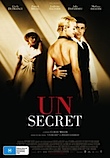 There's plenty of excellent drama still to be mined from the Holocaust, as Un Secret (from France) and Austrian Oscar winner The Counterfeiters prove. In the first film The Diving Bell and the Butterfly's Mathieu Amalric searches Paris for his father, while in flashback, he searches his family history for something to explain his own life. There are plenty of secrets to choose from, and one of the pleasures of the film is trying to work out which one is the secret of the title.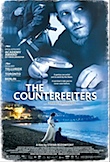 While Un Secret focuses on a family's attempts to stay out of the camps, The Counterfeiters locks us inside with the inmates of Sachsenhausen and it's a hell of a thing. Karl Markovics plays professional forger Sally Sorowitsch, enlisted by the Nazis to provide expert assistance for their attempts to flood the Allied economy with fake banknotes. Sally sees it as his opportunity to avoid the gas chambers but not everyone on the team shares his single-minded devotion to survival and he is forced to engage with his own lack of idealism.
Markovics' remarkable cheekbones provide excellent architecture to inspire Benedict Neuenfels' superb high contrast cinematography and The Counterfeiters is gripping, moving and provocative throughout.
Printed in Wellington's Capital Times on Wednesday 17 September, 2008.
Notes on screening conditions: For once, little to complain about. Rain of the Children as intimated in the body copy, was at a packed Film Festival matinée at the Embassy; The Mummy was also at the Embassy, although more recently, Taken was at Readings 2, courtesy of a pass from Fox, Son of Rambow (which was the cause of some consternation last week) was a torrent; Un Secret was screened from a preview DVD from Hoyts Distribution (due to the already alluded to Penthouse problems) and The Counterfeiters was in the big room at the Paramount where it was a little too quiet (not the end of the world with subtitles) and the print had definitely been around the block a few times.