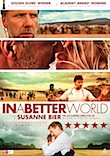 I love it when a film raises the stakes. Done with wit, it can drag you back in to a film you might have been drift­ing away from. Done with smarts, like Susanne Bier's Danish drama In a Better World, it can drag you to the edge of your seat.
About two-thirds in to the film there's an event that forces a cent­ral char­ac­ter to con­front his own prin­ciples – val­ues he has been care­fully (and self­lessly) teach­ing his kids – and he has to ques­tion wheth­er those prin­ciples are really doing him any good in a world that refuses to hon­our them in return.
The char­ac­ter is Anton (Mikael Persbrandt), a Swedish doc­tor work­ing in a sub-Saharan refugee camp where – in addi­tion to the usu­al lit­any of drought-related prob­lems – he's patch­ing up preg­nant women bru­tal­ised by the loc­al war­lord. He's troubled by the cir­cum­stances but smug about his role in the aid pro­cess. Perhaps he should be pay­ing more atten­tion to back home though, as his old­est son Elias (Markus Rygaard) is being bul­lied at school and taken under the wing of cold-eyed psy­cho­path Christian (bril­liant William Jøhnk Nielsen), griev­ing the can­cer death of his moth­er and tak­ing his quiet rage out on the world.
Violence, revenge, how we defend and pro­tect ourselves – Bier's film clev­erly sets up and then under­mines all the argu­ments for and against, leav­ing us to draw the only con­clu­sion left: the world is dif­fi­cult and com­plic­ated and all our attempts to live well with­in it are likely to be undone by some­thing out of our control.
The stakes are also raised through­out the new Liam Neeson big budget B‑movie Unknown (or Unknowen as it's pro­nounced here). Neeson plays a mild-mannered bio­lo­gist in Berlin for a con­fer­ence with his wife (January Jones from "Mad Men"). One lost briefcase, one taxi crash off a bridge and one bang on the head later and he's been replaced at his wife's side by Aidan Quinn who is now the dis­tin­guished American bio­lo­gist and Neeson is – who the Hell knows who Neeson is.
With the help of beau­ti­ful Bosnian refugee (Diane Kruger) and a age­ing former Stasi spook (played with his usu­al twinkly bril­liance by Bruno Ganz) Neeson tries to unravel a plot that involves a threatened Saudi prince and a new strain of everything-resistant corn that might feed the world. Entertaining and, accord­ing to one who knows, set in a recog­nis­able Berlin.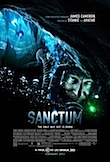 The stakes are pretty high for the cavers trapped in the world's deep­est under­wa­ter cave in Sanctum 3D. Unfortunately for them, and for us, film­makers Alister Grierson and James Cameron have con­sid­er­ably over­es­tim­ated how much an audi­ence will care about these pom­pous blow-arses and their ter­rit­ori­al piss­ing con­tests. It's a not-quite-truism that a film needs a sym­path­et­ic cent­ral char­ac­ter but there's no one in Sanctum to root for.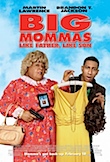 Finally, my first expos­ure to the fran­chise known as Big Momma's House. I announced my pres­ence at the cinema via Twitter on Thursday and got a help­ful pre-review review from @GrumpyYetAmusin: "@danslevin I could write the review for you from here – "this film is for­mu­laic, inane, con­des­cend­ing and not amus­ing". Okay?" Nail. On. Head.
Sadly for me I had to watch all 107 minutes of Big Mommas: Like Father, Like Son in order to con­firm Mr Amusin's con­clu­sion. 22 years ago , star and exec­ut­ive pro­du­cer Martin Lawrence appeared in Spike Lee's mas­ter­piece Do the Right Thing and he has just about exhausted the many brownie points that earned him.
Printed in Wellington's Capital Times on Wednesday 23 February, 2011.