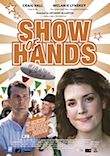 According to the venerable IMDb.com, before Show of Hands the only feature films to be shot in New Plymouth were The Last Samurai (sort of) and something called Mad Mission 4: You Never Die Twice, so Anthony McCarten's gentle little comedy-drama is already historic.
Showcasing the Taranaki landscape as well as the people, Show of Hands has an ambition as small as the town but, sadly, doesn't bear up under too much scrutiny. A struggling car yard owner (Steven Stephen Lovatt) runs a hands-on-the-car promotion as a last ditch attempt to save his business and a handily representative cross-section of New Zealand society turns out to have a go.
The three main contenders are Melanie Lynskey's single-mum (who needs the car to ferry her wheelchair-bound daughter about); Matt Whelan's young trustafarian and Craig Hall's cold-fish businessman who may or may not need the dough to solve his business problems or may or may not just be an ultra-competitive egotistical jerk. The whole film suffers from a similar lack of clarity which makes suspending disbelief a struggle. The acting is fine however and Whelan in particular is excellent — one for the future there.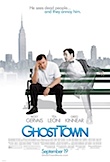 Cursed with a not-very-promising title, and a high concept premise (obnoxious dentist dies for seven minutes on an operating table and wakes up with the ability to see the ghosts of Manhattan), David Koepp's Ghost Town turns out to be one of the mainstream pleasures of the year. I'm going to assume that every Hollywood rom-com with an English lead was written for Hugh Grant, but we can be grateful that he has all-but retired as it gives Ricky Gervais a meaty role which he grabs with both hands. Gervais may not have much range as an actor, but he does have depth and I found myself being unaccountably moved by a film that always delivers a little more than it says on the tin.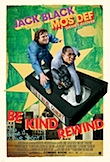 If the remarkable success of the 48 Hour Film Competition has proved anything in recent years it is that making films is now as much of a community experience as watching them and it's that same hand-made, JFDI, aesthetic that Michel Gondry celebrates in the very special Be Kind Rewind.
While minding doddery Danny Glover's ramshackle New Jersey video (and thrift) store, Mos Def discovers that all the precious VHS tapes have been erased by magnetic doofuss Jack Black. To save the business our heroes re-make the contents of the store using only a handycam and their ingenuity, eventually enlisting the whole town. I loved Be Kind Rewind and you'll be honouring the spirit of the film if you see it at a theatre with a bunch of strangers.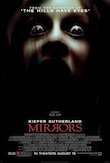 Mirrors is yet another re-make of an Asian horror flick and there ain't much water left in that particular well. Kiefer Sutherland plays a troubled NY ex-cop who takes a security guard job at an abandoned department store (Romanian and Hungarian studios plus a tiny bit of stock footage stand in for Manhattan). On his first night on the job the mirrors start to freak him out and two hours of excruciating exposition follow.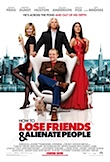 Also shot on a European sound stage, though a second unit did make it through JFK to shoot some scenery, How to Lose Friends and Alienate People is an amiable little romp starring Simon Pegg as a try-hard English journalist trying to make it as a celebrity writer on a top New York magazine. Pompous yet insecure, Pegg's Sidney Young (loosely based on author Toby Young whose book was itself loosely based on his own short Manhattan career) cuts a slapstick swathe through high society. Pegg is ok (but he's no Ricky Gervais, see above) but Megan Fox as movie star Sophie has the worst skin I've ever seen on a Hollywood leading actress.
Writer-Director Guy Ritchie's dreadful faux-cockney purple prose has been drooled all over the interminable RocknRolla, a boysie bit of rough and tumble that's the cinematic equivalent of someone grabbing you around the neck and rubbing their knuckles into your skull. The sloppy plot involves a Russian oligarch's lucky painting, an old school East End gangster on the way out, a rock star faking his own death and a big black ticket tout with a taste for Jane Austen.
Ritchie does have an eye for young talent (Lock Stock and Two Smoking Barrels made Jason Statham a star): look out for Toby Kebbell (the junkie rock star Johnny Quid) and Tom Hardy (Handsome Bob), just don't look out for them in this.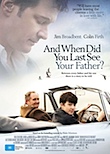 Finally, there's not many films that wouldn't be improved with the addition of the wonderful Jim Broadbent, and he really shines in And When Did You Last See Your Father?, a worthy brit-lit adaptation that also stars Colin Firth. Broadbent plays the father in question, a jovial egotist who doesn't realise that his over-abundant joie-de-vivre is crushing the spirits of those around him. Firth is poet Blake Morrison, coming to terms with his father's terminal illness with the help of plenty of flashbacks to his 60s childhood. Director Anand Tucker builds his case carefully until a splendidly moving finale draws a line under a very satisfying film.
Printed in Wellington's Capital Times on Wednesday 19 November, 2008.
Nature of conflict: I produced a couple of plays for Anthony McCarten back in the early 90s — "Let's Spend the Night Together" and the revival of "Yellow Canary Mazurka".
Notes on screening conditions: Ghost Town, How to lose Friends…, RocknRolla and Mirrors were all at Readings public sessions (all fine except How to Lose Friends… was slightly out of frame meaning some of the titles spilled on to the masking); Be Kind, Rewind was at the Paramount and the first half was 20% out of focus and the whole film was about 20% too quiet; Show of Hands was a late night watermarked DVD from Rialto Entertainment and And When Did You Last See Your Father? was at the Embassy during the Film Festival back in July.