After a splendid Wellington Film Festival last year, the New Zealand International Film Festival might be forgiven for putting their feet up and taking it easy but instead they have gone out of their way to produce another basket of goodies to fill the Easter weekend and beyond: the grandly titled World Cinema Showcase.
Arguably the only real difference between their two events now is the scale — and the lack of Embassy big screen — but there is quality all over this year's Showcase. Like they do at its older — wintrier — sibling audiences are surely tempted to try the "will it come back" lottery but those odds are deteriorating all the time. Indeed, at time of writing one film (Ralph Fiennes' Coriolanus) has already been withdrawn from the commercial release schedule and Showcase screenings are the only chance to experience it on the big screen.
As is my wont, though, I asked the Showcase people to feed me previews of the little battlers, the unheralded, the films that are often overlooked by a media demanding big names, headlines and page views. I was given 10 to look at, a couple dropped off as I didn't feel up to recommending them, but I've added two more that I saw (or partially saw) at last year's Festival. So, here's ten to watch at Showcase 2012.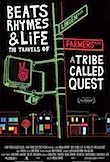 Music docos have always been a major component of both Festival and Showcase and several hundred Wellington moviegoers were disappointed when a power cut interrupted the July screening of Beats, Rhymes & Life: The Travels of a Tribe Called Quest. They (meaning I) get a chance to see the conclusion of this fascinating portrait of hip-hop pioneers in an uncomfortable middle age. Also dealing with the fallout from success are the folk duo Glen Hansard and Markéta Irglová, Oscar winners from the 2006 film Once. As The Swell Season, they toured and recorded, trying to ride the wave they were on and keep their relationship intact at the same time. Hansard's troubled family background and Irglová's youth conspire against them however and the film of their post-Oscar lives is more about a relationship fizzling out than your usual rock documentary. Which is good because there's nothing startling about the music.