Is it too early to suggest that we might be living in a golden age of cinema? Think of the filmmakers working in the commercial realm these days who have distinctive voices, thrilling visual sensibilities, solid intellectual (and often moral) foundations, a passion for combining entertainment with something more — along with an abiding love of cinema in all its strange and wonderful forms.
I'm thinking of the Coens, obviously, but also Peter Jackson (and protégé Neill Blomkamp), Danny Boyle (Slumdog Millionaire), Edgar Wright (Hot Fuzz and the forthcoming Scott Pilgrim), Jason Reitman (Juno and January's Up in the Air), Guillermo Del Toro (working hard on The Hobbit in Miramar), and even Tarantino is still producing the goods. This week we are lucky enough to get new work from two others who should be in that list: Spike Jonze and Steven Soderbergh.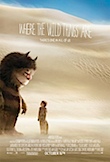 Jonze made his name with oddball stories like Being John Malkovich and Adaptation and the first thing you notice about his interpretation of the beloved Maurice Sendak children's book, Where the Wild Things Are, is that it simply doesn't resemble anything else you've ever seen. With the help of writer Dave Eggers (the novel "A Heartbreaking Work of Staggering Genius", Away We Go) he has used the book as a starting point for a beautiful and sensitive meditation on what it is like to be a child (a boy child specifically).