J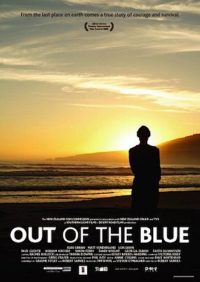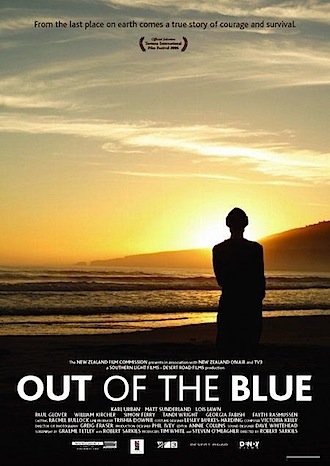 ean-Luc Godard once said that cinema was "truth at 24 frames per second".
Like most abso­lutes that phrase also works in reverse: the stunt man has­n't really been shot and the movie star can­'t really fly a space-ship – we are being lied to at 24 frames per second.
What, then, do we make of the phrase "based on a true story"? Are true stor­ies some­how truer? In the case of Robert Sarkies' Out of the Blue, it's true and you really wish it weren't.
David Gray's attack on his Aramoana neigh­bours in 1990, with extreme fire­power and a com­plete absence of con­science, was inex­plic­able then and not much bet­ter under­stood now. Sarkies' film does­n't attempt to explain why but you do get a vivid idea of how it might have felt to be hunted by a real mon­ster in your own backyard.
It does­n't all work. Dialogue often seems like a short­cut to char­ac­ter rather than some­thing a real per­son might actu­ally say. The ana­chron­ist­ic use of some "greatest kiwi hits" to evoke a peri­od where NZ music was mostly not­able for its absence does­n't help. The film goes from being unbe­liev­able because of a clunky script to being unbe­liev­able because we really don't want to believe it. Once the action starts, Sarkies' excel­lent dir­ec­tion comes to the fore and the film hits its emo­tion­al tar­gets with admir­able accur­acy and power.
I must make spe­cial men­tion of the sound design which made the gun­fire seem so un-Hollywood – I don't know what gun­fire actu­ally sounds like but it seemed totally believ­able and quite terrifying.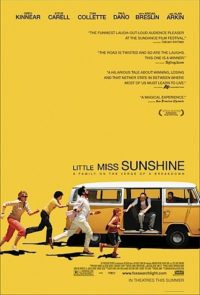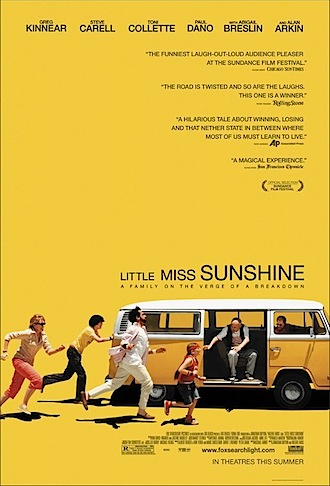 In Little Miss Sunshine a con­trived fam­ily of eccent­rics (fea­tur­ing Toni Colette, Greg Kinnear and the all-too-rarely-seen Alan Arkin) travel across coun­try in a kombi van so that young­est mem­ber, Olive (Abigail Breslin), can com­pete in the child beauty pageant of the title. On the way they get over some extremely unlikely coin­cid­ences, and each oth­er, to all become bet­ter people in less than a weekend.
Little Miss Sunshine has all the trap­pings of art-house cred­ib­il­ity but, in fact, is as much a fantasy as The Little Mermaid. The plot is ripped straight from the Hollywood, feel-good hand­book and there's even a show-stopping final num­ber involving the entire cast. Entertaining but shallow.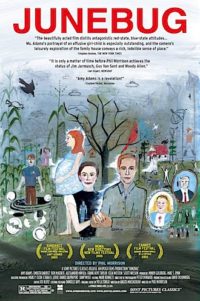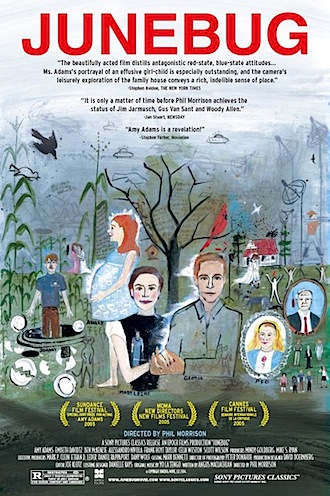 Phil Morrison's Junebug con­tains more truth in a single frame than Little Miss Sunshine man­ages in the entire film.
Chicago art gal­lery own­er Embeth Davidtz vis­its her new hus­band's fam­ily in North Carolina. The usu­al culture-clash com­edy ensues, except that it's so much bet­ter, sweeter, and more human than usual.
The act­ing is first-rate through­out (Amy Adams was Academy Award nom­in­ated as the delight­fully appalling Ashley) but it is Davidtz who really shines. We see the whole com­munity through her eyes and her per­form­ance could have sold them all out in a heart­beat. Instead, she grows to love them and so do we.
My enjoy­ment of this film was con­sid­er­ably enhanced by a lovely soundtrack and the catch­i­est theme song of the year so far: Syreeta's Harmour Love was writ­ten and pro­duced by her hus­band Stevie Wonder in 1975 and it makes me want to buy an iPod so I can carry it around with me forever.
Printed in Wellington's Capital Times on Wednesday 18 October, 2006.
Update: I for­got to 'fess up to the con­flicts of interest with Junebug – it is also play­ing at the Academy Cinema in Auckland, whose web site I designed and main­tain. It is dis­trib­uted by Arkles Entertainment who I have done work for in the past.