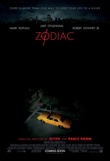 If, like David Fincher, you were growing up in Northern California during the early 70's you, too, might have become fascinated and obsessed by the mysterious publicity-troll serial killer known as Zodiac. Now Fincher has turned that fascination in to a solidly constructed but overlong history of the failed efforts to identify Zodiac and bring him to justice called, with typical imagination, Zodiac.
The film stars Jake Gyllenhaal as Robert Graysmith, cartoonist for the San Francisco Chronicle at the time of the first murders in 1969, whose obsession about the case led to a book identifying the most likely suspect (and a failed marriage).
One of the problems that law enforcement had in dealing with the Zodiac was his propensity for taking credit for murders that weren't his and the fact that his real murders occurred in three different jurisdictions, meaning that there was little or no co-ordination and important evidence wasn't shared. It took Graysmith's decade long perseverance to at least shine a light on a case that officially still remains open.
There are good performances from many reliable faces including Robert Downey Jr., Mark Ruffalo and Brian Cox. Chloe Sevigny is criminally under-used (as she often seems to be) as Graysmith's wife (but that's a fault with the true-life story rather than the filmmakers). In fact, this is one of those true stories you wish had been jazzed up a bit rather than treated with so much respect. The problem here is that Zodiac doesn't do a heck of a lot so there's no way to ratchet the tension up except with spooky blind alleys.
If you were a Zodiac-obsessed kid like Fincher, you'll get a big kick out of the detailed recreations of the era. If you are a normal citizen like myself, by the time the film goes in to Decade (and Hour) Three, you'll wonder what all the fuss is about.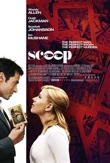 Altogether more successful serial-killer sleuths are on display in Woody Allen's new UK-based production Scoop. Scarlet Johansson plays Sondra Pransky, journalism student on holiday in London. At a magic show (Allen himself is The Great Splendini) she is visited by the ghost of gruff old Fleet Street hack Joe Strombel (Ian McShane) who gives her a tip: Eligible rich boy Peter Lyman (Hugh Jackman) is the infamous Tarot Card Killer and she has to reveal the truth and get the scoop of the decade.
With Splendini's help Pransky goes undercover but finds herself falling for Lyman/Jackman's charms and dropping the scent. This is minor Allen (aren't they all these days?) but not without charms and several jokes made me laugh out loud (one of which I am stealing for myself). It seems to have been thrown together a little haphazardly and a cast of English notables gets very little to do except stand around at garden parties — former Bond and Indiana Jones villain Julian Glover gets only one line as Lyman's father.
The beautiful Romola Garai (I Capture The Castle) plays best-friend Vivian and she will be here in September to play Cordelia to Ian McKellen's Lear at the St James. Looking forward to it.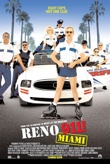 Finally, in a quiet week, late night tv spin-off Reno 911!: Miami is about as funny as someone standing on your corn (an image drawn directly from life, ladies and gentlemen).
Printed in the Capital Times, Wednesday 23 May, 2007.