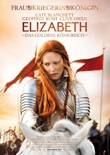 About a third of the way through Elizabeth The Golden Age, handsome pirate Walter Raleigh arrives at Court bringing his Queen gifts from the New World: potatoes in a box of soil and tobacco (bringing to mind that wonderful Bob Newhart routine: "Then what do you do, Walt? ha! ha! ha!… You set fire to it!") But what Raleigh (played by Clive Owen with an old-fashioned movie star cool that he hasn't mustered before) is really offering Elizabeth is the future; a future of gunpowder, international trade, science and empire. And for another 400 years Britannia will rule the waves.
Unlike some, I can't comment too much on the historical accuracy of the film – it seemed pretty close to how I remember studying it as an eight year old – but absolute accuracy doesn't seem to be the point. The portrait of a woman who has to become an icon (super-human and at the same time less than human) in order to preserve her people is ripe for a melodramatic Hollywood telling and director Shekhar Kapur and star Cate Blanchett don't let us down.
This film is a sequel, of course, to the remarkably successful Elizabeth that launched Blanchett nearly ten years ago. That success means a bigger budget this time around – hundreds more extras, flasher sets and a rip-roaring maritime set-piece – but it is the supremely controlled Blanchett that dominates. As we rejoin the story her position is still insecure: challenged from the North by half-sister Mary Queen of Scots and from the South by Philip of Spain, the tussle is between Catholic superstition (and medieval brutality) and the enlightened religious tolerance that would allow an Empire to flourish. No wonder some Catholics aren't happy with this version of history…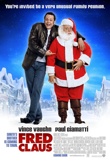 Fingers crossed that this year we'll only get one fat, jolly, red-faced Santa movie after last year's woeful bunch: but if we have to have one I'm pleased to report that Fred Claus isn't too embarrassing. A fine cast, including Kevin Spacey and Miranda Richardson, have been gathered to tell the story of Santa's big brother (Vince Vaughan) who left home in a sulk many years ago and is now a cynical repo man in Chicago.
Meanwhile Santa (Paul Giamatti) is stressed out as more and more kids are asking for more and more presents (not like the old days when one present per kid was enough). When Fred needs to be bailed out of chokey, Santa sees a chance to bring the family back together and get some extra help at the North Pole. The tone of the film is pretty random and the humour is hit and miss but Giamatti's performance as Santa is so fine that, if he rolled it out in any other film, we'd be talking about award nominations. Seriously.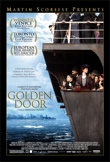 Diaspora and mass dislocation is the great story of the modern age – from the Irish fleeing the potato famine to the millions in Africa displaced by war or genocide. It's no picnic abandoning your home and everything you know for the hint of a better life – ask your taxi driver – and Emanuele Crialese's Golden Door plays as a worthy tribute to all those who have ever taken that risk. His film follows a turn of the (last) century Sicilian family escaping the grinding poverty of their island in the hope of getting to Walter Raleigh's New World where money grows on trees and there are rivers of milk. Once there, they exchange one island for another (Ellis) where they are prodded and tested before being found worthy of America. Crialese's eye for an arresting image and a lovely performance from lead Vincenzo Amato make Golden Door one of the unsung art-house films of the year.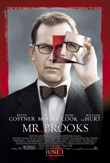 Mr. Brooks is an odd fish – the film and the character. Kevin Costner plays successful self-made businessman Earl Brooks; he's Portland's Man of the Year but he has a secret. Not only is he a demented serial-killer but he has an imaginary friend (William Hurt) who sits in the back seat of his car getting him in to trouble so its a bit like a grown-up version of Drop Dead Fred. Costner's tendency to underplay everything means we never get a real sense of the torment under the button-down facade but at least he is consistently interesting, unlike the sub-plot involving the cop chasing him (Demi Moore) and her divorce.
For space reasons, only the Elizabeth segment of this review was printed in the Capital Times, Wednesday 21 November, 2007. For some reason they then printed a version of it again in the Films of the Week section at the back of the book, instead of some more of my gorgeous prose. I love them like family, and am intensely grateful for the opportunity to do this in front of an audience, but would like to point out that I don't have anything to do with the strangely edited "Films of the Week" apart from providing the raw material.