In 1993 Christchurch property developer Dave Henderson tried to get a GST refund on a project he was working on in Lower Hutt. When the IRD officer sexually harassed his partner, Dave threatened to kick him "half way down Cashel Street". It turned out the IRD were the wrong people to threaten and the hell unleashed is entirely in the other direction. After years of audits, prosecutions and bankruptcies it took intervention from the heroic Rodney Hide to finally put a stop to the abuse.
We're Here to Help will look right at home on television when it eventually appears (the IRD reception area looks like the old Shortland Street set) but if you go now you'll have plenty to talk about at your summer barbecues.
There's a lot to like about We're Here to Help, particularly seeing experienced New Zealand actors like John Leigh and Stephen Papps given some freedom to play (and lead Erik Thomson is an effortless everyman) but the film gets terribly strange when Michael Hurst turns up dressed in a a fat suit to play Hide. He's totally miscast and it becomes a completely different film (something by Jim Henson perhaps) when he is onscreen.
Have the IRD changed their ways? It has been argued that the unpleasantness served up to Henderson had its roots in an insular Christchurch business community but I know that several people connected to the production were very wary of potential IRD retaliation over the film and the fact that Producer John Barnett is currently being audited may not be an innocent coincidence.

Ian Curtis, Macclesfield's matchless purveyor of un-listenable dirges, gets the big screen biopic treatment in Control. It's a handsome production with some fine performances (not least from newcomer Sam Riley as Curtis); the actors playing Joy Division recreate the music with distressing accuracy and director Anton Corbijn employs the most effective use of black and white photography since Raging Bull.

Dog-sledding seems like a desperately uncertain method of transportation in The Last Trapper. Canadian hunter and wilderness veteran Norman Winther seems to spend most of his time tipping over, falling into frozen lakes, down ravines and tangling himself up with the dogs. Winther plays himself but it isn't a documentary (although I'm sure there are grains of truth in each recreation). My recommendation would be to stick your fingers in your ears to ignore the clunky dialogue and poor dubbing and concentrate on the beautiful Yukonic visuals.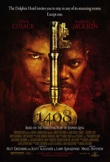 Back in 1983 Stephen King gave us a haunted car in Christine. Now, 24 years later he has come up with a haunted hotel room in 1408. Rumours that his next project will be about a haunted shopping trolley are pure speculation on my part. As for 1408, there are few surprises on offer and, apart from the always watchable John Cusack, it really did nothing for me.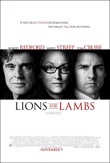 Here in New Zealand Robert Redford's patronising political science exercise Lions for Lambs seems so much like preaching to the choir but it would interesting to see it with a different audience, one for whom the simplistic history and ethics lessons on offer are fresh and inspiring. On second thoufghts I don't think that audience exists. Tom Cruise plays ambitious Republican senator Jasper Irving, trying to manipulate credulous reporter Meryl Streep into promoting the latest random military surge in Afghanistan. Meanwhile, in Afghanistan the surge itself has started badly and in California Pol-Sci professor Redford is trying to convince one last student to devote himself to selfless public service instead of easy money and a quiet life.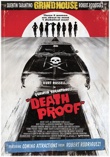 Finally, Quentin Tarantino's Death Proof is pure cinematic entertainment — an expertly constructed throwaway tribute to the cheap thrills of the 70s. Awesome Kurt Russell plays Stuntman Mike, a nasty piece of work who use his souped up "death proof" Chevy Nova to wreak havoc on two groups of young women. Luckily for the second bunch, they have kiwi stuntwoman Zoe Bell (Kill Bill) in the team and the ability to fight back. I came out of Death Proof grinning from ear to ear.
Printed in Wellington's Capital Times on Wednesday 14 November, 2007.
Nature of Conflict: John Leigh, Stephen Papps and several other members of the cast of We're Here To Help are great mates of long standing. And Erik Thomson is a cousin.