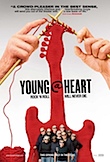 The most purely emotional experience I have had in a cinema this year was watching the delightful documentary Young @ Heart during the Film Festival. It's a life-affirming (and by its very nature death-affirming too) portrait of a group of Massachusetts senior citizen choristers who tour the world with a programme of (often consciously ironic) rock and pop classics and it starts out like the quirky British tv programme it was originally intended to be. But then these remarkable, loveable, buoyant characters take control and by the time they get to Dylan's Forever Young, I may as well have been a puddle on the floor of the cinema. Young at Heart is so successful I even fell in love with Coldplay for about five minutes. It's that good.

The least you should expect as a modern cinema-goer these days is fifteen bucks worth of competence and the movie version of the antique computer game Max Payne fails to deliver even that. Mark Wahlberg phones it in again as the titular hero, searching for the street thugs who murdered his wife and child, and discovering a corrupt pharmaceutical company and some crazy blue street drug that makes one in a million people invincible. Iron Man had Jeff Bridges as the suit wearing best friend who turns out to be rogue — Max Payne has to settle for his big brother Beau. 'Nuff said.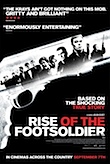 I've never reviewed a film before that the cinema manager and the distributor both said they hated, but there's a first time for everything. Rise of the Footsoldier is indeed a nasty piece of work, an East End gangster drama that takes great delight in choreographed violence and a limited vocabulary of mostly foul language. I grew up in that part of the world and I'm saddened that the people of my manor are continually portrayed as ignorant loudmouths, fascist thugs and drunken bully-boys when many of them are genuine salt of the earth. And there's more to West Ham than the ICF and football hooliganism. Ask Keira Knightley and Russell Brand.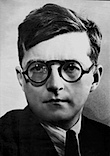 Bring your "A" game to A Journey of Dmitri Shostakovich and you'll be rewarded with a subtle and involving documentary that makes you work a little to get the most out if it. Shostakovich was one the great composers of the 20th century but he had the misfortune to live in Russia during the extended Soviet nightmare and suffered greatly while treated as a plaything of the party propagandists. Drifting in and out of favour depending on circumstances beyond his control, Shostakovich had no real political will of his own and dreamed only of writing great Russian music, of which there is a decent amount in the film.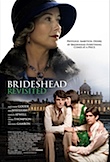 The new version of Brideshead Revisited, directed by Julian Jarrold (Becoming Jane), is approximately 80% shorter than the beloved TV adaptation from 1981 and still manages to feel both condensed 'and' about 20 minutes too long. Middle class aesthete Charles Ryder (Matthew Goode) meets Lord Sebastian Flyte (Ben Whishaw) on his first day up at Oxford and they become firm friends. Flyte takes Ryder to Brideshead, his family home. There he meets Julia (Hayley Atwell), with whom he will fall in love, and Lady Marchmain (fiercely intelligent Emma Thompson) who will become his nemesis. A "quality" production in every respect, I want to pay special respect to the costumes (did men ever dress better than in the 1930s?) and the photography which actually adds something to the story-telling for a change. Of course, if I'm praising the craft it must mean that something has gone missing higher up the food chain, and I fear that I was not as moved by Brideshead as I could have been.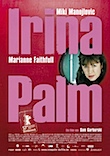 Unlike Brideshead, which for all it's many qualities never surprises, Irina Palm is agreeably unusual. Marianne Faithfull plays Ange, a doting grandmother living in a quiet English village. Grandson Ollie needs life-saving treatment in Australia and the family have no more money to get there. I try and avoid spoilers in this column so I'm somewhat constrained in describing how Ange gets the money, suffice to say that once that bridge is crossed you can never be sure where it's going to go next. Faithfull is fabulous, letting a myriad of subtle emotions play across that marvellous face while never actually telling you anything.
Printed in Wellington's Capital Times on Wednesday 22 October, 2008.
I'm well behind on posting so no hyperlinks, sorry.
Nature of conflict: Irina Palm is distributed in NZ by Arkles Entertainment who I do some work for now and then.