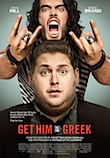 Forgetting Sarah Marshall was one of the surprise pleasures of 2008. An Apatow comedy that was relatively modest about it's ambitions it featured a break-out performance from English comedian Russell Brand, playing a version of his own louche stage persona.
As it so often goes with surprise hits, a spinoff was rushed into production and we now get to see whether Mr Brand's brand of humour can carry an entire film. Get Him to the Greek sees Brand's English rock star Aldous Snow on the comeback trail after a failed seven year attempt at sobriety. Unlikely LA A&R man Jonah Hill (Knocked Up, Funny People) sells his record label boss, Sean "P Diddy" Combs, on a 10th anniversary concert featuring Snow and his band Infant Sorrow at the Greek Theatre of the title.
As a reward, Hill is given the task of getting the wild rocker from his home in England to The Today Show in New York, his Dad in Vegas (Colm Meaney) and on to LA — a journey that Snow is somewhat ambivalent about to say the least. This should be a recipe for plenty of laughs, and there are a handful, but the execution is patchy and the big set-pieces that are supposed drive the film only serve to drag it down.
I can't quite work out how Greek can acknowledge the previous film (there's a cameo by Kristen Bell, the actress who played Sarah Marshall) and yet, weirdly, Jonah Hill is playing a completely different character to the star-struck bellboy he portrayed in the original. It's a sign of the untidiness that, sadly, runs through the entire product.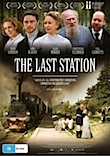 If you are after something a little more sedate and cerebral, you can't beat The Last Station which follows the great novelist Leo Tolstoy (Christopher Plummer) through his final months during 1910. I learnt a lot from this film, not least that Tolstoy was a political and philosophical leader as well as one of the greatest writers the world has ever seen. His disavowal of private property, his rejection of organised religion and his devotion to love of people above all else, were ahead of their time.
In the film a great battle is raging over Tolstoy's legacy. Chertkov, Paul Giamatti, wants all Tolstoy's copyrights given to the people so everyone can freely read his wonderful, liberating ideas. Madame Tolstoya, a riveting Helen Mirren, wants those copyrights to protect the family. There's nothing startling about the casting here. No one bats any higher than they would normally do (Giamatti is a slimeball, James McAvoy is the everyman observer, Plummer is batty, bearded old man) but everyone is sensationally good at what they do.
Sadly, Tolstoy's philosophy was soon overtake by events and the Russian Revolution rendered much of what he proposed as moot, but I'm glad I got a chance to see this little episode played out with such care and sensitivity.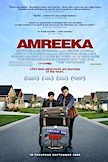 Amreeka is a fish out of water film about Muna, a Palestinian single mother (Nisreen Faour) who wins the Green Card lottery and escapes, with her sixteen year old son (Melkar Muellem), the intolerable conditions in the occupied West Bank. Her sister lives in Illinois, so they go there only to find that the USA at the time of the Iraq War is not as welcoming of Arab visitors as they were expecting.
It's a story that isn't unique to America, of course. Once upon a time here in New Zealand we had parades to welcome our new immigrants but those days are long gone. Muna's character is unappealing — her inability to ask for help might be culturally accurate but it makes her a frustrating person to follow. Happily, she eventually manages to bond with a few of the other community outsiders but the sacrifices made by immigrants and refugees are given good voice by writer-director Cherien Dabis.
Printed in Wellington's Capital Times on 23 June, 2010.