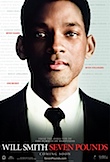 This week, three films which trade on a twist or revelation (to varying degrees of success). First, Seven Pounds reunites the creative team behind 2006's excellent The Pursuit of Happyness and is this year's annoying entry in the "Will Smith Serious Movie Contest". Smith plays the mysterious benefactor Ben Thomas who appears to be looking for deserving strugglers who need a helping hand (like a researcher for "Extreme Makeover: Home Edition") but as the circumstances are slowly unravelled a darker picture emerges.
Put together with considerable talent and passion by all concerned (supporting performances from Barry Pepper and Woody Harrelson are worth mentioning), Seven Pounds suffers from a maddening script and, frankly, a totally misguided conception which someone should have put a stop to much sooner. Yet, it continues to look beautiful, and the performances remain first rate, right up until the most lunatic of loose ends are tied up and you are released once again, bewildered, in to the Wellington sunshine.
Seven Pounds is reminiscent of Iñárritu's masterpiece 21 Grams and is similarly about atonement — but the only atonement required here should come from screenwriter Grant Nieporte (whose most high-profile previous credit is an episode of "Sabrina the Teenage Witch").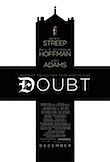 There's an example of real writing on display in John Patrick Shanley's Doubt, an adaptation of his own stage play which was produced at Circa last year. In the Bronx in 1964, a progressive young Catholic priest (Philip Seymour Hoffman) is accused by harridan headmistress Meryl Streep of abusing 12-year-old pupil Donald Miller. In a series of lengthy scenes between Hoffman, Streep, witness Sister James (Amy Adams) and the boy's mother (little-known Viola Davis more than holding her own in this heavyweight company) the investigation is played out.
Only it isn't really an investigation — just a hunch followed by political and emotional manoeuvring to provoke the downfall of a possibly innocent man. There are many complexities to take account of: Miller is the only black child in a school full of Irish and Italian kids, he's a sensitive soul looking for a father figure, Hoffman insists he is simply innocently tending his flock. None of this is enough for the sour old Principal who believes her knowledge of human nature trumps all.
When Doubt was playing on Broadway many critics drew parallels with the Bush II rush to war in Iraq, based on faith rather than facts (which Shanley hasn't denied), but with a little distance the broader implications of faith versus doubt are allowed some air.
Shanley hasn't directed a film since the under-appreciated Joe Versus the Volcano back in 1990 and he proves capable enough here, although the film never really escapes the stage. But it's an intelligent, well-acted, thought-provoking little drama and we should be grateful for it.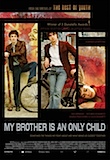 The most successful twist of the week comes in the unassuming Italian drama My Brother is an Only Child, a genial family drama, 60s coming of age story and political history lesson. In the small industrial town of Latina, founded by the fascists in the 30s and remaining sympathetic to Mussolini's rule, two brothers compete politically and romantically. Manrico (Riccardo Scamarcio) is the older Benassi brother, a fiery leftist with a roving eye. Younger brother Assio (Elio Germano) tries the seminary and fascism before wising up. Between the two boys is the beautiful Francesca (Diane Fleri), distracting them both from the important political matters at hand.
When it comes, the twist is like a kidney punch, sucking all the air out of you. You've grown to like all these characters with their passionate, expressive, emotional Italian-ness and by the end you find you really care — something that the clever-clever Seven Pounds was never likely to achieve.
Printed in Wellington's Capital Times on Wednesday 21 January, 2009.
I want to apologise to regular readers for the poor quality of the prose in this week's review. I knew it was pretty crappy when I submitted it but the combination of only one day in Wellington before deadline meant I had to write it and send it before returning to work on Tuesday. It could definitely have used an extra polish.