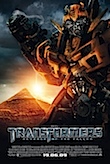 After hits like Bad Boys and The Rock, as well as fail­ures like The Island and Pearl Harbor, we all know that Michael Bay is bet­ter than any dir­ect­or alive at blow­ing things up and in the motion pic­ture busi­ness this not an ignoble pur­suit. What he can't pull off are oth­er import­ant things like sus­pense, com­edy or drama. There's no doubt that it takes a spe­cial tal­ent to sit in a room with the effects bods and say "sink that air­craft car­ri­er – I'll be back after lunch to see how you are get­ting on" but it isn't really film­mak­ing in it's purest sense.
Which bring us to his latest, monu­ment­al, effort, Transformers: Revenge of the Fallen, in which a tiny sliv­er of the shiny magic cube from the first film is dis­covered by Shia LaBoeuf while he's on his way to col­lege. Somehow its magicky good­ness rubs off on him, fills his mind with sym­bols, gives him spe­cial men­tal powers and alerts the remain­ing Decepticons up in space to its exist­ence. Perhaps they could use it to restart their war with the Autobots, erase the human race and steal the power of the sun for themselves?
So they start blow­ing things up, the Autobots blow oth­er things up and the US Military blows up most of what's left. Pitched at a tar­get mar­ket com­posed of thirteen-year-old boys (and those that wish they still were), this Transformers hov­ers com­fort­ably between poor taste and out­right objec­tion­able con­tent and yet it's stu­pid juven­ile energy is almost for­giv­able. Until I remem­ber the com­edy robots with the ghetto "blac­cents" and the mid­get Egyptian bor­der guard – it is riddled with type of cheap racism that would have been shot down by a dir­ect­or with principles.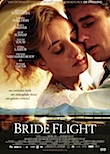 Bride Flight is, evid­ently, one of the most expens­ive Dutch movies of all time and most of the budget looks like it was left behind in New Zealand. Which is nice. Set in those far off days when we used to hold parades to wel­come immig­rants to this coun­try, this film focuses on a small group who arrived in Christchurch in 1953 and set out for exot­ic Greymouth (among oth­er places) to start a new life among the ferns.
Featuring some lovely per­form­ances, swell­ing romance and a twist or two that befits a grand fam­ily saga, the film should impress all but the most churl­ish of New Zealand audi­ences. Geographically chal­lenged (any pro­spect­ive Dutch tour­ists to New Zealand expect­ing to see those flour­ish­ing pinot noir vine­yards in the hills out­side Wellington are destined for dis­ap­point­ment) but the tone and the pro­duc­tion design are fine, Bride Flight is a sat­is­fy­ing Sunday morn­ing at the pictures.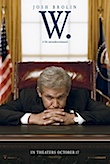 Another his­tory les­son, though one that has arrived either too late or too early depend­ing on your point of view, is Oliver Stone's bio­graphy of the most recent US President: W. A superb cast brings the intel­lec­tu­al hor­rors of the last eight years vividly to life (Richard Dreyfuss as Cheney and Thandie Newton as Condi are par­tic­u­larly note­worthy) and Stone (per­haps aware of the par­al­lels with his own some­what tar­nished his­tory of addic­tion and wild-living) offers a nuanced and for­giv­ing por­trait of a man who his­tory will judge as the worst. President. ever.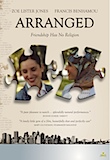 In present day New York, two 4th Grade school teach­ers form an unlikely friend­ship in Arranged, an insip­id femme-friendly drama about women from dif­fer­ent cul­tures relat­ing to each oth­er and the world out­side. Rochel (Zoe Lister Jones) is an ortho­dox jew and her col­league Nasira (Francis Benhamou) is a muslim. They are both under pres­sure at home to sub­mit to arranged betrothals – and neither is par­tic­u­larly happy about the options on offer.
Sadly, a good premise is delivered in overly simplist­ic fash­ion, as if the film is aimed at the 10-year-olds the two women teach.
Printed in Wellington's Capital Times on Wednesday 1 July, 2009.
Nature of con­flict: Arranged is dis­trib­uted in New Zealand by Arkles Entertainment who I do a little work and con­sult­ing for now and then.
Notes on screen­ing con­di­tions: I gave Transformers the bene­fit of every doubt by watch­ing it at a pub­lic screen­ing at the Embassy where it presen­ted very favour­ably, if a little soft in the focus. Bride Flight was in the delight­ful new Cinema 4 at the Lighthouse in Petone where one is ser­en­aded by bird song instead of pre-show music. Lovely. W. was in the smal­lest Lighthouse aud­it­or­i­um, Cinema 3, and Arranged was a water­marked DVD cour­tesy of the distributor.
Otherwise note­worthy: one of the agree­able per­form­ances in Bride Flight is giv­en by Rob Mokaraka who is now fam­ous for oth­er, less pleas­ant, reas­ons. Get well soon, Rob.