While the Film Festival continues to deliver untold pleasures to Wellington cinephiles, the commercial distributors dump (shall we say) less-heralded product at our currently very quiet multiplexes and arthouses.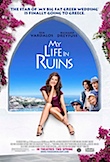 My Life in Ruins is a belated follow-up to the international smash hit My Big Fat Greek Wedding. That film was produced by Tom Hanks and his wife Rita Wilson as a favour to their friend Nia Vardalos and, to the surprise of everyone, it went on to make squillions at the box office and promised to make comedienne Vardalos a romantic comedy star. Things didn't quite work out like that and it's taken seven years for a follow-up to hit the screens, also supported by Hanks and Wilson.
Sadly, My Life in Ruins is likely to disappoint those that remember MBFGW fondly — the warmth and good humour of that film has been replaced by cheap laughs at the expense of international stereotypes and there's a flatness to the execution that Vardalos' mugging can't hide.
She plays a Greek-American professor of ancient history whose job at an Athens University falls through and she's reduced to being a tour guide for a low rent package holiday company. The usual motley bunch of tourists start off by hating her and then get to love her because she's so, you know, lovable. If you can manage the in-between bits, the scenes with the great Richard Dreyfuss are watchable — even phoning it in like this he's in a different class to everyone else in the film.
The most interesting thing about My Life in Ruins is that, for a film that purports to be all about Greece, it was shot mostly in Spain with a Spanish crew. Ah, the vagaries of international film production financing.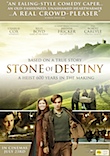 Which might also explain why a film about Scottish nationalism would be part-financed by tax breaks from the British Columbia Film Commission, of all places. Stone of Destiny is the true story of a group of oppressed indigenous people, protesting the colonial domination of their culture and politics, demanding freedom by indulging in what we might now consider terrorism. In a light-hearted sort of way.
Firebrand 1950s student Ian Hamilton (Charlie Cox from Stardust) risks his future to unite the fledgling Scottish independence movement by kidnapping a stone. Not just any stone, though, he kidnaps the Stone of Destiny, the throne that Scottish kings and queens sat upon before the English invaded 600 years ago.
With the help of some other students (including the way too old Billy Boyd from Lord of the Rings) he pulls off the heist and the film rolls along pleasantly enough in a Disney-matinee kind of way. I do wish that a little more budget had been allocated to digitally removing some 21st century artefacts from the backgrounds but that's just me being a curmudgeon.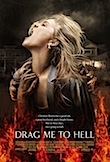 Talking of digital artefacts, the new Sam Raimi film Drag Me To Hell is a return to the (mostly) analogue horror form of his early hits like Evil Dead. Ordinary bank worker Allison Lohman is on the verge of getting engaged and getting a promotion until (to further her banking ambitions) she declines a mortgage extension to a gypsy woman with bad teeth. She gets a nasty case of the curses, with only two days to pass it on or give it away before being consigned to Hades forever.
Raimi's a bit of a one-trick-pony in the shocks department — it does get a bit repetitive — but the film is well plotted and kicks on at a good pace and Lohman is perfectly fine as the Kirsten Dunst you get when you can't get Kirsten Dunst.
Printed in Wellngton's Capital Times on Wednesday 29 July, 2009.
Notes on screening conditions: My Life in Ruins and Stone of Destiny were public screenings at the Lighthouse in Petone. Both were obviously used prints showing some wear. Drag Me to Hell was a public screening at Readings, Courtenay Central and looked and sounded fine.