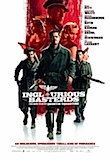 Playing like the fever-dream of an obsessive teenager fallen asleep after reading a stack of Commando comics late at night, possibly after too much cheese, Inglourious Basterds is another contender for most entertaining film of the year. In a 17 year career that includes only six actual feature films (if you count Kill Bill as one), Quentin Jerome Tarantino has dedicated himself to proving that following the rules is a path made for fools and sissies. If only more filmmakers were listening.
QT himself has described Inglourious Basterds as a spaghetti western meditation on the war film and that's as good a description as any, I suppose. In Chapter One we meet wicked Nazi "Jew hunter" Hans Lander (Christoph Waltz — a revelation) as he forces a nervous French dairy farmer to reveal the hiding place of a local Jewish family. It's a great set-piece opening, tense but leavened with moments of absurdity and it gets you in the mood for the thrilling nonsense that is to come.
While Lander is building his career, good ol' boy Brad Pitt is being parachuted behind enemy lines with an undercover Dirty Dozen of battle-hardened Jewish soldiers, specifically to kill Nazis in the most brutal way possible. (The ideological wrinkle that most "Nazis" were just enlisted men like themselves is neither here nor there in this story). The strands of Tarantino's fantasy all come together in a final absurd conflagration and it's entirely appropriate (and satisfying) that the finale should take place in a cinema – after all cinema is the beginning, middle and end of all you need to know about Tarantino.
As an aside, don't be surprised to see the wonderful Waltz alongside District 9's Sharlto Copley at the 2010 Academy Awards – two unknowns at the head of the pack for Best Actor.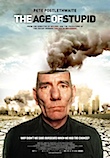 It's just a theory but I feel fairly certain that if you want to change people's attitudes you don't start out by insulting them. So, Franny Armstrong's enviro-doc The Age of Stupid got off on the wrong foot with me and never quite managed to woo me back. From the vantage point of the mid 21st century, sitting alone in a museum of the world's treasures built in an abandoned offshore oil rig, Pete Postlethwaite presents us with a forlorn history of the next 40 years. With zero political will to curb carbon emissions, what the scientists call "runaway" global warming has depopulated the planet and caused mass human extinction. Using archive footage, animated history lessons and plenty of material shot especially for the film, Postlethwaite wonders why we didn't do anything when we had the chance.
The problem is – what were/are we supposed to do? The Age of Stupid unfortunately isn't very constructive and may leave audiences feeling only guilty and helpless. At least I was until the film told me that by not flying anywhere for the last four years I'm already doing my bit.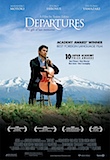 Utterly disarming and genuinely feel-good, Japanese Best Foreign Language Oscar-winner Departures is pretty easy to recommend. Young cellist Masahiro Motoki has his dreams of a classical career dashed when his orchestra goes bust. Aimless, he decides to go home to the provincial town of his childhood and live, with his pretty and seemingly supportive wife (Ryoko Hirosue), in the empty house left to him by his mother. He applies for a job involved with "departures" thinking it will be some kind of travel agency gig but instead he finds himself training in the ritual Japanese art of 'enconffining' – not "departures" but "the departed".
His friends and family frown on the creepy way he earns his living but he soon realises that the ritual (and public) preparation of a body for departure is a spiritually important and meaningful process – for him and the family (although less so for the deceased presumably).
Printed in Wellington's Capital Times on Wednesday 26 August, 2009.