Festival titles are returning to cinemas at such a rate that it seems like pre-Festival cinemagoer cynicism was well-placed. 50% of this week's new releases were screening locally only a month ago but as they are easily the best half of the arrangement I'm inclined to be forgiving.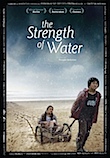 Armagan Ballantyne's debut NZ feature The Strength of Water is a strikingly mature piece of work and one of the most affecting films I've seen this year. In a remote Hokianga village a pair of twins (excellent first-timers Melanie Mayall-Nahi and Hato Paparoa) share a special bond that tragedy can't easily break. A mysterious young stranger (Isaac Barber) arrives on the scene, escaping from troubles of his own and… and then I really can't say any more.
Full of surprises from the very first frame The Strength of Water shows that quality development time (including the support of the Sundance Institute) really can make a good script great. Ballantyne and writer Briar Grace-Smith offer us layers of fascination along with deep psychological truth and gritty Loach-ian realism. The mix is compelling and the end product is tremendous.

Pop Quiz! You want to watch a film about a female French artist in the early part of the 20th century. Which are you going to choose — the beautiful, successful fashion icon or the dowdy, devotional "naive" painter who dies alone and unrecognised in a lunatic asylum? If you chose (or are choosing) Coco Avant Chanel then you chose wrong as Séraphine is roughly three times the film.
Séraphine was cleaning woman and servant in Senlis, rural France, who believed she was chosen by God to paint, so paint she did. Unable to afford oil paints or canvas she improvised stunningly beautiful impressionistic (although not 'impressionist') studies of nature. While her strikingly modern paintings were colourful and vivid, her timing sucked and WWI intervened just as she was discovered by German art dealer and curator Wilhelm Uhde (Ulrich Tukur). Fleeing to Germany he is forced to abandon Séraphine until the late 1930s when he re-discovers her and her art and begins to sell her work to the art-lovers of Paris. Knowing nothing about Séraphine de Senlis, I was convinced that we were in for a happy ending but it was not to be.
An outstanding central performance by Yolande Moreau is up there with any screen acting you will see this year and Séraphine gets closer to understanding the compulsion to create than Coco or La Vie en Rose.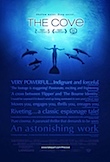 The Cove is a tautly-constructed doco about the campaign to expose the slaughter of dolphins by Japanese fishermen supposedly capturing them for shows in aquaria like Marineland. Not only are they killed for food, the meat is fraudulently misrepresented as whale and is full of toxic mercury. So, there's not much to recommend the practice on any level then and yet it still goes on. A crack team of scientists and adventurers go undercover (and underwater) to try and get proof of the shocking business and help put pressure on the Japanese to find some other way of expressing their cultural independence.
Effective though the film is in raising awareness (and if any animal deserves anthropomorphisation the dolphin would appear to be it) it still ends with no achievement and no clear call to action for us as viewers — just sending a text message or visiting a web site. So, even if you have no intention of watching the film (and it would appear that not many of you do) you can have as much impact as the rest of us by going to takepart.com/thecove. Worthy, moving but ultimately frustrating.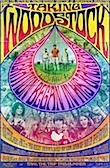 The best of the commercial releases this week is Taking Woodstock, directed by Brokeback Mountain 's Ang Lee. The Apollo moon landing is not the only 40th anniversary to celebrate this year – in August 1969 half a million people turned up at Yasgur's Farm in White Lake, NY for a music and arts festival that some people would like to think changed the world. It certainly changed White Lake. Avoiding the music entirely is a brave approach to take (we never get closer than half a mile from the stage) and Lee and writer James Schamus focus on the community and the split that opens up when the Jewish families (Yasgur and Teichberg) welcome the Festival, the dirty hippies and the money. I haven't yet worked out whether Lee is a genuine auteur or just a fabulously talented hired gun but by the end of Taking Woodstock I was leaning towards the former.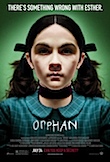 Finally, two horrid pieces of garbage that I am loathe even to acknowledge: Orphan is another satanic child horror that is simply repulsive.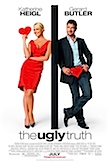 And The Ugly Truth reveals more about the empty inner lives of its makers than any truth about human relationships. The talentless Katherine Heigl plays a straight-laced TV producer forced to work with boorish host Gerard Butler and learn what supposedly makes men tick. The centre speaker was blown at the screening I was at and the entire experience might only have been improved if all the others were also broken along with the lamp in the projector.
Printed in Wellington's Capital Times on Wednesday 2 September, 2009.
Notes on screening conditions: The Strength of Water was screened at the Wellington Film Festival a month or so before cinema release; Séraphine was at a commercial weekend screening at the Lighthouse in Petone; Taking Woodstock was at a commercial screening at the Empire in Island Bay; The Cove was screened to the public off a hard drive media player (looked like standard definition rather than hi-def) at the Paramount; Orphan and The Ugly Truth formed a dispiriting double-bill at Readings on a Thursday night.