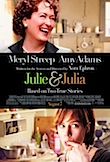 Back before the days of "Iron Chef", "Masterchef" and "Hell's Kitchen", television's top food expert was a very tall, slightly ungainly, woman who sounded a little drunk. She was Julia Child and in the 60s she taught America how to cook. In an era where tv dinners, pre-prepared sauces and easy cake mixes were top of a busy housewife's shopping list, Child produced the almighty tome Mastering the Art of French Cooking which went on to sell millions of copies and make her a legend.
A little later on, 2002 in fact, New Yorker Julie Powell started an online project to reproduce every recipe in the famous cookbook (over 500 of them) in a single year. Nora Ephron's new film Julie & Julia skilfully merges the two stories, freely noting the parallels between them, and managing to produce a warm and witty film that honours the remarkable Child.
She's aided in this endeavour by the formidable Meryl Streep: tottering around on huge platform shoes, relishing the sing-songy vowels that were Child's trademark and exhibiting that glorious lust for life that produced her greatest achievements. Against this joi de vivre, Amy Adams as Julie could easily be swamped but she holds her own, largely by not competing and not falling back on the usual fidgets and bits of business that I think she uses just to annoy me.
It's far from perfect – the casting of the smaller roles is occasionally sub-optimal and there's one scene of such clunkiness that Streep appears to deliberately act badly to try and ensure that it is cut – but Ephron's ability to manufacture great romantic moments is undiminished and I can't imagine many being disappointed.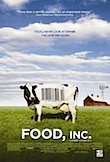 Julie & Julia managed to provoke this reviewer back into his kitchen on Labour Day (an increasingly rare adventure) but it was the trip around the supermarket after watching Food, Inc. that was the real challenge. The latest in a long (and with Mike Moore's new film opening next week, apparently endless) series of documentary depress-athons, Food, Inc. take a long hard look at the industrial food production system that provides citizens with cheap and unhealthy food in high quantities while treating all of the links in the production chain with staggering disrespect.
The worst of the excesses portrayed in the film don't seem to apply in New Zealand (we still feed our cattle grass rather than corn for example) but our own capacity for developing Type 2 Diabetes is growing rather than shrinking. The role of the fast food industry (specifically McDonalds) in the development of this horrendous situation was specifically news to me and the quandary faced by a poor Latino family in the film sums the situation up perfectly — If you only have a dollar and your kids are hungry what are you going to buy? One and a half sticks of broccoli or a burger?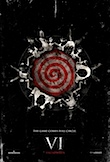 The tide is turning though, if the Saw movies "zeitgeist-meter" is anything to go by. If you are unfamiliar with the oeuvre, the Saw films are basically sick, sadistic, horror flicks with an Old Testament vibe in which a deranged, masked villain named Jigsaw wreaks his judgement upon those who transgress his own sense of right and wrong. In Saw VI, the poor sucker who gets the treatment is a Health Insurer who delights in refusing people coverage and treatment, a sure sign that reform of the USD health system is on the way. I watched the film through my fingers, hating every minute of it, but it's undeniably a fascinating part of the culture.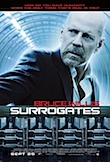 Not fascinating (not anything very much) is Surrogates, notable only for the return of the last great modern action hero, Bruce Willis. The smirk is intact but it's the only charm to be found in this dumb sci-fi story about a future where robotic avatars of oneself actually go out in to the world to do our jobs and live our lives while we control them from our VR bedrooms.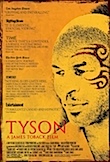 I reviewed the documentary Tyson back in July in my Festival preview ("an often moving portrait of a damaged and damaging soul") but @robyngallagher nailed it on Saturday Sunday when she tweeted "The director (James Toback) lets him tell his own story. By the end I wanted to give him a hug."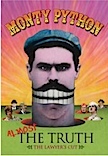 Another documentary on very limited release is Monty Python: Almost the Truth, 2 hours distilled down from a 6 part television series and which suffers badly as a result. To be honest, there's nothing new to see here, move on.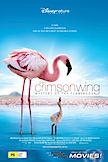 Much better, and frankly bewitching, is The Crimson Wing, a nature documentary about the remarkable flamingos of Tanzania. It's beautiful to look at, there's lovely music (The Cinematic Orchestra) and lots of interesting facts about these creatures –not born pink, they eat a bright red algae in Spring which turns them crimson and the reddest birds get the best mates. Despite the Disney heritage this isn't suitable for the very young as, like all good nature docos, there's a bit of predator action involved.
Printed in Wellington's Capital Times on Wednesday 28 October, 2009.
Extra thoughts on Monty Python: Almost the Truth. There was a hint of an interesting observation near the end of the film from the thoughtful Michael Palin. He suggested that the desire of fans to see Python reunite is similar to the desire of Beatles fans for the same thing. Except that these fans don't necessarily want to see what new stuff the group might produce. In fact, they really just want to be young again, as they were when they were all in their heyday. I would add that the main difference between Python and The Beatles is the fact that they did all of their best and most lasting work ("Fawlty Towers", Brazil, those travel docs) after they split. Except for Life of Brian, of course. What have the Romans ever done for us, indeed.
As an added bonus, you can hear me talking to Kathryn Ryan on Nine to Noon yesterday about Julie & Julia and Saw VI here and, while we are discussing sadistic torture, here's Wayne Campbell and Garth Algar playing "Pain Cave" from a live Wayne's World MTV Special from 1992.
[audio:https://funeralsandsnakes.net/wp-content/uploads/2009/10/Pain_Cave.mp3]
Wayne Campbell & Garth Algar — Pain Cave (1992)
(right click to download)
And Julie Powell is still blogging.