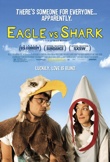 Eagle vs Shark carries a great burden of expectation: Taika Waititi's Oscar nomination, invitations to Sundance, international Miramax support, pointless comparisons with Napoleon Dynamite. A film with less heart than this one could easily collapse under all that weight but this Eagle soars.
Loren Horsley is Lily, a hopeless romantic with her heart set on Jarrod (Jemaine Clement) from the video game shop a few doors down. Unfortunately, Jarrod's a dick but she sees something in him and, over the course of a lovely and sad little film, teases it out despite all good sense telling her to run a mile. EVS is full of great (mostly small) comic moments and observations and on the rare occasions when something doesn't quite work it's easy to ride with it. A wonderful, unusual, soundtrack from The Phoenix Foundation, too.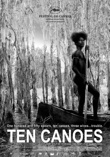 Also not-to-be-missed is Ten Canoes, the first genuinely indigenous film ever to come out of Australia. The Yolngu people of Arnhem Land in Northern Territory collaborated with Rolf de Heer (The Tracker) to tell one of their own stories — and tell it their own way — and the result is beautiful and human and scatalogically funny. A reminder of what cinema can achieve when it is set free.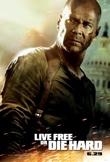 After a 12 year layoff Bruce Willis finally returns to the role that catapulted him to superstardom (and off the top of several exploding buildings) in Die Hard 4.0 (also known as Live Free or Die Hard in countries that still care about freedom). The technology-terrorism premise might as well be flower-arranging for all the sense it makes, but it gets us to the meat which is John McClane being an ass, taking a beating and blowing stuff up. It pushes most of the right Die Hard buttons, but in the end that's all it manages to do — push buttons.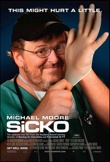 Michael Moore has been getting a hard time recently for all sorts of reasons (not making "proper" balanced documentaries, not fronting up to those who would turn his tactics back on him) but the criticism is misguided. Moore isn't really a documentarian — he's a polemicist. In his eyes he's fighting a war for the ordinary citizen against an entrenched and corrupt capitalist super-state. Why should he ever have to fight fair? There is enormous wickedness and injustice in this world and if it takes Moore and a few low-blows to help turn that around then I'm all for it. As it turns out, Sicko is the best of his films to date with fewer of the cheap stunts that arm his critics and a finale in Cuba with some 9/11 rescue workers that I found quite moving.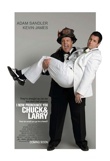 Of course, there are no greater heroes in our modern age than New York fire-fighters which is why it was a smart move by Adam Sandler's team to set their (ahem) sensitive plea for tolerance, I Now Pronounce You Chuck and Larry, among them. Larry (Kevin James) is a widower and the City bureaucracy won't let him make his kids beneficiaries of his insurance. But if he goes to Canada and marries his best friend Chuck (Sandler) he can somehow sort it all out. This is, of course, fraud and when they are investigated the duo learn a lot about intolerance as well as the, er, gay lifestyle choice. My favourite moment in a movie sprinkled with a handful was the cameo appearance by closeted gay icon (and the first Jason Bourne) Richard Chamberlain as the judge at the hearing.
Finally, Te Radar is a micro-budget (and micro-scale) Michael Moore in Destiny in Motion, a thin documentary about the birth of the Destiny New Zealand political party and the connections (fairly obvious) with Bishop Brian Tamaki's Destiny Church. The irony of this exposé of pentecostal political manipulation playing at the Paramount (a venue that now turns into a happy-clappy Church every Sunday) was not lost on me.
Printed in Wellington's Capital Times on Wednesday, 15 August, 2007.
Full disclosure: Like many people in Wellington, and the motion picture industry, I count Loren and Taika as mates; I used to co-own the Paramount; Ten Canoes is distributed by Richard Dalton at Palace/Fresh Films who is also a mate.