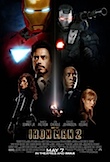 Oh dear, what a disappointment 90% of Iron Man 2 is. Rushed into production after the original became the surprise runaway hit of 2008, relying far too heavily on the deadpan charisma of a coasting Robert Downey Jr. – the first time I've ever seen him this disengaged – and with a story that does no more than tread water until the arrival of the inevitable episode 3, IM2 offers very little in the way of character development and not enough action to compensate.
Downey Jr is Tony Stark once again, milking his fame as saviour of the free world while the secret power source in his chaest that fuels Iron Man (and keeps him alive) slowly poisons him from within. Just when he doesn't need an adversary, along comes a crazy Russian physicist/wrestler named Ivan Vanko (Mickey Rourke) looking for revenge on the Stark family who stole his father's research. Vanko's technology is co-opted by Stark's greatest business competitor, weapons developer Justin Hammer (Sam Rockwell) and between them they attempt to destroy Stark and corner the market in high-tech military gadgetry.
I said 90% disappointment at the beginning and that's because director Jon Favreau has managed to at least cast some great actors in supporting roles — and let them off the leash. With Rourke (amazing, demented) it works, with Rockwell (just un-focused) it's less successful. The great comedian Garry Shandling plays a senator determined to nationalise our hero and Samuel L. Jackson ploughs his own iconoclastic furrow as Nick Fury, setting up the future Avengers movie along with Clark Gregg and Scarlett Johansson. It's not as horrific a fiasco as Transformers 2 but it is tough to recommend at current cinema prices.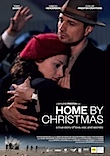 Made with the budget from Iron Man 2's honey wagon, Gaylene Preston's Home by Christmas is a much more coherent and satisfying piece of work: deeply personal (recreating some emotional interviews she did with her own father Ed nearly 20 years ago) and yet, for a New Zealand audience, quietly universal. In 1995 Preston's documentary War Stories told us what it was like for the women left behind while their men went to fight in WWII. Home by Christmas redresses the balance somewhat as Ed (superbly and effortlessly inhabited by Kiwi screen legend Tony Barry) tells us what it was like for the blokes overseas. And yet, Preston's mother Tui remains an important presence throughout the film (played in the recreations by Preston's daughter Chelsie) and we're never allowed to forget that the impetuous heroism of the men had deep impacts back home.
It turns out that Ed had a relatively benign war (no Bridge on the River Kwai for him; three weeks fighting then farming in an Italian POW camp and a year in Switzerland) but the pain of being away from his family and the loss of mates is palpable. There's nice work, too, from Martin Henderson in the relatively undemanding role of the young Ed.
I wanted to see Lasse Hallström's Dear John this week as I was hoping there would be some parallels with Home by Christmas and, on that score, I wasn't disappointed. On leave in North Carolina from his gig in the US Special Forces, quiet hunk Channing Tatum (Fighting) meets Amanda Seyfried (Mamma Mia) at the beach and a two week holiday romance turns into something more. They continue romancing long distance until, just before his final tour comes to an end, 9/11 prompts him to re-enlist threatening their fragile relationship.
Like Preston's film, letters fly back and forth, but it never quite rises above the clinical emotional manipulation that you'd expect from a novel by Nicholas Sparks (The Notebook). Lunk-head Tatum gets to expand his range about a nanometer but both the kids get well and truly schooled by the great Richard Jenkins in his few scenes as Tatum's borderline autistic father. Truly, a genius at work.
Printed in Wellington's Capital Times on Wednesday 5 May, 2010.