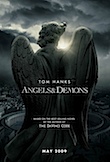 Ron Howard's Angels & Demons, sequel to the blockbuster Da Vinci Code from 2006, is what you might call an equal opportunity annoyance — happily misrepresenting theology and science.
Tom Hanks returns as Harvard scholar Robert Langdon, this time summoned to Rome by mysterious Vatican security to investigate the kidnapping of four Cardinals on the eve of the election of a new Pope. A clue (helpfully reading "illuminati") leads him to believe that a the secret society of scientists and truth-tellers have come to take revenge for their 17th century purging. The Large Hadron Collider (actually working in this piece of fiction) creates a macguffin that could change the shape of Rome as we know it — if not the world.
Hanks, usually so watchable in any kind of rubbish, is sluggish here and Howard's direction tries heroically to keep flagging interest alive — he really does have great command of pace and tone — but this will not go down in history as his best work.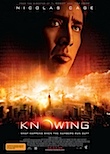 Nicolas Cage's recent run of dismal failures is somewhat broken by Knowing (a hokum thriller about the end of the world) yet he still seems miscast as a widower astrophysicist who stumbles on a sheet of paper that seems to predict disasters (air crashes, 9/11, etc) before they happen. This badly written rubbish is made memorable by a couple of thrilling effects set-pieces but they're not really worth sitting through the rest of it.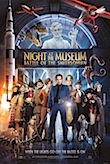 After watching New York getting destroyed (again) it was something of a surprise to see, 15 minutes later, the city looking perky and cheerful in the opening scenes of Night at the Museum 2. Ben Stiller is now a successful inventor and infomercial salesperson and he's lost touch with his friends at the Museum of Natural History. You remember? The ones who come to life at night thanks to an ancient magic tablet. Those ones. But when they are retired and packed off to Washington for storage, he has to go and rescue them from the the many threats awakened at the Smithsonian — including a Colossal Squid which I could've sworn was at Te Papa.
Rushed into production before the writers' strike last year, Night at the Museum seems underdone and repetitive and the kids in the screening with me were bouncing off the walls with boredom.

James Corden is a porcine comic actor who has achieved inexplicable stardom in the UK thanks to his sitcom "Gavin & Stacey" (in which he plays neither Gavin nor Stacey) and his "comic" partnership with Mathew Horne is being exploited as fast as humanly possible — before their 15 minutes is up. At the same time as they were writing an appearing in a sketch comedy series ("Horne & Corden") they were shooting a terrible travesty of a horror spoof called Lesbian Vampire Killers which, due to the vagaries of the international distribution system, has actually been released in New Zealand.
Horne and Corden are dim-bulb mates who get lost in the woods on a hiking trip and stumble across a village in which all the women are magically transformed into lesbian vampires the moment they turn 18. Even worse than it sounds, if that's possible, the lesbian vampires aren't even that hot which means it fails even on its own limited terms.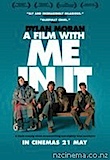 Much more interesting is the Irish indie A Film With Me In It which boasts the entertaining (and too rarely seen) comedian Dylan Moran as best mate to a struggling actor whose run of bad luck is about to get even worse. This is a very black comedy with plenty of surprises which I absolutely cannot spoil.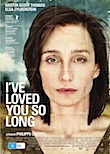 Finally to France: I've Loved You So Long is a drama featuring Kristin Scott Thomas as a middle-aged woman reconciling with her younger sister after 15 years in prison for murdering her own son. Ostensibly about reconciliation, forgiveness and redemption it sells itself out at the end and (despite a self-effacing performance from Scott Thomas) I didn't believe a word of it. Not a word.

Equally unbelievable (but forgivably so this time) is the literary thriller Roman de Gare directed by veteran Claude Lelouch (his most famous film A Man and a Woman was made in 1966). A twisty little story about lives intersecting through fate and people not being what they seem, Roman de Gare is entertaining fare and gives a leading role to the great Dominique Pinon, a lugubrious actor who has added colour to plenty of great films (Diva, Betty Blue, Delicatessen) without much spotlight for himself.
Printed in Wellington's Capital Times on Wednesday 27 May, 2009.
Nature of conflict: Roman de Gare is distributed in New Zealand by Arkles Entertainment who I do a little work for now and then (when they're not complaining about my reviews).
Notes on screening conditions: I've Loved You So Long and A Film With Me In It were screener DVDs. Angels & Demons, Knowing, Night at the Museum were all at the Empire in Island Bay one weekend and Lesbian Vampire Killers was a rowdy public screening at Readings.