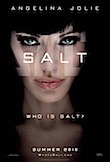 If I had to use a four let­ter word start­ing in 'S' and end­ing in 'T' to describe the new Angelina Jolie thrill­er, Salt wouldn't be the first word I would think of. The last time Ms Jolie played an action heroine she was a weaver/assassin receiv­ing her orders from a magic loom and her new film is only slightly less ridicu­lous. What we have here is an unima­gin­at­ive reboot of old Cold War ideas, as if the script was found in someone's draw and all they've done is blow the dust off it.
Jolie plays Evelyn Salt, a CIA spook on the Russian desk. When we meet her she's in her under­wear being tor­tured by the North Koreans. A spy-swap gets her out even though, accord­ing to the rules, she should've been left to her fate. Back in Washington, she's mar­ried to the world's expert on spiders (he stud­ies them in jars at the kit­chen table) but he's German so obvi­ously not above suspicion.
A former Soviet agent walks in off the street and fin­gers Salt as a secret double-agent, planted in the US as a child and now ordered to kill the Russian President in a con­vo­luted attempt to restart the old Cold War. Instead of deny­ing the pre­pos­ter­ous­ness of all this, she runs and uses her physique, exper­i­ence and train­ing to escape – pur­sued by col­leagues Chiwetel Ejiofor and Liev Schreiber.
Can it be true? Is she really a Soviet sleep­er agent or will there be anoth­er twist before we can all go home? Anyone who has seen Jonathan Demme's The Manchurian Candidate will know what's com­ing – if ever a rev­el­a­tion was spoiled through unima­gin­at­ive cast­ing it's this one.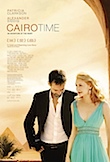 While Salt goes at 100 miles an hour, relent­lessly driv­en by some effect­ive chase dir­ec­tion by Aussie Phillip Noyce, Cairo Time seems to go in reverse – I haven't seen any­thing quite so tedi­ously slow in years. Patricia Clarkson (a per­en­ni­ally reli­able sup­port­ing act­or in films like Vicky Christina Barcelona and Elegy) is a Canadian magazine edit­or arriv­ing in Cairo to meet her hus­band who works for the UN in Gaza.
She's expect­ing a romantic hol­i­day away from the stresses of both their lives but when he is delayed she becomes very friendly with Tareq, a former col­league of her hus­band who now runs a sed­ate men-only cof­fee shop in the heart of the city. Tareq is played by the very dishy (so I under­stand) Alexander Siddig so it's easy to under­stand why this brittle blonde could be attrac­ted to him. Something seems to be wrong in her rela­tion­ship but whatever it is doesn't get explained. Maybe it's just the long distance.
Anyway, Clarkson's stay in Cairo seems to play out in real time and there are long sequences of her sit­ting alone in a hotel room or café and we're sup­posed to feel sorry for her – although for what exactly isn't really clear.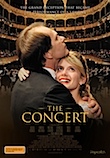 If you like your char­ac­ters and situ­ations painted with house paint and rollers rather than some­thing a little more pre­cise then you'll get more than I did out of The Concert, a Festival favour­ite boun­cing back almost imme­di­ately to gen­er­al release.
Alexei Guskov plays a former great con­duct­or of the Bolshoi Orchestra in Moscow, now humi­li­at­ingly reduced to clean­ing their offices. 30 years ago he was giv­en the push for hir­ing Jewish musi­cians and neither he, nor the musi­cians, have ever got­ten over it. He inter­cepts a fax invit­ing the orches­tra to play a con­cert in Paris and decides to get the band back togeth­er. They will travel to France, pre­tend to be the Bolshoi and get their mojo back.
It's a situ­ation built for farce-with-heart (an often win­ning com­bin­a­tion) but this review­er felt that it could have done with a little more sub­tlety in the com­edy and a little less mawk­ish­ness in the mov­ing scenes of redemp­tion at the end.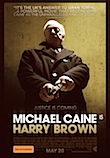 Michael Caine proves he can still pull out a top per­form­ance in Harry Brown, a British urb­an thrill­er about a pen­sion­er vigil­ante. Unlike Clint Eastwood's Gran Torino which touched on sim­il­ar themes, Harry Brown is a taw­dry and con­ser­vat­ive affair that's made to appeal to ACT vot­ing Mr and Mrs Norder as well as their ter­ri­fied daugh­ter Laura. Eastwood man­aged to make a film about the lim­its of viol­ence and the poten­tial of under­stand­ing. Harry Brown has no such ambition.
When his best mate Leonard (David Bradley) is viciously murdered by the drug-dealing young punks on his estate, mild-mannered Marine vet­er­an Harry Brown decides to take his revenge. This is psycho-fascist vigil­ante wish-fulfillment taken to it's ugli­est extreme. Like Charles Bronson in Death Wish, Caine is react­ing to a sup­posed fail­ure of author­ity, a fail­ure of soci­ety itself. These degen­er­ate crim­in­als are sexu­ally devi­ant as well as simply malevol­ent – they must be exterm­in­ated – and when the cops can't keep decent people safe tak­ing the law into your own hands seems per­fectly reasonable.
Making the inef­fec­tu­al detect­ive (Emily Mortimer) female just accen­tu­ates the reac­tion­ary atti­tudes on dis­play – it's anti-feminist as well as anti-progressive. This shouldn't be sur­pris­ing ter­rit­ory for Caine who once aban­doned Britain when he decided that he did­n't enjoy pay­ing the tax that made things like police forces and edu­ca­tion sys­tems possible.
Finally, I'd like to acknow­ledge the sad passing of Wellington film­maker Kathy Dudding. She was just find­ing a won­der­fully per­son­al voice and a unique aes­thet­ic and her most recent film, Asylum Pieces, was a high­light of the last Festival. If you can find a way to see it, you should.
Printed in Wellington's Capital Times on Wednesday 25 August, 2010.