The unhappy bard of Hawera, Ronald Hugh Morrieson, died in the sure and certain knowledge of his own failure. Only one of his four novels had been published (and only in Australia) and the others languished in obscurity. He wasn't to know that his Taranaki-gothic visions would prove perfectly adaptable to the big screen and that no less a Hollywood legend than John Carradine would appear in the first of them, The Scarecrow in 1982. Came a Hot Friday (1985) followed to huge box office success but then the Morrieson curse struck again and, due to the vagaries of the international movie business, Pallet on the Floor wouldn't even make it in to cinemas in New Zealand.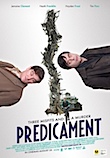 His other novel, "Predicament", has finally made it to the big screen and, I'm sorry to report, that Morrieson himself might prefer that it hadn't. It's Hawera, 1933. A socially repressed New Zealand small town, pleasant and placid on the surface but teeming with petty crims and sly-groggers underneath. When gawky teenager Cedric Williamson's mother died his father (Tim Finn) suffered a breakdown and is silently building a huge wooden tower in his front yard.
Alone and full of unrequited teenage yearning, Williamson falls in with a bad crowd — dubious Mervyn Toebeck (Heath Franklin) and mysterious Spook (played with brio by Jemaine Clement) — and between them they cook up a plan to blackmail the town dandy (Chad Mills) who is having an affair with his father's pretty new wife (Brooke Williams).
So far, so promising, and talented director Jason Stutter uses his versatile and mobile camera to generally good effect. The only problem is what's happening in front of it. Stutter's script itself is hard to judge because it's played so poorly by two of his three leads (and plenty of the supporting cast, too). Newcomer Hayden Frost (Cedric) looks the part but never approaches plausibility, Finn's presence is mostly an odd distraction but the biggest crime against casting is Aussie comic Heath Franklin in the pivotal role of Toebeck. He gets most of the great lines (many of them lifted straight from Morrieson's gifted pen) but has no feel for them whatsoever, no feel for the English language at all. He is supposed to be cocky and inventive but Franklin's asthmatic breathing and all round lack of energy sucks the wind out of every scene he is in. Could we not have found a New Zealander to fuck it up this badly?
It's not all awful (there's nice supporting work by Williams and Hadleigh Walker; the production design by John Harding is first rate on a tiny budget) but Stutter's inability to judge or direct an actor is going to hamper his career at this level.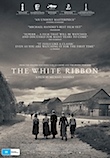 Stutter's restless camera is very much the style these days, as if the simple pleasures of the tripod have fallen out of favour. Luckily, Michael Haneke still has one and has used it to great effect on his masterpiece The White Ribbon, showing from the one luminous black and white print that has been imported into the country. In it, a series of mysterious incidents shock the population of a small German village during the months leading up to World War One. The old social order seems intact but, underneath the prim and proper facade humanity's true nature can be found: greedy, fearful, suspicious, vengeful, superstitious.
It's about the presence or absence of good and evil in the world, but it's also a Chekovian fin de siècle story as the old order fails to see all the change occurring right in front of its nose.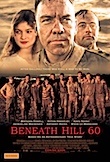 At the end of The White Ribbon, the war to end all wars has started and less than two years later a bunch of Australian miners would find themselves 90 feet under a Belgian hillside, burying the biggest bomb that anyone had ever seen. The "based on a true story" of these miners is called Beneath Hill 60 and it's a worthwhile addition to the list of films mythologising the Aussie contribution/sacrifice without doing anything startling. The good looking young cast (I call them "NIDA Squad") acquit themselves well enough and director Jeremy Sims builds plenty of tension.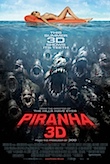 The debate over 3D has been raging recently but I think I can play my trump card now: Piranha 3D is the most fun use of the technology I've seen in ages. Not even bothering to pretend that dimensionality is anything other than a sideshow gimmick helps and director Alexandre Aja piles on gag after gag. From the first sequence (Richard Dreyfuss fishing on the lake in his Jaws glasses and beanie) you know that irreverence is the order of the day and a top cast of character actors (Ving Rhames, Christopher Lloyd and the too-little-seen Elizabeth Shue) have as much fun as the rest of us. Old-fashioned, naughty, B‑movie exploitation fun.
Printed in Wellington's Capital Times on Wednesday 1 September, 2010.