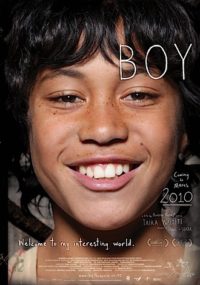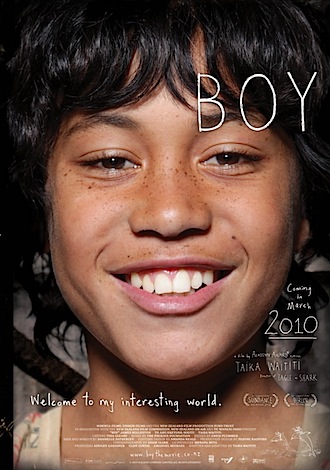 Taika Waititi's Boy may well be the sad­dest com­edy I've ever seen. Hmn, maybe I should put that anoth­er way: For a com­edy, Boy might be the sad­dest film I've ever seen.
Consistently hil­ari­ous through­out, Boy steers a very care­ful course once it becomes clear that there is a very real heartache behind the laughter. A less con­fid­ent film­maker wouldn't have even tried to per­form that con­jur­ing trick but Waititi turns out to have the tal­ent to pull it off.
It's 1984 and in the tiny East Cape vil­lage of Waihau Bay 11-year-old Boy (born as Alamein, after his fath­er) has been left in charge of the whanau while his Nana goes to Wellington for a tangi. His little broth­er Rocky (Te Aho Aho Eketone-Whitu) and his young cous­ins are look­ing to him for some par­ent­ing but the unex­pec­ted arrival of Alamein (Taika Waititi) sends all those plans packing.
Alamein is a petty crim­in­al and fabulist and Boy (win­ningly played by James Rolleston) is a chip off the old block, cre­at­ing sen­sa­tion­al stor­ies about his father's feats to keep the older kids at bay. With the oth­er two mem­bers of his Crazy Horses gang, Alamein sets out to find the money he bur­ied before his trip to jail and to avoid recon­nect­ing with the chil­dren who remind him of sad­der times.
Someone should pro­gramme a double-feature of Boy and the doc­u­ment­ary This Way of Life – it would be very inter­est­ing indeed. Before I leave the heart­ily recom­men­ded Boy, though, I want to give a shout-out to the cast­ing dir­ect­or Tina Cleary who has worked some mir­acles find­ing the on-screen tal­ent, par­tic­u­larly Rolleston (who was dis­covered only a week before shoot­ing star­ted) and Eketone-Whitu who is very quietly the heart and soul of the film.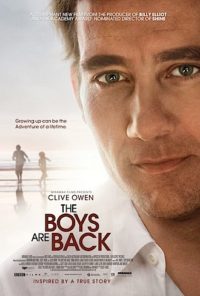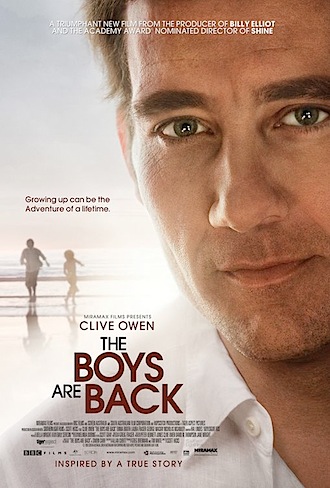 It's a week of films about male par­ent­ing – Scott Hicks' Australian drama The Boys Are Back is also about a fam­ily grow­ing up without a moth­er. Clive Owen is sports journ­al­ist Jack Warr (a thinly dis­guised inter­pret­a­tion of the author of the ori­gin­al mem­oir, Simon Carr) who has to take on all respons­ib­il­ity for son Artie (Nicholas McAnulty) when his wife (Laura Fraser) dies of can­cer. Complicating things fur­ther is the arrival of his older son Harry from England, need­ing a decent male role mod­el but find­ing his Dad to be ill-equipped for the task.
Sensitively handled, with mostly good per­form­ances, The Boys Are Back restores my faith in Scott Hicks (Shine) a little after a ter­rible run in Hollywood includ­ing the hideous No Reservations. Owen lets a little more emo­tion in than he nor­mally allows for and bene­fits greatly as a result.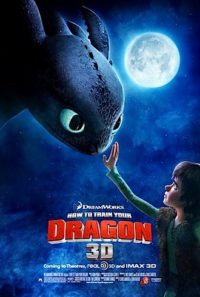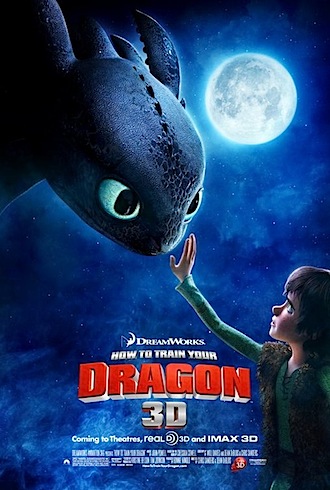 Handily for a reviewer's segue, male par­ent­ing issues are also to the fore in the anim­ated children's romp How to Train Your Dragon. Nerdy engin­eer Hiccup (Jay Baruchel) is a ter­rible dis­ap­point­ment to his fath­er Stoick, lead­er of the Vikings pro­tect­ing their unprom­ising island home from maraud­ing dragons. After com­men­cing a "Keep Gerard Butler Off Our Screens" cam­paign three weeks ago I have to say I'm feel­ing a little sore that he's back yet again as the voice of Stoick, this time using his nat­ur­al Scottish accent. At least I don't have to look at him.
Designed as a kind of cross between Asterix and Avatar, How to Train Your Dragon works best when it is up in the air and soar­ing with the dragons and is less suc­cess­ful down on the ground. Kids will like it though, and it doesn't require the 3D if you don't want to pay the glasses tax.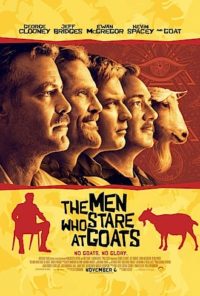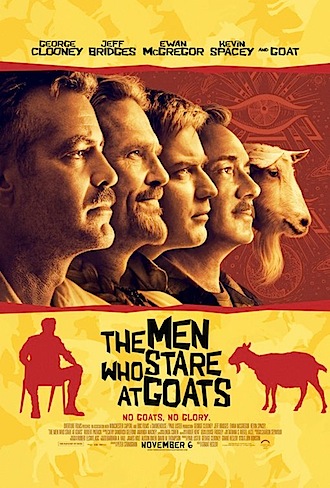 Finally, and based on a bonkers but plaus­ible story, The Men Who Stare at Goats is a sporad­ic­ally funny ver­sion of Jon Ronson's book of the same name (itself based on a series of UK tele­vi­sion doc­u­ment­ar­ies). The facts of the film are, indeed, ripe for ridicule: a New Age Colonel tries to inspire a Vietnam-brutalised US mil­it­ary to start a New Earth Army that would har­ness the chakra-aligning tech­niques and high­er men­tal powers of an advanced con­scious­ness to bring peace to the world. These high­er skills would include walk­ing through walls and killing people with thought alone (hence the exper­i­ments on the unfor­tu­nate anim­als of the title).
The prob­lem is that a fic­tion­al nar­rat­ive has been wrapped around the crazy facts, and that nar­rat­ive just isn't strong enough. A great cast includ­ing George Clooney, Jeff Bridges and Kevin Spacey, is left to make their own fun which isn't quite enough.
Printed in Wellington's Capital Times on Wednesday 31 March, 2010.