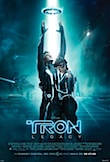 Indulge me for a minute – it's Christmas. Back when I was a little nip­per, me and some mates took a rare trip into the City ("Up London" we called it) to see what we thought was going to be the biggest movie event of our lives so far. At the Odeon Marble Arch (sup­posedly the biggest screen in Europe!) we sat ourselves in the middle of the front row and pre­pared to be blown away. By TRON.
It was the first film to con­tain com­puter gen­er­ated effects and graph­ics and the first to make a dir­ect appeal to the nas­cent home com­puter gen­er­a­tion who would go on to define our future. The idea of being sucked inside a com­puter to play the games for real didn't do much for me but the meta­phor­ic idea of los­ing one­self in the Grid (or the Net as we came to call it)? That had a lot more appeal.
Now, 28 years later, we get the inev­it­able re-boot and we get to see wheth­er the cur­rent gen­er­a­tion of teen­agers will be car­ried away the way that we were back in 1982. As I wrote in my Avatar review this time last year, some­times a movie just has to be a ride – a noisy, thrill­ing fun-fair ride – and TRON: Legacy makes a decent fist of that. It cer­tainly doesn't hold up to much logic­al scrutiny.
The invent­or of the video game TRON, Kevin Flynn (Jeff Bridges), has been miss­ing for more than 20 years and while his com­pany has grown in his absence, his son (Garrett Hedlund) has lost his way. One night he is summoned to the old spa­cies' par­lour by a mys­ter­i­ous mes­sage. There he dis­cov­ers the portal into the Grid, where his fath­er has been trapped all this time. The Grid is pop­u­lated by mil­lions of slave pro­grams led by Clu, a pro­gram developed by the older Flynn to do the heavy lift­ing of design­ing the Grid but now gone rogue.
Young Flynn has to find Old Flynn (played with a nice nod to The Dude by Bridges) and get him out before Clu and his army des­troys our world. Like I say, it doesn't make much sense but the ride is OK, aided by a sen­sa­tion­al soundtrack by Daft Punk – choos­ing them was eas­ily the best decision made by a big Hollywood block­buster movie this year.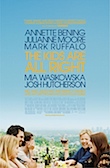 Eight hours after I filed my "2010 Year in Review" piece for this paper (hit­ting the streets on Jan 5 kids) I saw The Kids Are All Right and wished I could have men­tioned it in my list of favour­ites. Remind me to include it next year, I'm sure it will still be just as good.
Annette Bening and Julianne Moore are a hap­pily mar­ried les­bi­an couple with two beau­ti­ful, mod­er­ately well-adjusted, kids liv­ing hap­pily in sunny California. When teen­age son Laser (his name is the first clue that all may not be well in this house) per­suades his older sis­ter to find the iden­tity of the sperm donor who provided the seed for them both he intro­duces a dan­ger­ous wild­card into all their lives.
Actually he's not that dan­ger­ous, more a ran­dom force of ignor­ant good­will. Played by the great Mark Ruffalo, Paul is an organ­ic res­taur­at­eur and mar­ket garden­er, a free-living, "don't tie me down" sort of dude who dis­cov­ers that he quite likes the chil­dren he nev­er knew he had. While Laser (Josh Hutcherson) and sis­ter Joni (Mia Wasikowska from Alice in Wonderland) are get­ting used to hav­ing a fath­er fig­ure around, his arrival is open­ing up some of the cracks in Bening and Moore's rela­tion­ship and test­ing plenty of their assump­tions about what con­sti­tutes a family.
What I liked about The Kids Are All Right is that, for a change, every char­ac­ter is a decent roun­ded imper­fect human being, try­ing to do the right thing in a world where the answers aren't simple or easy, where rela­tion­ships require hard work and for­give­ness and where the best of inten­tions have unin­ten­ded con­sequences. A bit like life, then.
The Kids Are All Right is funny, intel­li­gent, warm and superbly acted by every­one involved and it gets a 100% recom­mend­a­tion from this review­er. Happy Christmas.
Printed in Wellington's Capital Times on Wednesday 22 December, 2010.