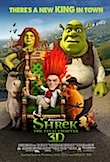 Lovable ogre Shrek (Mike Myers) is having a bad day. Instead of being a terrifying bringer of fear and bad smells, he is a mild-mannered father of triplets and pillar of the Far, Far Away community and it's getting him down. After one particularly stressful morning involving birthday cakes, fan requests ("Do the roar!") and other assorted minor niggles prompts him to suggest that he might've been better off not rescuing the lovely Fiona (Cameron Diaz) from the tower all those years ago.
This is overheard by the most dangerous legal mind in the area, Rumpelstiltskin, who immediately draws up a dodgy contract to give Shrek exactly what he wants. Shrek's day is about to go from being a bad one to being his last one.
Like most long-running family franchises, the Shrek films lost their way but Shrek Forever After (the latest, and we are told, the last) brings things back on track. It's a tidy 93 minutes long, packing plenty of gags and a little bit of sentiment into an efficient and professional package. The animation is splendid with some delightfully expressive moments (no support from motion capture, I understand, just the skill of the animator), editing that viewers of all ages can actually follow and altogether not too much of anything which makes a nice change.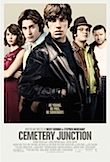 Nostalgia ain't what it used to be, as the saying goes, and that's the conclusion I have to draw after watching Cemetery Junction, Ricky Gervais and Stephen Merchant's misty-eyed reminiscence of a misspent youth in early 70s suburban England. Personally, I found this film inoffensive, occasionally amusing and a pleasant reminder of my own youth. My companion, however, fell asleep for a long section in the middle.
Three friends (played by Christian Cooke, Tom Hughes and Jack Doolan — names that are likely to be as unfamiliar to you as they were to me) spend their time mooching around the small town of Cemetery Junction, just outside the great metropolis of Reading. Freddie is ambitious and has just got a job selling life insurance door-to-door, Bruce is a bitter and twisted borderline psycho and Snork is an idiot. They are all unsatisfied and unsure of whether to escape to something more exciting or try and build a modest life where they are.
If you are a Gervais fan and tempted by his presence in the credits and on the poster, be aware that he is playing a slightly more downbeat version of himself in this picture (as Freddy's dad) and he's not in it much.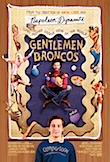 Gervais and Merchant have so much affection for all their characters that they end up suffocating the end product but that's the opposite problem to the one that Gentlemen Broncos has. Jared Hess, the writer-director, made the legendary Napoleon Dynamite back in the day but there's no love for any of the characters in his new film — just barely disguised contempt. This makes Gentlemen Broncos a hard watch. It's just so sour.
Set in a remote Utah where peoples inner lives are as empty as the bare landscape that surrounds them, Benjamin (Michael Angarano) is being home-schooled by his odd, clingy mother (Jennifer Coolidge) and dreaming of becoming a famous writer of fantasy and science fiction. At a writers' retreat he meets successful but secretly blocked author Ronald Chevalier (Jemaine Clement). Chevalier steals Benjamin's novel ("Yeast Lords") and turns it into a runaway success. Meanwhile, some friends try and adapt the story for the big screen with only a VHS handicam, some silver lamé and a post-dated cheque.
Benjamin's dreams of fame and fortune are being thwarted every which way but his original idea is so terrible that the film seems to be anti-creativity. Everyone in the film seems to be making stuff and it is all awful — from his mother's craft‑y nightwear to the films made by the repulsive Lonnie Donaho (Héctor Jiménez).
Incidentally, Jemaine Clement isn't the only Wellingtonian in the cast. Clive Revill (born here in 1930) has a small role as Cletus, the organiser of Cletus Fest, and despite dozens of television and film credits is best-known nowadays as a voice-over artist on things like Transformers.
Printed in Wellington's Capital Times on Wednesday 30 June, 2010.