Anther snapshot of Western culture this week in cinemas — if the aliens who monitor us are still watching I'm sure this will result in our urgent and violent annihilation (if that isn't one cliché too many).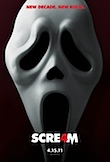 I'll confess that I haven't seen any of the first three Scream films — the first was in 1996 and the most recent was number three, eleven years ago. So, taken as a stand alone picture, how does Scream 4 hold up? Pretty well. The knowing references to recent horror cinema history take up most of the space with what's left over going to a resigned cynicism about modern society — which is as it should be.
In sleepy Woodsboro it's the anniversary of the famous Ghostface killings, a spree which generated a best-selling book and a series of cash-in Hollywood movies: the Stab series (not to be confused with the annual BATS Stab season). This year there's another book to be added to the list — a survivor's redemption tale written by Sidney Prescott (Neve Campbell) who managed to get away from the masked assailant in all the previous films. And there's another series of murders — a tribute not just to Woodsboro history but to the films it spawned.
Directed, as always, by horror legend Wes Craven Scream 4's scares are fairly old school and refreshingly un-horrifying. It's a bit like a horror version of Pegg/Frost's Paul — honouring the old ways before they are forgotten in the stampede towards ever-greater extremes.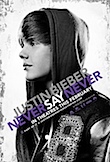 Talking of screams, there were a handful in the cinema earlier on Sunday afternoon where Justin Bieber: Never Say Never played to a handful of adoring female fans. The movie is likely to be the final cash-in for Team Bieber as, if the 9 year old of my acquaintance is correct, his days as a superstar appear to be waning as fast as they waxed.
It's less of a concert movie than the publicity would have you believe — the songs are interrupted by the story of his pre-fame life and the usual 'life on the road' sort of material. The young star getting a sore throat is the most dramatic thing to happen in a music doco since Nicko McBrain from Iron Maiden got hit on the wrist by a Costa Rican golf ball in Flight 666. The forgettable musical numbers are in 3D however, which is two more dimensions than if you were to meet Mr. Bieber in real life.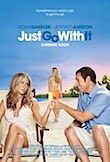 I'm not sure what heinous crime against karma Jennifer Aniston must have committed but surely appearing with Gerard Butler in The Bounty Hunter must have paid it off? Evidently not, as now she is starring alongside Adam Sandler in a film called Just Go With It. The script was written by Allan Loeb and Timothy Dowling but is based on another screenplay called "Cactus Flower" by I.A.L. Diamond which in turn is based on a stage play by Abe Burrows which in it's own turn was a version of a French stage play by Pierre Barillet and Jean-Pierre Grédy. And despite all those writers and the endless ad libbing by Sandler (and Nick Swardson in the annoying best friend role perfected over many years by Rob Schneider) the film is as lazy and flabby as it's male star.
Sandler is a wisecracking LA plastic surgeon who wears a fake wedding ring in order have lots of sex without commitment and Aniston is his practice manager. She has to pretend to be his about-to-be-ex-wife so that he can get it on with supermodel Brooklyn Decker (in her first feature film role). Nicole Kidman also appears, looking very uncomfortable indeed.
Printed in Wellington's Capital Times on Wednesday 20 April, 2011.
Notes: It was a tough week to see everything. My companion and I couldn't get in to see Sarah's Key at the small and pleasant Shoreline Cinema in Waikanae — the foul weekend weather meant that cinemas were quite the destination all over Wellington. And an attempt to see the 3D version of Mars Needs Moms at Readings on Sunday afternoon was thwarted by "technical difficulties". Those difficulties may or may not be related to poor sales…