One of the first films I reviewed when I started here was an charming documentary called Metal: A Headbanger's Journey in which Canadian fans Sam Dunn and Scot McFadyen travelled the world talking to other fans (and the stars they worship) about what it is that makes metal great. In that film they interviewed Iron Maiden's vocalist Bruce Dickinson and they must have made a decent impression as Maiden (and EMI) have given them a decent budget and loads of access for them to document their Somewhere Back in Time tour (around the world last year).
And what a wheeze the tour turned out to be. Chartering a 757 from Dickinson's other employer, taking half the seats out so the gear and set could fit, flying the whole show between gigs with Dickinson piloting the whole time — a bunch of pasty middle-aged English lads having the time of their lives across half the world. The only real drama comes when drummer Nicko McBrain gets hit on the wrist by a golf ball, but it doesn't matter because the joy of seeing a band really moving audiences (in places like Mumbai and Costa Rica) is the reason for this film to exist. And this film rises above above other recent great rock movies like U2-3D and Shine a Light — because it's about the fans as well as the band and it recognises the complex interdependence of the relationship.
Flight 666 restores my faith in showbusiness as a respectable (nay honourable) profession and I'm glad and proud that I'm a part of it. The fact that Iron Maiden are Hammers fans has in no way influenced this review.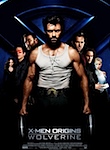 Summarising the rest of the latest releases: in X‑Men Origins: Wolverine a narcissistic Broadway song and dance man and a Shakespearean actor play at being comic book heroes. Thankfully for Liev Schrieber (the bad brother) there's a little acting required but Hugh Jackman (as the hero) betrays too much time spent at the gym and not enough time at acting class. Director Gavin Hood is no mug (an Academy Award winner for Tsotsi in 2005) and at least he can direct fights so you can tell who is doing what to whom, but the film itself is stupid and illogical.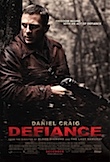 Schrieber plays another sibling afflicted by rivalry in Defiance (Ed Zwick's honouring of a pocket of Jewish resistance to the Nazis in Byelorussia) and his character follows an almost identical arc too. Luckily he's a good enough actor (and Daniel Craig a more capable foil) for occasional emotional sparks to fly. Zwick's recent subjects (Blood Diamond for example) have been interesting but seem to me would benefit from a less overwhelmingly "Hollywood" treatment. Less could well mean more but I can't see him ever giving in to it.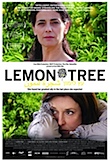 It is said that good fences make good neighbours but the lie is given to that old saw by clever parable Lemon Tree from Israel (via France and Germany). The Israeli Defence Minister moves house and the Secret Service demands that his neighbour (Hiam Abbas from The Visitor) cut down her precious lemon grove. She refuses and the tussle over a few lemons escalates to the Supreme Court. Recommended.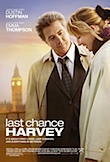 Totally lightweight but made watchable by two lead actors with old fashioned movie star appeal, Last Chance Harvey is a romance you can take your Gran to. Dustin Hoffman is a New York jingle writer visiting London for his daughter's wedding. He's about to lose his job and he's being replaced as father too — by stepfather James Brolin. Into his gloom steps lonely spinster Emma Thompson. The whole thing is underwritten (not least Thompson who does a bit with not much) and the South Bank of the Thames once again plays host to a cinematic courting.
Men's Group deserves extra credit for bravery. A semi-improvised ensemble exercise for half a dozen Melbourne actors, it peaks inside a group therapy session and attempts to shine a light on the afflictions of the modern male and I can certainly see this film inspiring groups of men to discuss their feelings and their insecurities — you know, once they've woken up.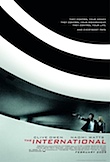 Tom Tykwer made the essential Run Lola Run in 1998 so you would expect him to do chases and movement well and so it proves in the new corporate thriller The International, starring a haggard looking Clive Owen. But two people sitting in a room talking? Not his strong point. The plot is full of holes, holes that become more ragged as you get closer to the end, and Naomi Watts is too good an actress to be playing second banana in stuff like this. I suspect that a lot of this film is on a cutting room floor somewhere.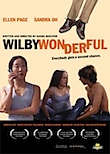 The entire cast of Wilby Wonderful seem to have been inhaling pure twee, straight from the can. Wilby is a Canadian island full of people who are either escaping the mainland or believe themselves to be superior to it. The ensemble includes an uptight real estate agent (Sandra Oh), a single Mom with a past (Rebecca Jenkins) and her daughter (Juno's Ellen Page), a mysterious handyman (Callum Keith Rennie) and a corrupt mayor (Maury Chaykin). Not terribly promising at first but I made it to the end which must mean something. The fact that the heartbroken, suicidal, loser, film buff (and catalyst) character is named Dan has in no way influenced this review.
Printed in Wellington's Capital Times on Wednesday 6 May, 2009. Conflict: Wilby Wonderful is distributed in New Zealand by Arkles Entertainment who I do a little work for now and then.