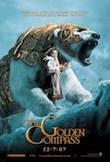 Keen-eyed readers will remember that a year ago I nominated The Golden Compass as my most-eagerly-awaited title of 2007. So, how did it pan out? I'm one of those who consider Philip Pulman's His Dark Materials books to be the most important works of fiction produced in the last 20 years and I was surprised at how closely the film followed Book One ("Northern Lights"), possibly to it's detriment. I was worried that a film with much exposition and detailed scene-setting might prove unwatchable but my companion (unfamiliar with the books) found it thrilling whereas I found it hard to let myself go and relax into it — maybe second time around.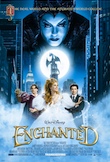 Disney's Enchanted saw Amy Adams reprise her Oscar-nominated wide-eyed naïf from Junebug. Unfortunately, as Princess Giselle from the animated kingdom of Andalasia, she couldn't overcome the collective blandness of James Marsden as fictional-world love interest or Patrick Dempsey as real-world love interest; diversions were provided by Timothy Spall and the first of several animated chipmunks to land this Christmas.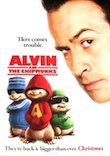 The next fluffy rodents to arrive were the "singing" trio from Alvin and the Chipmunks, a recreation of someone's favourite childhood pop butchers. Jason Lee is a waste of space as the songwriter who discovers them but the little critters themselves will keep your inner 8‑year-old amused for a while.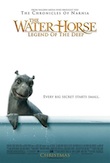 Also for the kids was the well-meaning but slightly po-faced Loch Ness monster fantasy The Water Horse, another high-class product of the family-friendly Walden Media/Weta/NZ confederation. A tremendous overseas cast led by Ben Chaplin and Emily Watson are joined by familiar and reliable local faces like Joel Tobeck and Geraldine Brophy.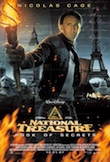 National Treasure: Book of Secrets saw Nicolas Cage arise from his coma and make a little more of an effort than he did earlier this year in Next: it's a noisy romp in which unlikely characters and implausible situations combine to bamboozle any seeker after logic. Helen Mirren, Harvey Keitel and Ed Harris add gravitas.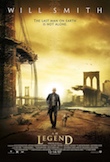 Will Smith returned in the oft-made man alone thriller I Am Legend, a perfect example of a poor script made palatable by classy direction and a superb leading man at the top of his game. Smith plays Lt-Col Robert Neville: decorated war veteran, ace micro-biologist and (judging by his address opposite the Washington Square Arch) heir to the Rockefeller fortune too. A genetically mutated virus that was supposed to cure cancer has gone rogue. 99% of the population has died, 1% have turned into bloodthirsty zombies and only one man is immune – handily for our purposes the one man who might know how to create a vaccine. Lots of frights, lots of great action and a magnificently seamless creation of abandoned New York make it certainly worth a look. At least until the last 15 minutes when, sadly, it just gets stupid.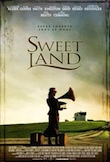 Finally, to the arthouse: Sweet Land is an unheralded gem set in beautiful rural Minnesota among the Northern European immigrants who were making their lives on that land in the first quarter of the last century. Elizabeth Reaser plays German immigrant Inge who travels from Germany to meet Lars, the man who is to be her husband. But she speaks no English, has no papers and the locals are suspicious of Germans – the marriage is forbidden. True love conquers all but not before the bitter sweet tale ties three generations and the fertile farmland together. Recommended.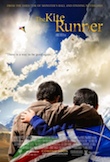 A monument to the Digital Intermediate Colourist's art, The Kite Runner is an adaptation of the beloved novel by Khaled Hosseini, directed by Marc Forster (Finding Neverland, currently shooting the new Bond). Affecting but manipulative, The Kite Runner is a story of guilt and redemption (usually catnip to me) but in the end it relied too much on outrageous coincidence to be truly satisfying. Great performances from Ahmad Khan Mahmidzada as Young Hassan and Homayoun Ershadi as Baba mean it is never less than watchable.

Priceless is yet another French film about mistaken identity and class restrictions: they seem to be more obsessed about class and status than the poms. Gad Elmaleh (The Valet) and Amelie's Audrey Tautou play two ambitious individuals from the serving class: he walks dogs and tends bar at a flash hotel and she is a gold digger trying to snare a rich old husband. The fact that both actors are of North African descent (and therefore are excluded from the ranks of the real French who sit at the top table) is either a subtle stroke of genius or dodgy racism depending on the degree of Christmas spirit you want to demonstrate.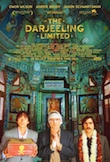 Finally, The Darjeeling Limited is a winning tale of lost young men, searching for a father figure, from the modern day poet of father figure searches, Wes Anderson (The Life Aquatic). There's no great thematic or stylistic leap made by Anderson here but he is honing this stuff to a fine art. Adrien Brody, Owen Wilson and Jason Schwartzman are three brothers on a spiritual journey across India but it is the recently deceased father who casts the longest shadow. Well made and often very funny, The Darjeeling Limited is very easy to enjoy and Anderson's taste is exquisite.
To be printed in Wellington's Capital Times on Wednesday, 16 Jan, 2008. I am taking a weekend off, away from the Internet and cinema so will catch up with the week's new releases next week.