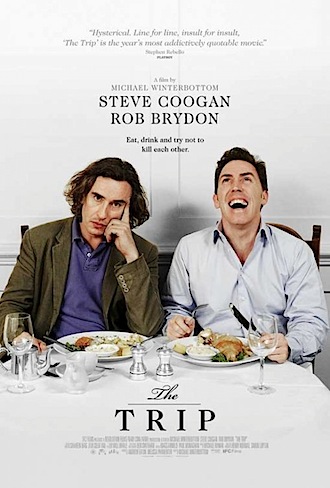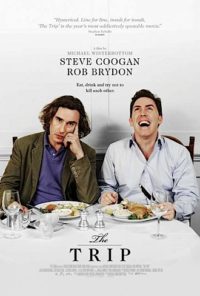 Michael Winterbottom's The Trip is the best picture about middle-aged male angst since Sideways, and it's possibly even better than that fine film. Two privileged English celebrities spend a week driving around the North of England from one fine restaurant to another, eating and drinking themselves silly on someone else's dime. And yet, something darker is up.
Self-absorbed "Steve Coogan" (Steve Coogan) is separated from his girlfriend, distanced from his children, desperate for recognition as a serious actor but all too often welcomed by strangers with a warm-hearted but annoying repetition of his great TV catchphrase (Alan Partridge's "Ah-ha"). On the surface, "Rob Brydon" (Rob Brydon) is a happily married man with a young child, a moderately successful TV and stand-up career but, as Coogan points out in a pathos-ridden trip the ruined Bolton Abbey, there's something about Brydon's neverending celebrity impressions and forced bonhomie that suggests he hasn't quite got to grips with the real world.
And those impressions (easily the easiest way in to The Trip) are like the All Blacks against France — two heavyweights pounding each other, giving no quarter. The Michael Caine-offs over scallops and pigeon are hilarious (Coogan wins that one for mine, but Brydon's Hugh Grant and Ronnie Corbett are equally impeccable) and their constant jousting over the relative state of their careers masks a deep affection that neither will readily admit to. Just like a lot of guys, then.
The Trip started life as a six-part BBC TV series and the version we are seeing in cinemas is heavily edited down from the original three hours. So, while the film does a job, the longer version allowed more room for the characters to grow and gave the result even more emotional weight. The TV series (watched in one sitting) felt like a masterpiece — the 107 minute film is almost exactly 59.44% as effective.
It's still recommended, of course, and I should point out that Coogan has obviously not left Alan Partridge behind totally — the audiobook of his new "autobiography" I, Partridge is very high on my Christmas present wishlist. Should anyone be paying attention.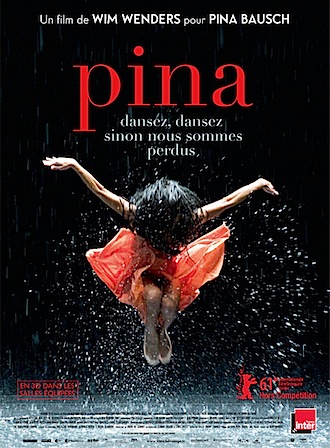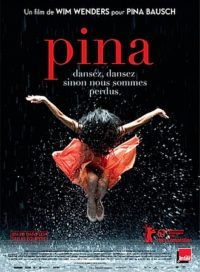 Back in 2007 in these pages, I suggested that 3D would really come of age when some artists got hold of it. Since then my favourite 3D films have pretty much been the opposite (Piranha 3D being the, er, pinnacle) but now we have two great arthouse directors employing the medium to superb effect. I reviewed Herzog's Cave of Forgotten Dreams last week and this week we have Wim Wenders' utterly beguiling hymn to the choreography of Pina Bausch — Pina.
I first came across Bausch's work as the centrepiece of Almodóvar's 2002 masterpiece Talk to Her — a blindfolded dancer stumbles across a stage as her male companion struggles to remove the chairs from from her path. That piece, Café Müller, is recreated once again by Wenders and Bausch's Tanztheater Wuppertal in Pina — a film that the great choreographer was collaborating on before she died in 2009. It turns out that 3D is an excellent way to watch dance on screen. Stage depth and scale is made manifest in ways that 2D can only hint at.
Wenders also takes the work out of the theatre and into the city of Wuppertal, making amusing use of its suspended railway and surrounding green belt. While past and current ensemble members recreate her work, a united nations of former collaborators reminisce about how their lives were changed by her. Pina is superbly put together, brilliant to look at and listen to, and doesn't pretend that you won't have to do some work of your own to appreciate her art.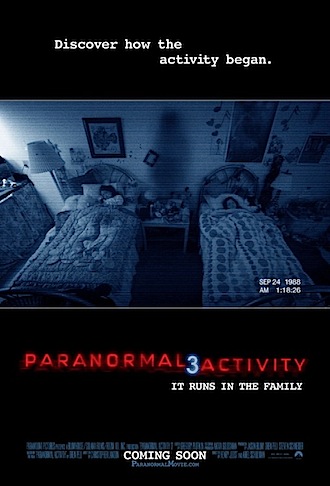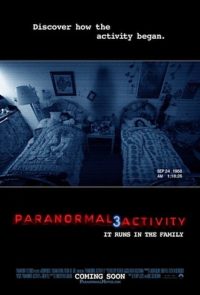 The first Paranormal Activity movie cost $15,000 to make and grossed over $100m in the US alone. That's some serious profit margin so it's no surprise that the well has been gone to a couple of times since then. The latest version is another prequel — and effectively another remake as the premise of a ghost in the house being filmed by security cameras remains the same — this time in 1988 and the haunted sisters from the first two films are just children with a not-so-imaginary friend.
I have to say that #3 is the best of the three pictures but that's a very low bar indeed. At least this one saw me through to the end which the first two didn't manage. It's made by the guys who gave us arthouse doco sensation Catfish earlier this year (Henry Joost and Ariel Schulman) so there's an air of competence around the thing that's previously been missing. In particular the art direction effectively recreates 1988 without relying on clichés.
Thanks the the Embassy Theatre I finally got to see Donnie Darko on Saturday night which means I got to see how much Paranormal Activity 3 pays tribute to a 2001 film that is obviously important to Joost and Schulman. The two films are set only a month apart in Sept/Oct 1988 and many of Darko's elements are recreated or alluded to in PA3 — Back to the Future, a trampoline in the garden, a cordless phone with extending aerial. It's interesting how a random coincidence of screenings can help make connections that would never have occurred otherwise.
Printed in Wellington's Capital Times on Wednesday 26 November, 2011.