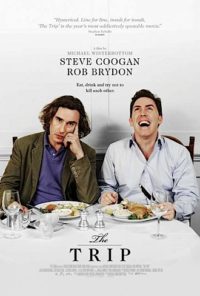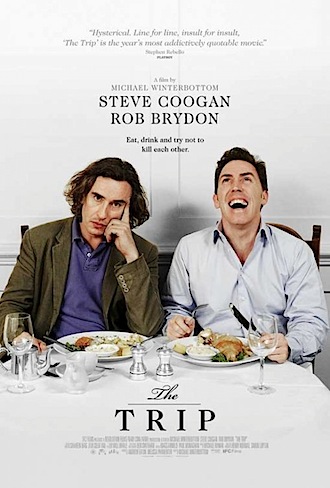 Michael Winterbottom's The Trip is the best pic­ture about middle-aged male angst since Sideways, and it's pos­sibly even bet­ter than that fine film. Two priv­ileged English celebrit­ies spend a week driv­ing around the North of England from one fine res­taur­ant to anoth­er, eat­ing and drink­ing them­selves silly on someone else's dime. And yet, some­thing dark­er is up.
Self-absorbed "Steve Coogan" (Steve Coogan) is sep­ar­ated from his girl­friend, dis­tanced from his chil­dren, des­per­ate for recog­ni­tion as a ser­i­ous act­or but all too often wel­comed by strangers with a warm-hearted but annoy­ing repe­ti­tion of his great TV catch­phrase (Alan Partridge's "Ah-ha"). On the sur­face, "Rob Brydon" (Rob Brydon) is a hap­pily mar­ried man with a young child, a mod­er­ately suc­cess­ful TV and stand-up career but, as Coogan points out in a pathos-ridden trip the ruined Bolton Abbey, there's some­thing about Brydon's nev­erend­ing celebrity impres­sions and forced bon­homie that sug­gests he hasn't quite got to grips with the real world.
And those impres­sions (eas­ily the easi­est way in to The Trip) are like the All Blacks against France – two heavy­weights pound­ing each oth­er, giv­ing no quarter. The Michael Caine-offs over scal­lops and pigeon are hil­ari­ous (Coogan wins that one for mine, but Brydon's Hugh Grant and Ronnie Corbett are equally impec­cable) and their con­stant joust­ing over the rel­at­ive state of their careers masks a deep affec­tion that neither will read­ily admit to. Just like a lot of guys, then.
The Trip star­ted life as a six-part BBC TV series and the ver­sion we are see­ing in cinemas is heav­ily edited down from the ori­gin­al three hours. So, while the film does a job, the longer ver­sion allowed more room for the char­ac­ters to grow and gave the res­ult even more emo­tion­al weight. The TV series (watched in one sit­ting) felt like a mas­ter­piece – the 107 minute film is almost exactly 59.44% as effective.
It's still recom­men­ded, of course, and I should point out that Coogan has obvi­ously not left Alan Partridge behind totally – the audiobook of his new "auto­bi­o­graphy" I, Partridge is very high on my Christmas present wish­list. Should any­one be pay­ing attention.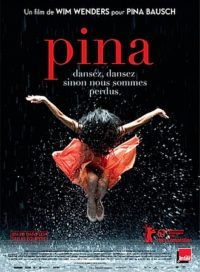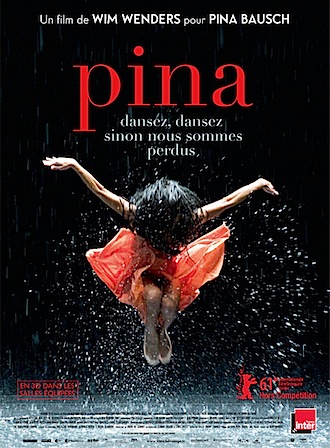 Back in 2007 in these pages, I sug­ges­ted that 3D would really come of age when some artists got hold of it. Since then my favour­ite 3D films have pretty much been the oppos­ite (Piranha 3D being the, er, pin­nacle) but now we have two great art­house dir­ect­ors employ­ing the medi­um to superb effect. I reviewed Herzog's Cave of Forgotten Dreams last week and this week we have Wim Wenders' utterly beguil­ing hymn to the cho­reo­graphy of Pina Bausch – Pina.
I first came across Bausch's work as the centrepiece of Almodóvar's 2002 mas­ter­piece Talk to Her – a blind­folded dan­cer stumbles across a stage as her male com­pan­ion struggles to remove the chairs from from her path. That piece, Café Müller, is recre­ated once again by Wenders and Bausch's Tanztheater Wuppertal in Pina – a film that the great cho­reo­graph­er was col­lab­or­at­ing on before she died in 2009. It turns out that 3D is an excel­lent way to watch dance on screen. Stage depth and scale is made mani­fest in ways that 2D can only hint at.
Wenders also takes the work out of the theatre and into the city of Wuppertal, mak­ing amus­ing use of its sus­pen­ded rail­way and sur­round­ing green belt. While past and cur­rent ensemble mem­bers recre­ate her work, a united nations of former col­lab­or­at­ors remin­isce about how their lives were changed by her. Pina is superbly put togeth­er, bril­liant to look at and listen to, and doesn't pre­tend that you won't have to do some work of your own to appre­ci­ate her art.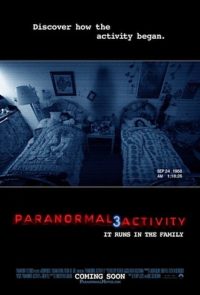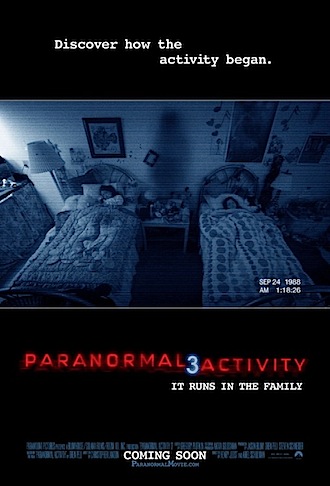 The first Paranormal Activity movie cost $15,000 to make and grossed over $100m in the US alone. That's some ser­i­ous profit mar­gin so it's no sur­prise that the well has been gone to a couple of times since then. The latest ver­sion is anoth­er pre­quel – and effect­ively anoth­er remake as the premise of a ghost in the house being filmed by secur­ity cam­er­as remains the same – this time in 1988 and the haunted sis­ters from the first two films are just chil­dren with a not-so-imaginary friend.
I have to say that #3 is the best of the three pic­tures but that's a very low bar indeed. At least this one saw me through to the end which the first two didn't man­age. It's made by the guys who gave us art­house doco sen­sa­tion Catfish earli­er this year (Henry Joost and Ariel Schulman) so there's an air of com­pet­ence around the thing that's pre­vi­ously been miss­ing. In par­tic­u­lar the art dir­ec­tion effect­ively recre­ates 1988 without rely­ing on clichés.
Thanks the the Embassy Theatre I finally got to see Donnie Darko on Saturday night which means I got to see how much Paranormal Activity 3 pays trib­ute to a 2001 film that is obvi­ously import­ant to Joost and Schulman. The two films are set only a month apart in Sept/Oct 1988 and many of Darko's ele­ments are recre­ated or alluded to in PA3 – Back to the Future, a tram­po­line in the garden, a cord­less phone with extend­ing aer­i­al. It's inter­est­ing how a ran­dom coin­cid­ence of screen­ings can help make con­nec­tions that would nev­er have occurred otherwise.
Printed in Wellington's Capital Times on Wednesday 26 November, 2011.