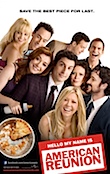 In one of these columns back in 2007 I said, "Nostalgia ain't what it used to be." Those were the days, eh? Now you can't get away from it. This week nostalgia is everywhere — getting up your nose and on your shoes — and the prime culprits are young whippersnappers who should know better — yearning for their High School years in that innocent-yet-filthy time before Y2K and 9/11 changed everything.
The first American Pie was a well-executed implementation of that noble genre, the teen sex comedy. Four sequels (two direct-to-video) leeched whatever goodwill there might have remained out of the project but — as the careers of Jason Biggs, Seann Williamm Scott and Chris Klein have stuttered — the Hollywood economy will eventually demand its tribute. American Reunion is the result.
No plot summary can possibly do this unpleasantness justice, suffice to say that the film attempts to outdo both the ugliness of the original and its sentimentality, making the whole experience awkward rather than fun. But as a friend pointed out to me yesterday, these things will always make more money than they cost and in fifteen years we can look forward to an Inbetweeners Reunion movie. I hope I will still be here to complain about it.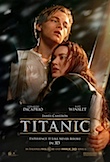 Also trading on nostalgia for (two) more innocent times, James Cameron's Titanic is back in cinemas in a 3D remastered version that sets an impressive new standard for 3D conversion — and should embarrass George Lucas whose Phantom Menace re-release earlier this year was shoddy. Fifteen years on from the last time I saw it, I was expecting to be cynical about the overblown emotions and the grand manipulative set-pieces, but I was sucked in — sucked in by the immersive 3D but also by Cameron's engineering of the story.
Titanic is big, old-fashioned epic filmmaking and didn't make all that money by accident. Definitely worth another look.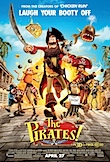 The final film for this week is also set on the ocean wave and is also an impressive technical achievement. The Pirates! Band of Misfits is Aardman's return to stop-motion animation — their first claymation feature since Wallace & Gromit: The Curse of the Were-Rabbit in 2005 — and their trademark visual puns are in every frame.
Unfortunately, the verbal side of the script is weak with lots of lame jokes that wouldn't normally meet tv sitcom standards, and a lack of flesh on both the plot and characters. Hugh Grant plays Pirate Captain (not sure if that's first name/surname like Meat Loaf) and you get the feeling that they cast the wrong Hugh (but Laurie got used up in the brilliant Arthur Christmas last year). In one last effort to win Pirate of the Year, he sells out his beloved ship's parrot Polly (actually the last dodo) to scheming Charles Darwin (David Tennant) and evil Queen Victoria (Imelda Staunton).
Even the brief addition of Lenny Henry and the great Brian Blessed aren't enough to get some laughter flowing but kids will probably enjoy the brilliantly animated visuals — Aardman still get this stuff right even if the script could've done with another couple of drafts and some doctoring.
Printed in Wellington's Capital Times on Wednesday 11 April, 2012.