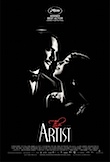 Two of the big three Academy Award con­tenders this year are about look­ing back on the early days of cinema itself. While Scorsese's Hugo uses the latest tech­nic­al whizz­bangs to bring to life the idea of early cinema and its nov­elty and excite­ment in The Artist, Michel Hazanavicius recre­ates the tech­niques of old Hollywood in search of pure nostalgia.
A painstak­ingly cre­ated silent movie with sev­er­al moments of love­li­ness, The Artist fol­lows the riches to rags story of screen hero George Valentin and the con­cur­rent rags to riches story of star­let Peppy Miller – who tries to catch him as he falls. The per­form­ances of Jean Dujardin and Bérénice Bejo as the two leads are both splen­did, Dujardin in par­tic­u­lar dis­plays a tech­nic­al pre­ci­sion that most act­ors can only dream of.
It's help­ful that pas­tiche is a French word because The Artist, for all its, ahem, artistry and atten­tion to detail nev­er man­ages to tell us any­thing new about cre­ativ­ity, hubris or adapt­ab­il­ity. But, come to think it, pan­ache is also a French word and The Artist has plenty of that which may just be enough for a good night out.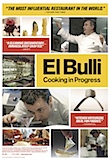 Don't miss the mes­mer­ising doc­u­ment­ary, El Bulli: Cooking in Progress which fol­lows Spanish geni­us Ferran Adrià's legendary avant-garde res­taur­ant dur­ing the long close-season while they devel­op even more of their weird and won­der­ful – decon­struct­iv­ist – dishes, cooked using strange tech­no­lo­gies like liquid nitro­gen and vacu­um chambers.
Structured like one of those back­stage putting-on-a-show stor­ies, Adrià's team struggles with what new to do with sweet potato as open­ing night approaches and there's a lovely series of scenes as one chef tries to intro­duce the idea of a pea­nut oil and water cock­tail that is ini­tially met with skep­ti­cism and turns out to be one of the hits of the season.
Every guest gets to sample 40 dishes a night over three hours and, des­pite all the sci­ence, Adrià still finds him­self busk­ing his way through some of that first night, pay­ing close atten­tion to cus­tom­er responses thanks to a huge team of superb front-of-house people.
The great chef him­self has the slightly dis­trac­ted air of someone who is oper­at­ing on anoth­er plane to the rest of us, sit­ting quietly in one corner of the res­taur­ant sampling every dish even as the pat­rons arrive, tak­ing notes, dream­ing of the next great thing. The fam­ously unprof­it­able El Bulli has since closed and Adrià is devot­ing him­self to teach­ing and pure culin­ary research, no doubt work­ing on things like truffle ravi­oli in tan­ger­ine blos­som cooked in a small had­ron collider.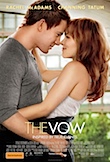 Valentine's Day mawk is provided by The Vow, based on the true story of a woman who suf­fers a head injury and for­gets everything from the pre­vi­ous five years, includ­ing the guy she mar­ried. Rachel McAdams is the wife – also a sculptor – and beef­cake Channing Tatum is the hus­band – also a record producer.
The biggest prob­lem with The Vow is that McAdams' char­ac­ter should be the focus – she has by far the most inter­est­ing jour­ney even if most of it is intern­al – but the story focuses on Tatum and what it all means to him, the poor wee thing. And, in a lost oppor­tun­ity, the team of five people respons­ible for the script decided to make the con­flict between McAdams' old life and new life about authen­ti­city when it would have been more inter­est­ing – and braver – to make it about class instead.
===
It was at this point that I ran out of space for the Capital Times so – being in energy conservation-mode most of the time these days – I stopped writ­ing. Now it comes to post this piece to F&S and I have to add some thoughts on the three films I didn't have room for. Not as pol­ished as you would nor­mally expect but will have to do.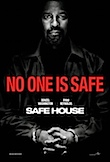 Safe House: not nearly as ground­break­ing as it's over-exposed cine­ma­to­graphy, pulsat­ing soundtrack (Ramin Djawadi) and shakicam visu­als would have you believe, this CIA-conspiracy thrill­er (it goes to the very top) is a pre­dict­able story par­tially saved by Denzel Washington in intense Training Day mode and Ryan Reynolds giv­en a chance to do a little bit of act­ing. The Cape Town loc­a­tions are also well used.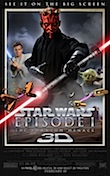 Star Wars: Episode I – The Phantom Menace 3D: Oh man, this was so bad, so much worse than I remem­ber it. Leaden storytelling (not just by mod­ern stand­ards but by any stand­ards) and most of Lucas's visu­al trade­marks – the wipes; the fram­ing – don't trans­late well to a post-produced 3D that can't even make R2-D2 look round.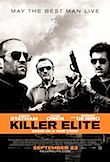 Killer Élite: The front-runner for worst film of the year, this fea­tures some nor­mally reli­able male stars (except maybe Robert De Niro) slum­ming it on a script so bad that I'm sure they had trouble remem­ber­ing their lines. Jason Statham and De Niro are hit­men and Statham wants to retire. When De Niro is kid­napped by a Middle Eastern sheikh, Statham is forced to return from his out­back wil­der­ness for one more – sorry, three more – jobs. Not only is the script awful but it looks like it received fur­ther but­cher­ing in post to try and make some sense of it – but it didn't work.
Printed (with excep­tions noted) in Wellington's Capital Times on Wednesday 15 February, 2012.