I should warn you now, this may be boring but if I don't get this down now I'll probably lose it forever.
One of Telluride's charms is its relative isolation. You have to really want to come here. When I first saw pictures of the place I thought it was roughly the size of Picton but population-wise it's actually smaller. And yet, one weekend every year it fills up with film buffs, industry types, publicists and movie stars. The town has one full-time cinema but manages to scrape up eight screening venues that start as early as 8am over four extremely busy days every Labor Weekend.
I left Wellington aeons ago (actually 2pm last Sunday) with your common-or-garden flight to Auckland. Then — after writing my CT column in the food court — the twelve hour flight to Los Angeles.
I'm making a conscious effort this trip to meet new people and not get stuck in my own little bubble and was pleased to make the acquaintance of a gregarious Irishman and his wife on the Auckland flight. We talked movies and LA ( where they live) and it was a good start. Sadly for conversation, the seat next to me on the LA flight was empty but it was a blessing for legroom. Next to me on the Denver flight was a young guy who slept the entire flight with his head on the tray table. Oh well.
30 films to choose from on the in-flight entertainment system and nothing that I wanted to watch, so I read Paul Kelly's How to Make Gravy autobiographical app, watched an amusing Top Gear and got some sleep. The arrival at LA was spectacular — clear blue skies and magnificent views of the coast and the city.
My itinerary (the one I put in my phone, not the one I got from my travel agent) told me I had five hours to wait before my connection to Denver, so — me being me — I decided to watch a movie. Google had told me that there was a screening of Moonrise Kingdom at the ArcLight in El Segundo at 2.30 and, also, that the cinema was only an 11 minute taxi ride from LAX. As the film doesn't open in NZ until Thursday, I felt I had an obligation to catch it so I could review it for Cinematica this week. Cleared customs and immigration by 2.10, found a taxi outside the terminal, waited while he looked up the address, then got to the pictures with five minutes to spare.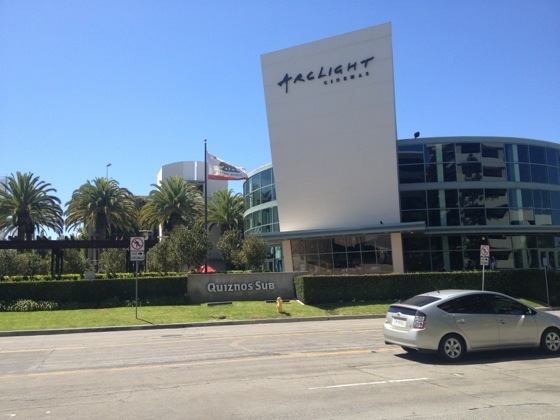 Service was excellent, fancy chip credit card was accepted, time for a pit stop, and I was seated in time to see the new trailer for The Master. Sorted.
Incidentally, the ArcLight promotes itself as a "disturbance free" cinema — no tickets sold five minutes after advertised start time and no one seated after the feature starts. Great idea (doesn't stop people talking though).
Came out of a very satisfying screening — gorgeous DCP as you might expect — took some photos then asked the cafe staff where I could find a cab back to the airport. They called one for me, told me I had 15 minutes so I ordered a coffee and went out into the muggy afternoon to wait.
And then I watched the taxi sail past me and head around the block. Bugger, I think, and chase after him. In the car park I find his empty cab — he's gone in to the cinema to find me which is bloody lucky as it turns out.
Back at LAX I check my boarding pass which reads "Boarding: 1645". the current time is 1645. Triple bugger! I haven't even gone through (formidable) security yet and I don't know what gate I'm headed for. Panic ensues and I end up running for the flight, getting to the correct gate in time for my section of the plane to be called.
When I transferred my itinerary to my calendar I saw 1720 and put it in as 7.20pm. Elementary mistake but almost catastrophic. Still, no harm, no foul. Just got on the Denver flight a little breathless and sweaty, that's all.
Flying against the sun meant it was nearly 9pm and dark by the time I arrived in Denver (flight is 2 hours 10). You have to take a train to get from the gate to the terminal (very amusing piano stings and boss jock voice announce each stop). At baggage claim I saw a special vertical baggage claim for skis for the first time and then got a shuttle bus to the car rental desk where there was another wait in another queue.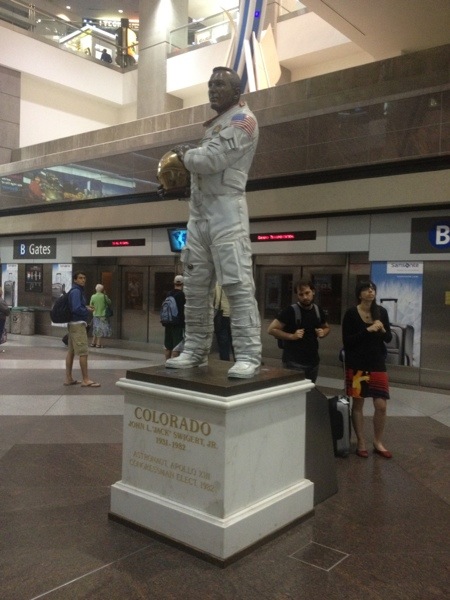 Next challenge: driving in a strange city, in the dark on the wrong side of the road. Much expenditure of adrenaline later (and a bit of cheating using Google Maps via Telecom roaming data) I make it to a seedy but clean Motel 6 where I can clean up and crash.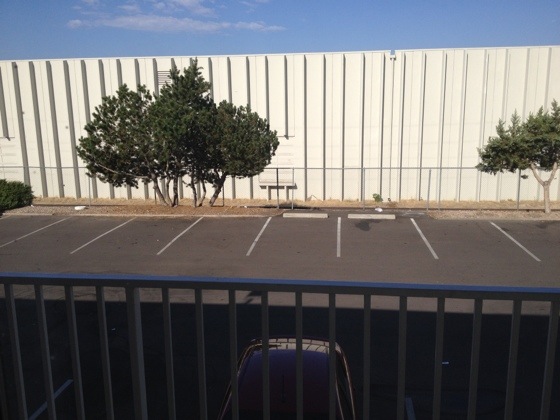 I'm going to pause now as I'm writing this on my phone and I'm almost out of battery. More adventures later…