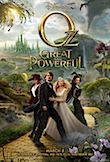 It's a question that has been burning away inside all of us for nearly 75 years — how did the Wizard (who wasn't really a wizard at all but a carnival showman with a knack for gadgets) get to Oz in the first place? You neither, huh? Ah well, this least essential question has now been answered by Spider-Man (and Evil Dead) director Sam Raimi and his team of pixel-wielding minions. As a prequel to the beloved 1939 film starring Judy Garland and a dog called Toto, Oz the Great and Powerful is not without risk. Other attempts to recreate L. Frank Baum's magical world have been either commercial or artistic failures — The Wiz, for example, or Return to Oz.
Casting the human smirk, James Franco, as the carnival magician transported to the land of the yellow brick road by a hot air balloon (via tornado) is also a risk but it eventually pays off, even though Franco's boyish features are starting to look a bit ragged. Escaping various romantic and financial pressures back home in black and white Kansas, Franco's Oz finds himself blown off course to a technicolor(ish) fantastical land where a prophecy suggests he will protect the peace-loving citizens from wicked witches but also gain control of the palace fortune. Guess which one appeals more.
Along the way, he has to decide which of the three witches (dark, light and neutral) he should trust — Rachel Weisz, Michelle Williams or Mila Kunis — and makes friends with a winged monkey (Zach Braff) and a little girl made of (broken) china (Joey King). Fans of the Garland story will find that Mitchell Kapner and David Lindsay-Abaire's screenplay ties things together very nicely and kids unfamiliar with it should still follow the story easily enough. This Oz is pleasingly old-fashioned and mostly undemanding — a very expensive vehicle for some cheap sentiment.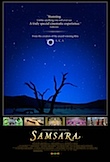 A big screen epic that you probably shouldn't take your kids too — unless you want them asking some very awkward questions afterwards — is Ron Fricke's Samsara, a long-awaited follow-up to the majestic and breathtaking Baraka which blew us away 20 years ago. Like Baraka — and Godfrey Reggio's Koyaanisqatsi back in 1982 — the film is a kind of travelogue, taking us around the world, comparing the modern with the ancient, the complex with the deceptively simple, and finding the parallels and connections between them.
I'm a big fan of non-narrative cinema and quality examples like Samsara are few and far between. While letting the gorgeous — and often confronting — images wash over me, I fancied that I was watching a feed from the Earth Curiosity rover — sending pictures back to a bewildered Martian ground control, asking themselves what kind of crazy planet they are sharing their solar system with.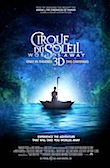 In a similar — but less successful — vein, Andrew Adamson's big screen advertisement for corporate acrobats Cirque du Soleil: Worlds Away, often looks beautiful but doesn't appear to have much of a point — or even remain true to its own limited intentions. A selection of the company's repertoire, photographed either in performance or restaged especially for the 3D cameras, Worlds Away might have been the perfect opportunity to fully showcase the new-fangled 48 frame HFR system that The Hobbit used late last year. But it didn't, so that's that.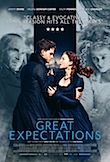 Mike Newell's Great Expectations is a straight-up-and-down re-telling of Dickens' classic. Unlike the Ethan Hawke/Gwyneth Paltrow 1998 version — which I am kind of partial to — this version doesn't update the story at all and simply lets a fine British cast inhabit Dickens' broad characters and get on with telling the story. It's a quality production without much novelty — or much excitement for that matter.
Newell has had a few flops in recent years (Prince of Persia anyone?) but deserves to be remembered for 1994's Four Weddings and a Funeral which created an entirely new genre — the BritCom. Actually, having seen the latest example — Dan Mazer's I Give it a Year — perhaps we shouldn't be celebrating. It's a desperate piece of work with a nasty, snarky, sensibility. Rose Byrne and Rafe Spall are newlyweds who realise that they aren't perfect for each other after all but they are such unpleasant characters you want them both to live unhappy and unfulfilled lives — preferably without you seeing them ever again.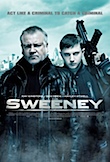 Also inviting sensible viewers to question the direction of British cinema, The Sweeney is a borderline fascist reinterpretation of the famous 1970s television series. Ray Winstone plays DI Jack Regan, specialising in using unconventional (i.e. stupidly violent and risky) methods to catch bad guys on the mean streets of Lahndan and his partner, Jack Carter, is played by rapper Plan B (Ben Drew). The Sweeney is notable for screeching tyres, shouty swearing, automatic weapons that don't run out of ammunition and paunchy Winstone's sex symbol status taken to bizarre extremes.
Finally, some respite from all this sound and fury, the Wellington Film Society 2013 programme gets under way properly next Monday (after this week's AGM). An annual membership can be obtained from only $50 and that gives you access to 31 nights of great movies including Malick's Badlands, Oshima's Merry Christmas Mr Lawrence and Lynch's Eraserhead. Other surnames to ponder: Hellman, McCary, Carax, Denis, Lubitsch, Cronenberg, Malle. Get in!
Printed in Wellington's Capital Times on Wednesday 13 March, 2013.