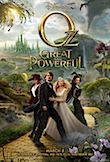 It's a ques­tion that has been burn­ing away inside all of us for nearly 75 years – how did the Wizard (who wasn't really a wiz­ard at all but a car­ni­val show­man with a knack for gad­gets) get to Oz in the first place? You neither, huh? Ah well, this least essen­tial ques­tion has now been answered by Spider-Man (and Evil Dead) dir­ect­or Sam Raimi and his team of pixel-wielding min­ions. As a pre­quel to the beloved 1939 film star­ring Judy Garland and a dog called Toto, Oz the Great and Powerful is not without risk. Other attempts to recre­ate L. Frank Baum's magic­al world have been either com­mer­cial or artist­ic fail­ures – The Wiz, for example, or Return to Oz.
Casting the human smirk, James Franco, as the car­ni­val magi­cian trans­por­ted to the land of the yel­low brick road by a hot air bal­loon (via tor­nado) is also a risk but it even­tu­ally pays off, even though Franco's boy­ish fea­tures are start­ing to look a bit ragged. Escaping vari­ous romantic and fin­an­cial pres­sures back home in black and white Kansas, Franco's Oz finds him­self blown off course to a technicolor(ish) fant­ast­ic­al land where a proph­ecy sug­gests he will pro­tect the peace-loving cit­izens from wicked witches but also gain con­trol of the palace for­tune. Guess which one appeals more.
Along the way, he has to decide which of the three witches (dark, light and neut­ral) he should trust – Rachel Weisz, Michelle Williams or Mila Kunis – and makes friends with a winged mon­key (Zach Braff) and a little girl made of (broken) china (Joey King). Fans of the Garland story will find that Mitchell Kapner and David Lindsay-Abaire's screen­play ties things togeth­er very nicely and kids unfa­mil­i­ar with it should still fol­low the story eas­ily enough. This Oz is pleas­ingly old-fashioned and mostly undemand­ing – a very expens­ive vehicle for some cheap sentiment.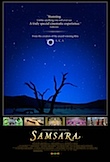 A big screen epic that you prob­ably shouldn't take your kids too – unless you want them ask­ing some very awk­ward ques­tions after­wards – is Ron Fricke's Samsara, a long-awaited follow-up to the majest­ic and breath­tak­ing Baraka which blew us away 20 years ago. Like Baraka – and Godfrey Reggio's Koyaanisqatsi back in 1982 – the film is a kind of travelogue, tak­ing us around the world, com­par­ing the mod­ern with the ancient, the com­plex with the decept­ively simple, and find­ing the par­al­lels and con­nec­tions between them.
I'm a big fan of non-narrative cinema and qual­ity examples like Samsara are few and far between. While let­ting the gor­geous – and often con­front­ing – images wash over me, I fan­cied that I was watch­ing a feed from the Earth Curiosity rover – send­ing pic­tures back to a bewildered Martian ground con­trol, ask­ing them­selves what kind of crazy plan­et they are shar­ing their sol­ar sys­tem with.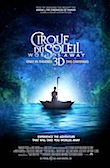 In a sim­il­ar – but less suc­cess­ful – vein, Andrew Adamson's big screen advert­ise­ment for cor­por­ate acrobats Cirque du Soleil: Worlds Away, often looks beau­ti­ful but doesn't appear to have much of a point – or even remain true to its own lim­ited inten­tions. A selec­tion of the company's rep­er­toire, pho­to­graphed either in per­form­ance or restaged espe­cially for the 3D cam­er­as, Worlds Away might have been the per­fect oppor­tun­ity to fully show­case the new-fangled 48 frame HFR sys­tem that The Hobbit used late last year. But it didn't, so that's that.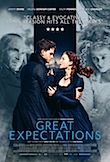 Mike Newell's Great Expectations is a straight-up-and-down re-telling of Dickens' clas­sic. Unlike the Ethan Hawke/Gwyneth Paltrow 1998 ver­sion – which I am kind of par­tial to – this ver­sion doesn't update the story at all and simply lets a fine British cast inhab­it Dickens' broad char­ac­ters and get on with telling the story. It's a qual­ity pro­duc­tion without much nov­elty – or much excite­ment for that matter.
Newell has had a few flops in recent years (Prince of Persia any­one?) but deserves to be remembered for 1994's Four Weddings and a Funeral which cre­ated an entirely new genre – the BritCom. Actually, hav­ing seen the latest example – Dan Mazer's I Give it a Year – per­haps we shouldn't be cel­eb­rat­ing. It's a des­per­ate piece of work with a nasty, snarky, sens­ib­il­ity. Rose Byrne and Rafe Spall are new­ly­weds who real­ise that they aren't per­fect for each oth­er after all but they are such unpleas­ant char­ac­ters you want them both to live unhappy and unful­filled lives – prefer­ably without you see­ing them ever again.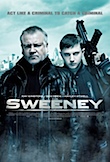 Also invit­ing sens­ible view­ers to ques­tion the dir­ec­tion of British cinema, The Sweeney is a bor­der­line fas­cist rein­ter­pret­a­tion of the fam­ous 1970s tele­vi­sion series. Ray Winstone plays DI Jack Regan, spe­cial­ising in using uncon­ven­tion­al (i.e. stu­pidly viol­ent and risky) meth­ods to catch bad guys on the mean streets of Lahndan and his part­ner, Jack Carter, is played by rap­per Plan B (Ben Drew). The Sweeney is not­able for screech­ing tyres, shouty swear­ing, auto­mat­ic weapons that don't run out of ammuni­tion and paunchy Winstone's sex sym­bol status taken to bizarre extremes.
Finally, some res­pite from all this sound and fury, the Wellington Film Society 2013 pro­gramme gets under way prop­erly next Monday (after this week's AGM). An annu­al mem­ber­ship can be obtained from only $50 and that gives you access to 31 nights of great movies includ­ing Malick's Badlands, Oshima's Merry Christmas Mr Lawrence and Lynch's Eraserhead. Other sur­names to pon­der: Hellman, McCary, Carax, Denis, Lubitsch, Cronenberg, Malle. Get in!
Printed in Wellington's Capital Times on Wednesday 13 March, 2013.