Update: I have some confirmed circulation figures from the paper itself. Even more depressing.
We interrupt normal — slightly stuttery — programming to bring you news of some changes in the Wellington media scene that might have an impact on the content that you see here.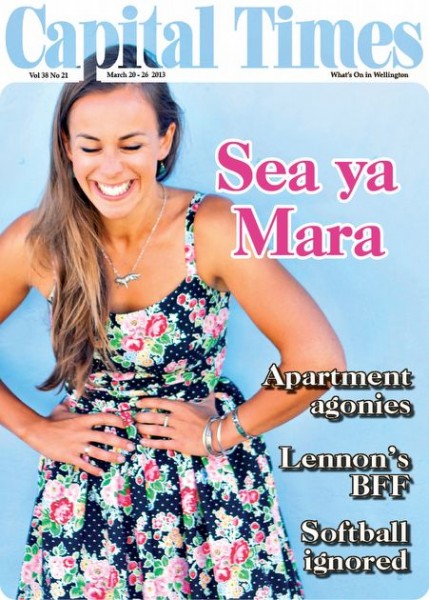 The Capital Times newspaper will be ceasing publication on — I think — 10 April. The reviews that I re-publish here were all written for them and it is their Monday morning deadlines that I meet every week. Broader discussion of the impact on Wellington's local media — it leaves only Fishhead as an independent print publication serving the city — and trends in traditional versus digital media in the struggle for advertising yadda yadda, will be better off elsewhere, but the impact on me personally? That belongs here.
The first question is simply "to be or not to be". The Capital Times is a recognised Wellington media institution with a decent circulation and a large audience. I was told that they print over 15,000 20,000 copies each week and the readership is estimated at between 40,000 and as much as 60,000. That's significant, and made it worthwhile for me to write for and for exhibitors and distributors to support me by giving me tickets, previews and screeners.
By comparison, the audience here at Funerals & Snakes is in the hundreds each week. I cherish you all but I've never been able to turn this site into a traffic magnet . Has anybody in NZ managed to pull that off? Flicks, I guess (but their business model is quite different). Lumiere? Cinefile? It's conceivable that I might have done more to promote the site if it wasn't for the built-in audience that I had at the CT. In the meantime, F&S has become a lovingly-curated archive and a way for out-of-towners to read my work.
Why do I do it? It ain't for the money, that's for sure. I have written weekly columns for the Capital Times for six and a half years — for free. The only consideration has been the free tickets and the occasional cup of coffee from a friendly cinema owner. It has cost me money to produce this body of work. I do it (did it?) for the audience, for the knowledge that I was having an influence on people's choices, that I was entertaining more people than just myself.
The CT was really good to me. They never cut me — except for length occasionally when ad sales were down. They never told me what to write or how to write it. They let me evolve a format that I am pretty pleased with. They let me find my voice.
I am realistic. Paid gigs for film reviewers are going extinct. It's the same all over the world and it isn't any better here. So I have not much hope that a better or more lucrative offer will come along from the mainstream media. At least until Simon Morris retires from Radio New Zealand.
I'd love to carry on producing these columns and I'd love to grow the online audience for them. Maybe I should reconnect with the Wellingtonista — a wonderful resource that is kept going by enthusiastic citizens with limited amounts of spare time. Maybe there's another online channel that I can partner with. But how do I get those 40,000 newspaper readers to come to a website each week? To remember to come to a website each week. (And Google Reader is closing down…) And if I can't manage that, where will those 40,000 get their film opinion from? Some films will simply not get a print review in Wellington now as the Dom-Post will only run three of Graeme Tuckett's reviews a week (at most).
Even before this news, I've been thinking about ways to generate some revenue from all this content — thousands of reviews. Is there a future for a paid subscription model? Would people pay $1 a week for what I do? And if — lordy — 1,000 people choose to do just that, how influential would those reviews be compared with 40,000 print readers? It's the paywall argument in miniature and — to be honest — is probably moot in any case.
So, advertising then. Maybe I could cover the cost of hosting with some Google ads in the sidebar to the right. But if Theatreview struggles to sustain itself with all of the specialised content that it presents, what hope is there for this site?
So, I throw the discussion open to fans and friends — what should I do after the 10th of April?
Keep going for free (and hope that cinemas continue to support me with tickets)
Find another online or print partner (any ideas?)
Start a subscription-only service to try and recover some of my costs
Give it away and go and do something more rewarding but less fulfilling
Cross my fingers and hope that someone buys the Capital Times and works out how to keep it alive
Share your thoughts in the comments or Twitter or Facebook. Cheers.