Update: I have some con­firmed cir­cu­la­tion fig­ures from the paper itself. Even more depressing.
We inter­rupt nor­mal – slightly stut­tery – pro­gram­ming to bring you news of some changes in the Wellington media scene that might have an impact on the con­tent that you see here.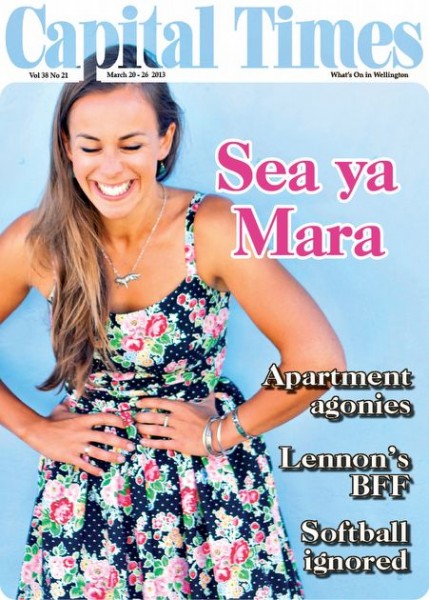 The Capital Times news­pa­per will be ceas­ing pub­lic­a­tion on – I think – 10 April. The reviews that I re-publish here were all writ­ten for them and it is their Monday morn­ing dead­lines that I meet every week. Broader dis­cus­sion of the impact on Wellington's loc­al media – it leaves only Fishhead as an inde­pend­ent print pub­lic­a­tion serving the city – and trends in tra­di­tion­al versus digit­al media in the struggle for advert­ising yadda yadda, will be bet­ter off else­where, but the impact on me per­son­ally? That belongs here.
The first ques­tion is simply "to be or not to be". The Capital Times is a recog­nised Wellington media insti­tu­tion with a decent cir­cu­la­tion and a large audi­ence. I was told that they print over 15,000 20,000 cop­ies each week and the read­er­ship is estim­ated at between 40,000 and as much as 60,000. That's sig­ni­fic­ant, and made it worth­while for me to write for and for exhib­it­ors and dis­trib­ut­ors to sup­port me by giv­ing me tick­ets, pre­views and screeners.
By com­par­is­on, the audi­ence here at Funerals & Snakes is in the hun­dreds each week. I cher­ish you all but I've nev­er been able to turn this site into a traffic mag­net . Has any­body in NZ man­aged to pull that off? Flicks, I guess (but their busi­ness mod­el is quite dif­fer­ent). Lumiere? Cinefile? It's con­ceiv­able that I might have done more to pro­mote the site if it was­n't for the built-in audi­ence that I had at the CT. In the mean­time, F&S has become a lovingly-curated archive and a way for out-of-towners to read my work.
Why do I do it? It ain't for the money, that's for sure. I have writ­ten weekly columns for the Capital Times for six and a half years – for free. The only con­sid­er­a­tion has been the free tick­ets and the occa­sion­al cup of cof­fee from a friendly cinema own­er. It has cost me money to pro­duce this body of work. I do it (did it?) for the audi­ence, for the know­ledge that I was hav­ing an influ­ence on people's choices, that I was enter­tain­ing more people than just myself.
The CT was really good to me. They nev­er cut me – except for length occa­sion­ally when ad sales were down. They nev­er told me what to write or how to write it. They let me evolve a format that I am pretty pleased with. They let me find my voice.
I am real­ist­ic. Paid gigs for film review­ers are going extinct. It's the same all over the world and it isn't any bet­ter here. So I have not much hope that a bet­ter or more luc­rat­ive offer will come along from the main­stream media. At least until Simon Morris retires from Radio New Zealand.
I'd love to carry on pro­du­cing these columns and I'd love to grow the online audi­ence for them. Maybe I should recon­nect with the Wellingtonista – a won­der­ful resource that is kept going by enthu­si­ast­ic cit­izens with lim­ited amounts of spare time. Maybe there's anoth­er online chan­nel that I can part­ner with. But how do I get those 40,000 news­pa­per read­ers to come to a web­site each week? To remem­ber to come to a web­site each week. (And Google Reader is clos­ing down…) And if I can­'t man­age that, where will those 40,000 get their film opin­ion from? Some films will simply not get a print review in Wellington now as the Dom-Post will only run three of Graeme Tuckett's reviews a week (at most).
Even before this news, I've been think­ing about ways to gen­er­ate some rev­en­ue from all this con­tent – thou­sands of reviews. Is there a future for a paid sub­scrip­tion mod­el? Would people pay $1 a week for what I do? And if – lordy – 1,000 people choose to do just that, how influ­en­tial would those reviews be com­pared with 40,000 print read­ers? It's the pay­wall argu­ment in mini­ature and – to be hon­est – is prob­ably moot in any case.
So, advert­ising then. Maybe I could cov­er the cost of host­ing with some Google ads in the side­bar to the right. But if Theatreview struggles to sus­tain itself with all of the spe­cial­ised con­tent that it presents, what hope is there for this site?
So, I throw the dis­cus­sion open to fans and friends – what should I do after the 10th of April?
Keep going for free (and hope that cinemas con­tin­ue to sup­port me with tickets)
Find anoth­er online or print part­ner (any ideas?)
Start a subscription-only ser­vice to try and recov­er some of my costs
Give it away and go and do some­thing more reward­ing but less fulfilling
Cross my fin­gers and hope that someone buys the Capital Times and works out how to keep it alive
Share your thoughts in the com­ments or Twitter or Facebook. Cheers.